I'd hate to say that we, as embroiderers, tend to fixate on certain things, because I would never dare to make a blanket statement about All Folks who Love to Embroider.
But I think it's safe to say that many embroiderers fixate on certain things… like scissors, for example. What embroiderer, after all, doesn't appreciate really good embroidery scissors?
It seems that, for many of us, scissors can quickly catch our eye.
Case in point: Wednesday's article on my current project with some tips for stitching on the go. It just so happens that one of the photos in that article had a pair of scissors in it…
These scissors, as a matter of fact.
When I wrote Wednesday's article, it occurred to me that I should perhaps mention what scissors they are because I might get a few inquiries.
But then I figured that I already had a lot of words in that article (oh, golly – that's so unusual for me!) and, after all, the scissors weren't really the focus, so they wouldn't be of that much interest.
But you know, I should have trusted my gut! After all, it's a fairly big gut and it's been around for a while/
In short: lots of email asking about those scissors.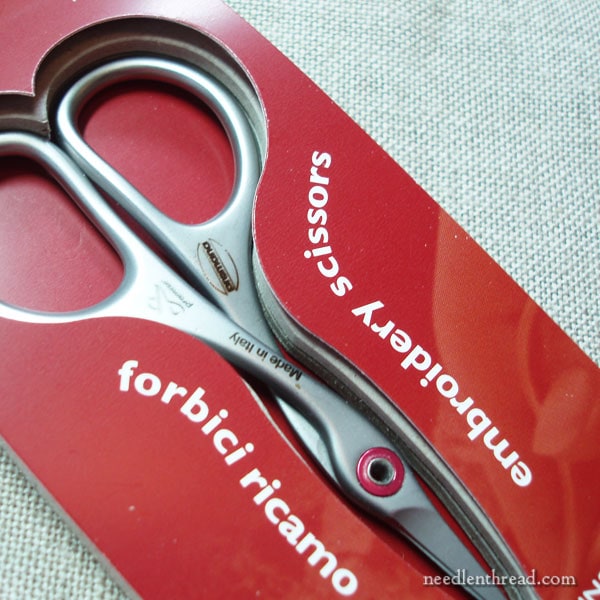 The scissors are Premax brushed stainless steel RingLock scissors, made in Italy, and this particular pair was specifically sold as embroidery scissors. They have straight blades.
Premax also makes a curved blade pair sold as embroidery scissors.
That said, my gut (the very same aforementioned gut) says that they are probably pretty close to, if not identical to, the curved adult cuticle scissors that Premax manufactures. And the straight bladed embroidery scissors look just the same as the RingLock nail scissors from Premax.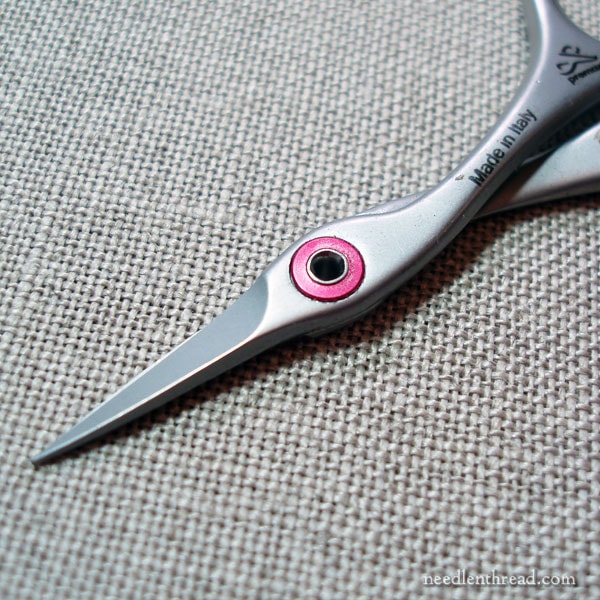 The whole point of Premax's RingLock system is to eliminate the problem of the central hardware loosening so that the blades are no longer usable.
It must work. I've used my RingLock scissors from Premax for a long, long time, and the cutting integrity – the way the blades fit together as they cut (and even the sharpness of the blades) – hasn't diminished.
They're mighty fine scissors, but they are not fine-feeling scissors. They feel sturdy and solid, not delicate and fragile. They cut in fine spaces, though.
They're nice scissors!
In a Nutshell
There are two brands of scissors that I rely on for affordable, long-lasting, accurate, well-made embroidery scissors: Dovo and Premax RingLock.
The RingLock scissors shown here strike me as a bit sturdier than the Dovo embroidery scissors I have, but I like both equally well, and both have served me equally well.
Be aware that the decorative line of Premax embroidery scissors are not the same as the RingLock scissors from Premax. Premax's decorative scissors don't hold a candle to the RingLock scissors or to Dovo's scissors, decorative or not. The quality of the decorative scissors is simply not as good.
Where to Find Them
You can sometimes find Premax scissors through your local needlework shop, if you have one.
If not, in the US, you can find them through Anita's Little Stitches, where they have a large variety of Premax. Again, I'm not super keen on the "decorative" Premax scissors. They aren't as nice as the RingLock brushed stainless steel scissors. They just don't have the same smooth mechanism and accurate little blades.
You can also find the Premax RingLock scissors on Amazon, occasionally. I've listed a pair that's more regularly available (though not the stainless shown here – they are ring lock, but with different handles) on my Amazon recommendations page here.
If you live in Europe or the UK, you can also order directly from Premax here. They do not ship to the US directly.
And there you have it! Everything you wanted to know about the scissors that showed up in Wednesday's article.
From now on, I'll try to remember to include all the pertinent information about any scissors that show up in any embroidery pictures on Needle 'n Thread!
Hope you have a wonderful weekend!
This article contains an affiliate link to my Amazon Recommendation page, where you'll find my recommended needlework books and some tools that make stitching easier. Purchases made through that link result in a small commission for Needle 'n Thread, without any extra cost to you.