When I put together my collection of four Tapestry Smalls called A Thousand Flowers which I released before Christmas, I had in mind other animals I wanted to chart to go with the series, and one of those animals was a deer.
I suppose I wanted the deer for a couple reasons. It's medieval (the hart shows up in many a medieval piece of art). It's also somewhat a seasonal thing, depending on what your deer looks like. I like winter deer – the folky little deer that show up on sweaters and in Nordic designs and things like that. They spark notions of coziness and homey things during the colder winter months. I like them as a design element!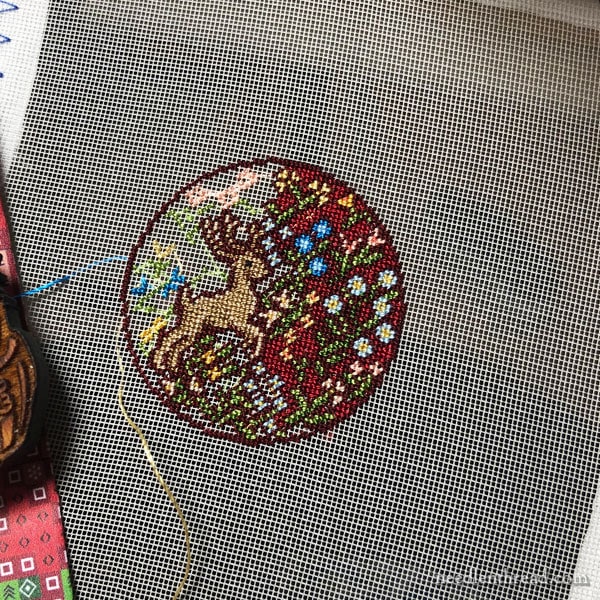 And so I charted a deer.
I still need to make an adjustment or two on the chart. From afar, the deer seems to be grinning. I might touch the shading up on that a little bit! Not that I mind a grinning deer – at least he's happy! – but once you see the grin, he tends to look a bit goofy.
I have a very special finishing plan for this Tapestry Small, and I'm looking forward to sharing that with you when I get it (finally) finished.
Stitching Counted Work on the Go
I've been spending most hours of the day at the hospital lately, after my mom's cardiac arrest a couple weeks ago. (She is in a rehab hospital closer to home now, but things are still a bit iffy, and without a doubt, there are some major changes ahead when it comes to taking care of her at home.)
To keep projects moving ahead and to still be able to focus a little bit on Needle 'n Thread plans for 2019, I wanted to take this deer with me to work on. The difficulty is that it's easy for me to make mistakes on this type of tiny counted work, even when my mind is more focused than it is right now.
To remedy the situation and still work forward on this project, I've used my "time off" here and there to concentrate on stitching all the elements in the design – the different flowers, stems, leaves, and the deer. Once those are stitched, all the background can be done without the chart.
With the counted elements, it's just a matter of working around each of them with the darker red. Then, I just fill the background with the brighter red silk.
I find this to be a great way to work counted stuff on the go, especially if you're in a situation where it's hard to concentrate (like a busy hospital waiting room). When you can, do the counted stuff or the parts that require more concentration at home, in a quiet place. Then, when you're on the go, work the backgrounds and the fill areas that don't need as much concentration.
Lighting!
I'm working this Tapestry Small on 40 count silk gauze. The original four designs for A Thousand Flowers were charted for 48 count, but they can be worked on any count gauze or even-weave fabric.
It's easier to see the 40-count silk gauze, but good lighting is a huge help.
If you've waited around in hospitals or other places, you know that lighting is hit-and-miss. So to remedy the lighting problem without having to tote a large light (which is impossible in such situations), my favorite quick-fix that inexpensive, easily transportable, and easy to take out and stow again in a hurry, is a clip-on book light. I like the Mighty Bright Ultraflex lights – I reviewed them here, if you want to see what they're about. You might read through the comments, too, for more tips from other stitchers.
I've added the two Mighty Bright lights that I like best to my Amazon recommendations page here. You'll find them right at the top of the page. The hammerhead will give you more lighting coverage, but it's just a little heavier. And the two-bulb version provides a smaller coverage area, but if you're working on smaller things, it's just right.
Easy Clean Up Tip
Finally, here's an easy clean-up tip, for stitching on the go…
In your grab and go bag, roll up a small piece of wool (or acrylic) felt. You can unroll this and place it on the arm of a chair or a waiting room table, and it is a perfect receptacle for scraps of thread. It can also serve as a place to stick your needle in a pinch. Primarily, through, I lay all my scraps of thread on it and they stick like the dickens, so I don't have to worry about leaving a trail of little thread scraps behind when I leave. I just roll the felt back up, stuff it into my bag, and go.
When I have a chance at home, I scrape all the scraps off so I have a clean catch-all for the next session.
The needle book there, by the way, is from Lavender Honey and Other Little Things. Those small needle books are my best friends when I'm traveling with needlework. They can hold a pretty vast array of needles, and when they're open, they serve as a pincushion. They're small and they tuck into a work bag or small tool tin very easily. They're also great conversation starters when you're in a sitting room!
So that's what I'm up to, embroidery-wise. I'll keep you posted on how things fare. and I'll definitely share the finish with you on the deer as soon as I get to that point!
If you have any stitching-on-the-go tips to share with other folks, why not join in the conversation below and tell us your favorite tips to keep your stitchery organized, neat, and ready to roll when you're out and about?
This article contains an affiliate link to my Amazon Recommendation page, where you'll find my recommended needlework books and some tools that make stitching easier. Purchases made through that link result in a small commission for Needle 'n Thread, without any extra cost to you.