It's mid-week, and I bet all of us in some way or another are grasping at time that keeps slipping through our fingers. So today I'm going to keep it really short!
Yes, well. That's my excuse. In reality, the Stitch Fun tutorial I had planned for today is somewhere mid-editing. You might see it Friday if all goes well!
But in the meantime, I want to share with you a website that's had my eye lately. It's been terrific for browsing through on my phone, while waiting here and there for this and that. I like to bookmark good textile websites on my phone. It makes me feel like I'm at least learning something when I can't be at work producing something!
The Textile Research Center's TRC Needles website is an excellent rabbit hole for exploring textiles from all angles.
Think of the website as a kind of rambling index that will take you hither and yon, to specific items in museum collections, to general information about needlework publications, to definitions of types of needlework, and so forth.
On the about page for TRC Needles, this is how the folks at the Textile Research Center explain the project:
TRC Needles is a digital encyclopaedia that has been set up by the Textile Research Centre (TRC) in Leiden. It covers the enormous field of needlework, focussing in particular on appliqué, beading, darned knotting, embroidery, needle lace making, passementerie, patchwork and quilting… click here to read the rest of the description
They call it a digital encyclopedia of decorative needlework. There's lots of general and specific information on the website or accessible through the website. Much of the interesting stuff (like individual pieces of needlework in collections) are linked to, so that you end up discovering and encountering other textile-related websites or collections, and the next thing you know…
…you're down a lovely rabbit hole!
It's a great website to bookmark for exploring all kinds of information on decorative needlework when you have the chance to do some online explorations.
Holly & Evergreen Towel Sets
For those of you who might have missed out on the first round of Holly & Evergreen towel sets, I promised to get some more together for you, and I finally have. I'm happy to announce that I have a limited number of these Holly & Evergreen Towel Sets with the designs pre-transferred on them available to ship this Friday.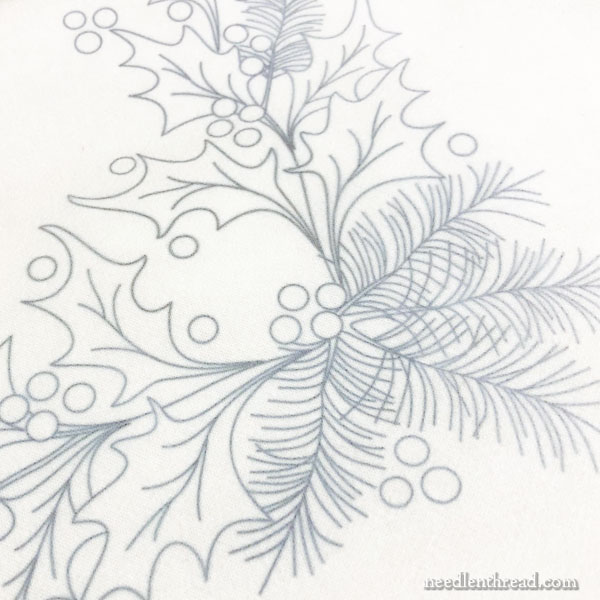 Please read the product description and the original article about the designs & stitches here, for further details.
They're listed here in my shop right now, so if you would like a set, it's a matter of getting them while they're available.
I apologize for not taking pre-orders on kits and towel sets and the like, but I don't sell tangible things that are not ready to ship. The needlework industry supply chain is tenuous – supplies aren't always readily available – and I don't like to keep people waiting after taking payment. So I only sell tangible goods when I actually have them ready to ship. If this round sells out, I will do my best to get some more prepared and listed in the shop as quickly as possible. Thanks for understanding!