Needlework authors and publishers have been busy in the past year or so, producing some really helpful and beautiful embroidery books. I have a whole stack of needlework books that I want to share with you, so that you can make informed decisions on which books to add to your needlework library.
I figure I better start chipping away at the pile; otherwise, they'll be out of print before we know it!
For the silk ribbon embroidery enthusiasts, this is a book you don't want to miss! Whether you use silk ribbon embroidery as a stand-alone art form, or for embellishing crazy quilts, or as part of other embroidery or mixed-media works, you will appreciate the instructional content and glorious projects in this book.
So, off the top of my stack is the reformatting and reprinting of this book, The Seasons in Ribbon Embroidery by Tatiana Popova, which I reviewed quite a while ago when Tatiana published it herself in both Russian and English.
This new English edition of The Seasons in Silk Ribbon Embroidery published by Search Press has a new layout with a format that is open and airy. Since it is a single language edition, the pages are not split for translating, leaving more room to show off the contents.
Instead of going into great detail on the projects in the book, I'm going to point you to my review of the original dual-language version here. There, you'll get a good idea of the type of instructional material and the scope of the projects in the book.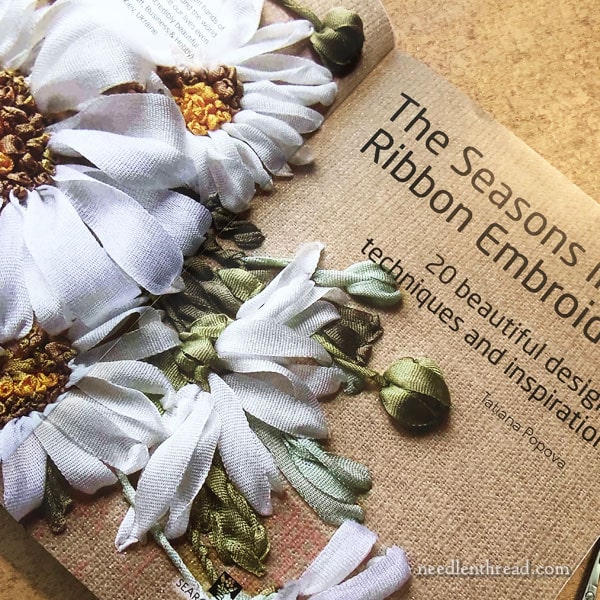 In today's review, I want to highlight that the book still features 20 luscious silk ribbon embroidery projects, all of which are presented with clear instructions, materials, and tips, so that you can successfully complete them.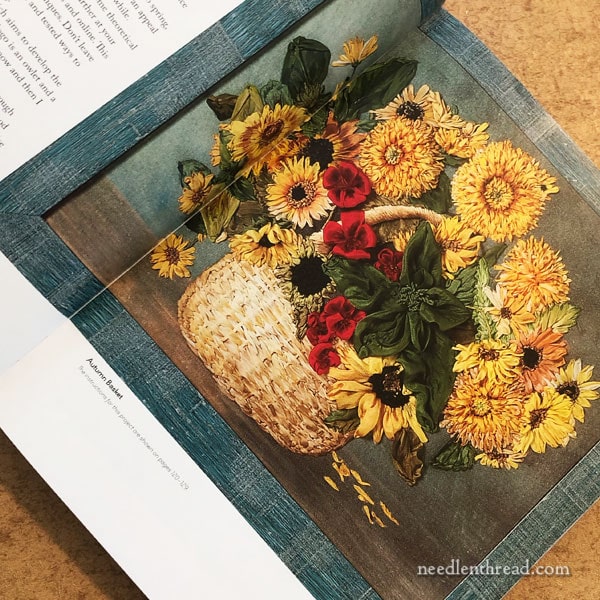 The still-life florals are enticing and realistic – they have just the right artistic nuances that bring them to vivid life.
The step-by-step photos and the written instructions are clear and easy to understand, making the whole process of this type of silk ribbon embroidery accessible to beginners and beyond.
Each project features clear layout designs for the silk ribbon, too, to help you visualize placement and stitch type more easily.
If you're a lover of really lush, rich silk ribbon embroidery, you will enjoy this book and learn a lot from it! The projects range from charming to gorgeous, from small to large, and everything in between. There's something for every silk ribbon embroidery fan within its pages!
Where to Find It
You can find the new edition of The Seasons in Silk Ribbon Embroidery available through Amazon. You'll find it listed here on my Amazon Recommendations page.
Here's a direct link to the book on Amazon, if you want to go straight there.
Worldwide with free shipping, the book is available here through Book Depository.
You can also find the kits for the book, plus other embroidery kits by Tatiana Popova, available in her Etsy shop, here. Be aware that they ship from the Ukraine.
This article contains affiliate links to book sources, which means that Needle 'n Thread receives a small commission for purchases made through those links. Every little bit helps, so thanks for using my affiliate links when you purchase books!