Over the last several years, my fascination with what the French call "cartonnage" has steadily grown.
What apparently began as a technique for creating funerary masks in Ancient Egypt has developed today into the craft of box-making, using different weights of card and board (like book-binding board or mat board) covered with fabric or paper to create beautiful receptacles, organizers, trays, etuis, and the like.
Today, I want to show you a book that will help you do all of the above. I have a pretty thorough collection of books dedicated to making fabric (or paper) covered boxes, and when this one came out, I knew I had to add it to my shelf! I'm glad I did, because I found within its pages many tidbits that have made me much more confident about undertaking my next box construction project.
If you have an obsession with creating embroidered, fabric, or paper-covered boxes, Embroidered Boxes: Techniques and Projects by Emma Broughton is well worth adding to your own library!
I love the whole concept of box-making. Still, although I've dabbled with some very basic constructions, I have yet to make the Magnum Opus of Boxes that I have floating around in my head.
I think, to get to the point of making a really great box, you have to journey through stages of learning. It's just like any craft, really – you've got to start basic, master the foundational techniques, and move up through the ranks to the more complicated projects.
Embroidered Boxes is a book arranged to help you do that. It begins with the very basics and takes the learner ever-upwards to the more complex styles of box-making.
Of course, the book begins with a history of the embroidered box, taking the reader back to the 17th century, where the embroidered "casket" was often a culminating exercise in the learning of needlework skills for a young lady.
This book focuses on modern box-making projects, though, with projects like jewelry boxes, small storage and organizational boxes, gift boxes, treasure boxes, and the like. The examples have a streamlined, modern look to them and they are all functional and decorative.
While techniques that reach back to the boxes of earlier centuries (like adding doors) are covered, the book doesn't focus on 17th century box making styles (just to be clear).
At the beginning of the book, we also get a very thorough section on supplies used in box making and supplies used in embroidery. The book, after all, focuses on embroidered boxes, so embroidery does figure into the contents.
That said, the embroidery part of the book is not the primary focus. It would be too much information to contain in one book, to cover all the basics of embroidery. So, while the embroidery for the projects is made accessible, there's no step-by-step instructional content (with photographs) on the embroidery. All the step-by-step instructional content focuses on the box making.
I'm glad of that. I think the book would have been bogged down with too many details, had the embroidery been of equal focus with the box-making.
Getting into the meat of the instructional content, we start with a very basic box construction techniques.
In this section, all the techniques to build a box are presented, and you'll end up referring back to this section frequently while reading the rest of the book.
The instruction is presented in clear step-by-step photos with lots of accompanying text to explain procedures.
What you'll learn in this section, you'll apply on pretty much every box-making project, so it's a good idea to read this section thoroughly and get acquainted with what's in it. That way, when you tackle a project, you'll know where to go to find help should you need it.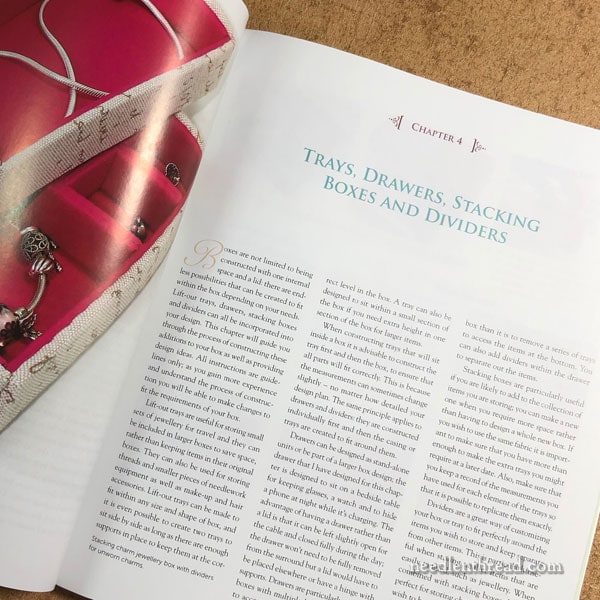 Then we add different levels of complication to the boxes – like making boxes that have dividers, that stack on the inside, and so forth.
We learn how to construct boxes with open sides, like etuis and other similar specialty boxes.
We learn how to make shaped boxes (round boxes, hexagons, and so forth). And we learn advanced construction techniques, which including adding doors, drawers, locks and so forth.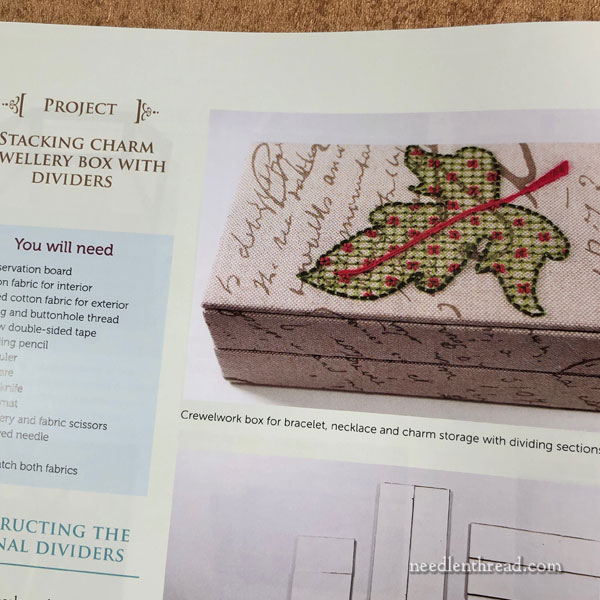 Throughout the construction content, the book covers various projects, which range from simple to complex, to match the techniques covered.
Each project features some kind of embroidery.
The project instruction begins with a materials list and an overview. We are directed to a later chapter of the book for information about the embroidery – the design and a guide for stitching it, along with access to the stitch glossary.
And we're taken step-by-step (usually with photos) through constructing the box for that particular project.
As mentioned early, the embroidery instruction is not too in-depth. But it is more than adequate! There's also a stitch glossary in the back of the book.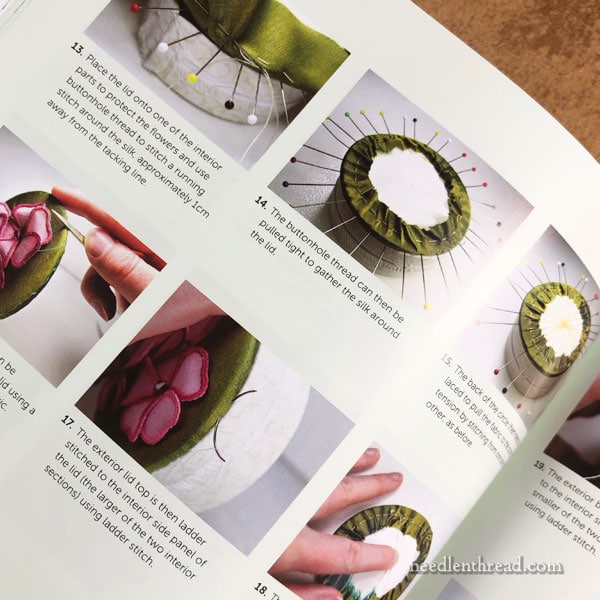 In some cases, as the boxes become more complicated, so does the embroidery, but this isn't always the case. Very simple boxes can be used to show off complex embroidery, while very simple embroidery can accent a more complicated box.
Once you figure out the nuances of box construction, it's up to you how you want to make use of your new-found knowledge and skills as a showcase for your stitching.
At the end of the book, there's also an good chapter on designing your own box. This is where I picked up some great tips for designing the box that's been floating in my head!
More Information & Where to Find It
You'll find Embroidered Boxes listed here on my Amazon Recommendations page.
Here's a direct link to the book on Amazon, if you want to go straight there.
Worldwide, with free shipping, you can find the book here on Book Depository.
I've also listed several other books on cartonnage on my Amazon Recommendations page. I have all of these books and each one is excellent in its own way, for teaching the skills of covered box-making. Some are more complex than others and will provide you with more thorough information. If you're looking for thorough instruction that ranges from simple to complex, Embroidered Boxes (this book I'm reviewing today) and Cartonnage: Basics & Beyond are my favorites. They are both really good instructional books.
I plan to explore this topic further. I promise to share all my excursions with you as they develop!
This article contains affiliate links to book sources, which means that Needle 'n Thread receives a small commission for any purchases made through those links, at no added expense to you. Thanks!