It's been a long time since we've meandered together through needlework content online. Since there are a few things I want to tell you about that are time sensitive, I thought today would be a good day for a little browse through various needlework-related topics.
For those who are recently joining us on Needle 'n Thread, occasionally, I compile these little lists of needlework things that I've come across, that I think you all will find interesting, too. I call them news snips because they're just little snippets here and there that happen to catch my attention.
Generally, I write these lists while I'm sipping a cup of tea, and when one of two things happens – either my tea is gone or it is cold – we call it quits!
So pour yourself a cup and join me vicariously for a friendly chat while we meander together through the list…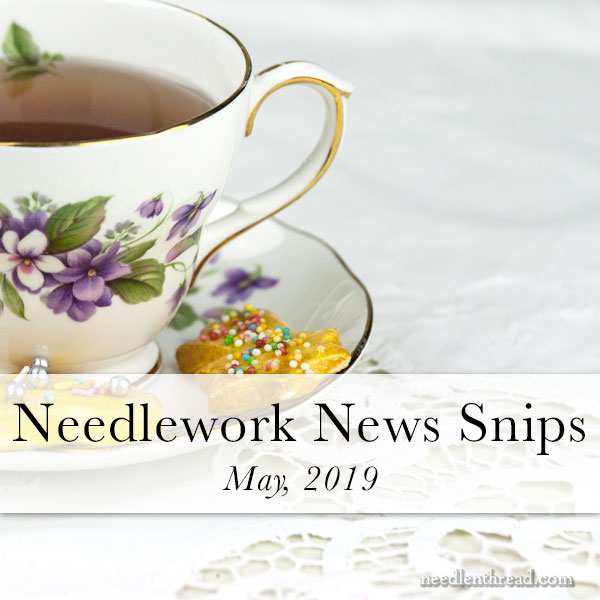 We'll get the time sensitive stuff out of the way first.
Needlework Classes
Talk about time sensitive! Starting next week, Hand & Lock will be in the US, in Williamsburg VA, teaching a 5-day goldwork workshop (which you can read about here) and a 5-day tambour work workshop (which you can read about here).
There are still a few spaces available, so if you live in the vicinity or if you are good at making last minute travel arrangements, these classes are a great way to learn goldwork or tambour work from industry professionals who are known the world over for their couture needlework abilities!
And just so you don't think I'm absolutely crazy in relating something that's so very last minute, Hand & Lock will also be in San Francisco starting May 20th, with a tambour workshop at the San Francisco School of Needlework & Design. There's still time to get in on that one, too! You can read about it here.
Ecclesiastical Embroidery Designs, Figure Embroidery, & Beads
A few weeks back, Jessica Grimm wrote about a Medieval beaded altar frontal that I think is pretty fascinating. While the beadwork isn't quite my personal aesthetic for this type of work, the history behind them and the skill in stitching them is impressive!
She also wrote about a more modern beaded altar frontal here, where the color, shading, and beadwork are pretty fantastic.
You can find the design for that latter altar frontal – and quite a few more excellent ecclesiastical embroidery designs – available here on the Heidelberg University website. You can browse through them or download them. Just look for the download icon on the individual pages.
Expanded Embroidery Class Offerings on Bluprint
Bluprint (which is the new place to find all the Craftsy classes) has been expanding their online embroidery class options.
While you'll still find the earlier Craftsy offerings for some excellent and affordable online embroidery classes (like this goldwork class and this stumpwork class), you'll also find some new classes and articles by Jessica Long, featuring her fun, colorful, bold embroidery. Her start-up class, which you'll find here, is really good! It's a fun way to get into embroidery. Jessica is super easy to listen to and she makes embroidery really accessible! Fun stuff!
There are some other hand embroidery classes new to Bluprint now, too, but I haven't had a chance to look at all of them. If you have a chance to browse through them, you might find something right up your alley!
I use affiliate links for Bluprint, which means Needle 'n Thread gets a small commission for any purchases made through the links, at no extra cost to you. I don't promote Bluprint too often, but I do like their classes, so I'm not promoting them just because of the affiliate link! I have a yearly membership that I pay for myself, because there are many classes on the site – including non-embroidery classes – that I find super helpful.
Star Light, Star Bright
Have you seen this lampshade embroidery kit featuring the children's ditty "Star light, star bright, first star I've seen tonight…"?
I know it's expensive, but golly, it's adorable! It just gives me the fuzzies, I think it's so cute!
I'm not necessarily sharing this with you to talk you into the kit, but just to show you some really sweet embroidery in a very clever finish. I love the combination of the children's poem and the use as a finished lampshade. Brilliant!
Old Needle Lace Patterns
I love to browse through old needle lace pattern books. The designs are geometric wonders, and they give me all kinds of ideas for border designs and whatnot, when I'm looking for inspiration.
If you like browsing through old design books, you might also enjoy this particular old needle lace pattern book. There are some good ones in there! Extravagant and fascinating!
Ink, not Embroidery
I know it's not embroidery, but I occasionally follow a blog called Ink Flourishes, where Heather writes about her calligraphy and artistic pursuits. Her blog post for Enchanting March features some really beautiful letters. I'd love to stitch that "D" in a very delicate redwork! Her work is beautiful – if you love lettering and calligraphy and the art that goes along with it, you'll enjoy perusing her blog!
Dyeing a Pyramid
Over on Debby Greenlaw's blog, Flora & Fiber, I found her latest article, Dyeing a Pyramid, really fascinating! I've always loved to read about hand-dyeing fibers. It's not something I'd ever do – the mess terrifies me – but I love to read about other people doing it!
DIY: Embroidered Shoes
These embroidered canvas shoes by Bev over on Flamingo Toes are pretty darned cute! She gives simple pointers on how to decorate canvas tennies with embroidery, and the outcome is fun!
Summer's coming – why not?!
Beaded Picot Edging
Over on Three Sheep Studio, you'll find a very nice photo tutorial on adding a beaded picot edging to your work. In this case, it's added to the edge of wool pieces (appliqué, embroidery, and so forth), but it's a great technique for any finished edge.
I could see it on a really cute needlebook!
Needle 'n Thread News
A couple bits of Needle 'n Thread news:
Quite a while ago, I set up a Patreon page for Needle 'n Thread, but I never published it. If you are unfamiliar with Patreon, the idea behind it is a lot like the idea behind the artists' patrons of old – basically, if you like what I do and you think it's worthwhile, you might choose to be a patron.
Since Patreon is shifting to a different way of providing their service, I had to finally publish my page last week to get grandfathered in on their previous set-up.
I plan to use Patreon primarily on my YouTube channel, where I'll be publishing more videos soon. I don't like using typical advertising (which is hard to control) on my videos, but it is expensive to produce video, so Patreon is a way I can make producing videos a little more affordable for me.
If you're one of those (many) people who have tried to talk me into Patreon over the years, you'll be happy to know that I finally did it. You can find my Patreon page here.
To help keep things going on Needle 'n Thread, too, I have finally taken the huge step of hiring an assistant. I'll be contracting someone to help me handle behind-the-scenes tasks, which will alleviate some pressure and allow me to move forward with more creative content. That happens this summer! I'm excited, but a little nervous. It's a commitment and an expense, but it will surely be worth it. I'll introduce you to Anna this summer!
All Gone
My tea is gone. Twice!
I hope you have a marvelous weekend!