We've talked about thimbles somewhat frequently here on Needle 'n Thread. I think they're an interesting subject among embroiderers because generally, the topic can be divided into two camps: stitchers who use them and stitchers who don't.
The majority of those who use thimbles learned to stitch using them and they use them habitually all the time. To stitch without them would seem awkward to the regular thimble-user.
Those who don't use thimbles when they stitch find thimbles generally awkward and difficult to get used to.
I fall in the latter camp, when it comes to using thimbles with embroidery. I rarely use them, except in emergencies. To use a "real" metal thimble when I embroider slows me down and, in fact, makes every movement bumbly and awkward.
But, weirdly enough, I fall into the former camp when using (certain types of) thimbles for hand sewing. I always use one. I'll explain the difference in usage of the terms embroidery and hand sewing below – and the difference in thimble usage – for me, anyway!
Let's talk a little bit about thimbles, types, and usage. I'll show you what I use when I need thimbles in an emergency when embroidering, I'll talk about what works for me (and doesn't work for me) when hand sewing, and we'll chat about the difference between embroidery and hand sewing. I'll share some resources with you, and open the topic up for your comments and recommendations.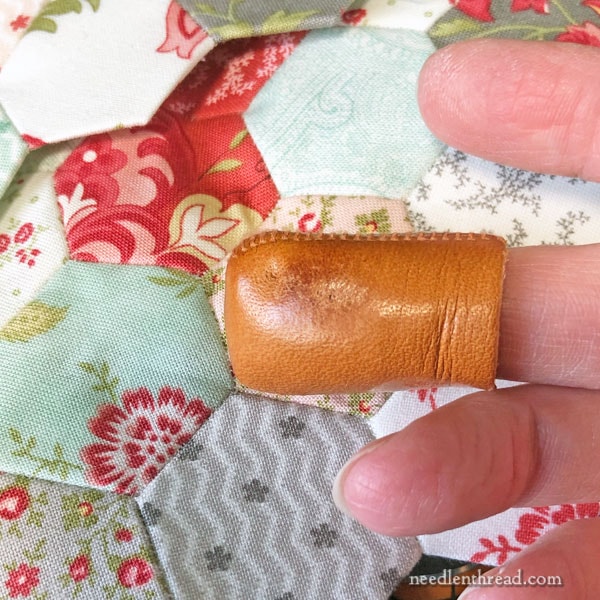 This is my favorite ever leather thimble, that I use when I'm hand sewing.
I've been doing a good amount of hand sewing lately, because I've started a little quilting project (which I wrote about here), so I've been using this thimble quite a bit!
Before we delve into thimbles themselves, let's make a couple distinctions between hand sewing and embroidery, for those who might find the terminology confusing.
Hand Sewing vs Embroidery
Sewing (by hand or otherwise), in the general use of the term, is not the same thing as embroidery.
Sewing is normally an occupation of construction or finishing of some sort (making a garment, making a quilt, etc.). It involves either multiple pieces of fabric that need joining somehow, or fabric that needs finishing somehow – either finished into something else (like sewing a piece of fabric into a pillow case) or finished by adding finishing touches (like hemming).
Embroidery, by its definition, is the occupation of embellishing something (normally fabric of some sort) with decorative stitches.
Embroidery might involve the same motions or techniques as sewing in some circumstances, but it must always be embellishing. If it does not involve embellishment, it is not embroidery.
The term "sewing," when taken by itself in its general sense, doesn't involve embellishment. The term usually implies joining pieces of fabric, hemming a garment, or something like that.
When embroidering, there are two approaches to the way you move the needle:
1. You can "sew" the stitches by scooping up a little bit of fabric with each stitch, always working with the needle on the front of the fabric. (This is also the standard method of hand sewing.)
2. You can "stab" the stitches by taking the needle all the way to the back of the fabric, pulling the thread through, and then sending the needle back to the front of the fabric for the next stitch.
Whichever method you use, it's still embroidering, because you are embellishing.
With hand sewing, normally, the "sewing" method mentioned above is the normal method of working the needle.
How you scoop the needle when hand sewing is going to determine which finger needs a thimble the most.
With me, it's my middle finger when hand sewing.
When it comes to embroidery, though, I pretty much always use the "stab" method of stitching, and it is my first (or pointer) finger that takes the brunt of the needle – although this can change, depending on the type of stitching, the state of my hands, and so forth.
Back to Thimbles
When I hand sew, I always use a thimble, and it is usually a leather thimble, although I have tried many other types of thimbles over the years.
I always come back to the leather thimble in some guise or other, though, because the flexibility of the leather makes the thimble more easily a part of my hand.
In recent years, my favorite leather thimble is this one by Bohin.
I use the medium size on my middle finger.
When I hand sew, the middle finger pushes the needle from the side of my middle finger (which is why the side of the thimble in the first photo shows dark wear marks). I never use the front pad of my finger to push the needle.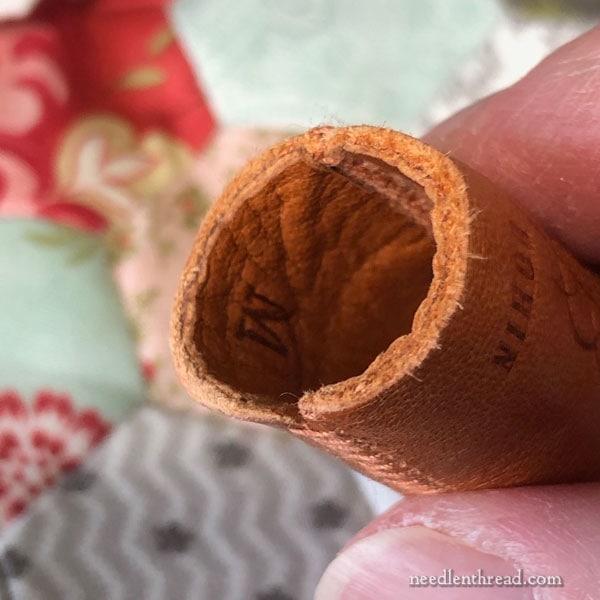 What I like about this particular thimble is that the leather is thin and supple, so that the thimble very quickly conforms to my finger. This thimble fits like a glove now, since I've been using it for a while.
The thimble is constructed overall of two layers of thin leather, but in the top half of the thimble where it gets the most use, a third layer is sandwiched between the two that make up most of the thimble. So the finger pad area on this thimble is thicker than the rest of the thimble – but you don't really notice that in the overall feel.
In the photo above, you can see a slight line inside the thimble, where the third layer of leather is sandwiched in.
The Bohin leather thimble is well made, sturdy, supple, and soft. I've been using this one for a while now (but not heavily until recently) and I always reach for it first when I need to hand sew something.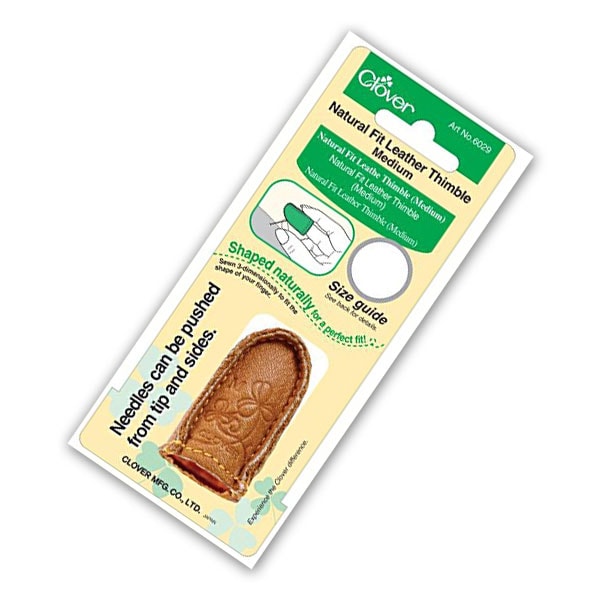 If I didn't have the Bohin leather thimbles, this would be my next choice. It's a leather thimble by Clover.
The Clover leather thimble is less expensive than the Bohin leather thimble, but its construction is a bit heavier and slightly more awkward. It has largish seams, in comparison. It takes longer for this thimble to conform to the finger, as the leather is not quite as supple. Once it does, though, it works comfortably.
It's a decent leather thimble. I have one in my sewing box, and I'll use it when I inadvertently leave my other thimble somewhere else. I like it, but just not as much as I like the Bohin thimble.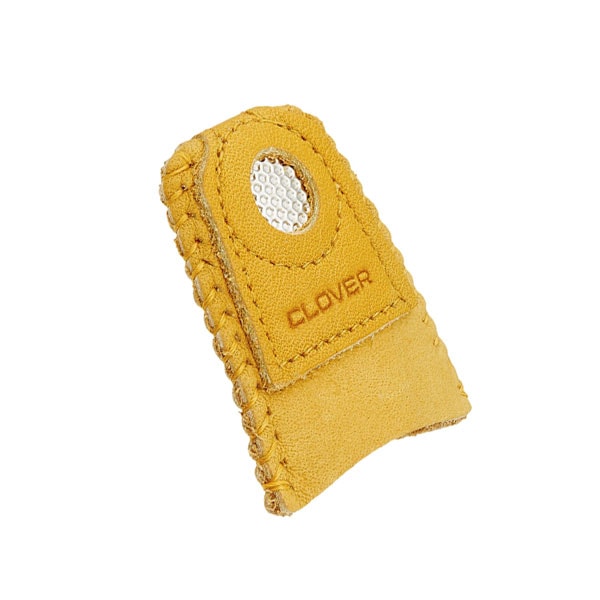 I've also tried the Clover leather thimbles that have a metal coin insert at the finger pad.
The point of the metal insert is to further protect the finger, and to avoid getting holes in the leather. These don't work for me at all, because I never push my needle with the pad of my finger. I always push with the side of my finger, so the metal is in the wrong spot and it just makes this thimble awkward. I find it bulky and stiff, too – it seems like it would take a while for it to conform to the finger.
If you push with the pad of your finger, perhaps this thimble would work better for you than it does for me.
Hard Thimbles
This is an open thimble: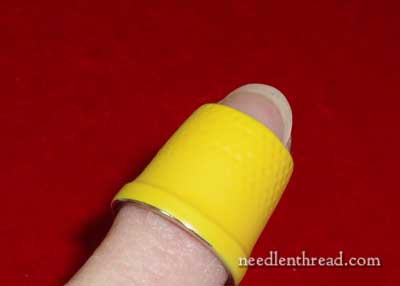 It's a hard metal thimble with a rubber outer shell, and I've use it when I'm in a jam. I've used it occasionally for embroidery (on my pointer finger), but I've also used it on my middle finger for hand sewing.
I don't prefer it, but it works. I'm always awkward with a hard thimble when embroidering; less so, when hand sewing, but it's just not as comfortable for me as a soft leather thimble is.
I've written about this open thimble here, if you want to read more about it.
The advantage of this kind of open thimble is that the fingertip protrudes from the top, giving you a sense of better control (as opposed to a finger fully covered with metal). It also makes room for fingernails.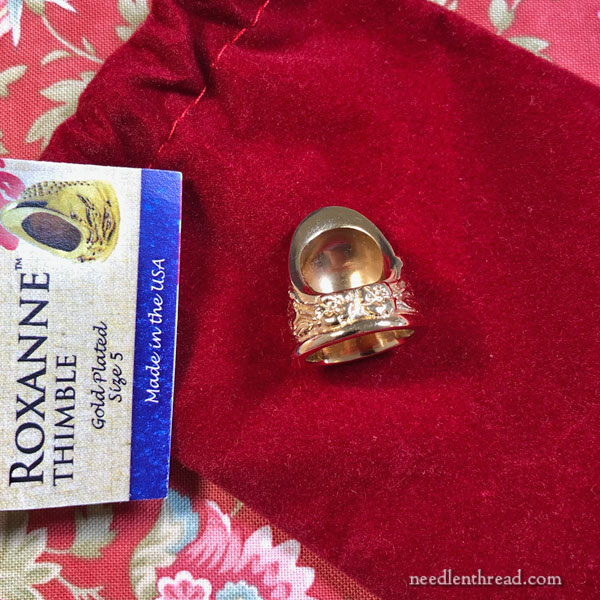 Over the years, many of my readers have asked me about Roxanne thimbles – have I used them, do I like them – and many have also recommended them to me.
Recently, I took the plunge and bought one, so that I could discover for myself if it is something for me.
The idea of the Roxanne thimble, which is available through Colonial Needle, is that it is supposedly more ergonomic than your typical hard metal thimbles, it leaves a space for your nail bed, and its shorter size is supposed to keep your fingers moving in a natural, comfortable way.
Some stitchers swear by these thimbles, so I wanted to give it a fair trial. Admittedly, my first step in considering whether or not to try one was contacting the company about their return policy. Always check return policies on expensive items if you are not sure you're going to like it!
They do have a return policy, so I took the plunge. Make sure, though, that you read their return policy carefully if you're going to order one – and that, if you have any questions about whether or not they will offer a refund to you if you don't like it, you contact the company first. It never hurts to verify!
I gave the thimble a fair trial for three days, using it up to six hours a day.
It didn't work for me. It's not shaped for my particular middle finger situation.
For one thing, I have a heavy writer's callous (though that wasn't the problem). For another, my middle finger does not taper much. It's a little wider and flatter at the edge of the nail bed. This is where I had particular problems. While it fit down below the way it was supposed to, it pinched the heck out of the side of my nail bed, where the white of the nail begins. By the third day, my finger was doing the Fred Flintstone Throb right in that area.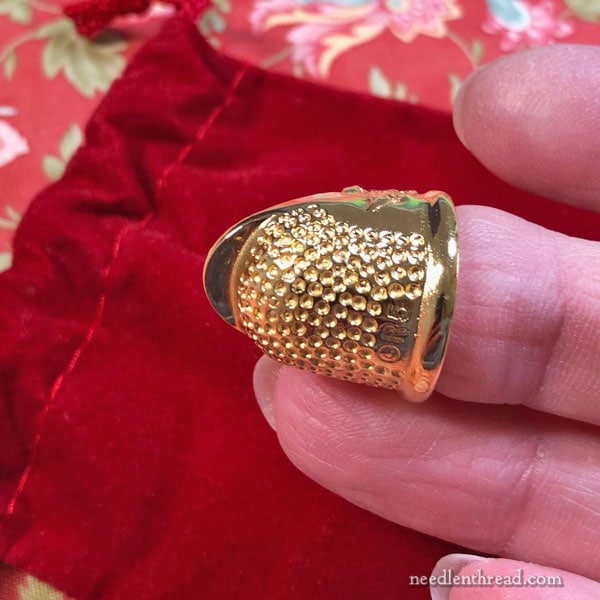 The other problem for me was the ridge at the bottom of the thimble. My ring finger tends to push against my middle finger when I'm hand sewing, and this ridge caused an ever-growing dent on the side of my ring finger, which also hurt.
So, while these thimbles are well made, and while many stitchers swear by them and have been using them successfully for years and years, this particular style of thimble doesn't work for me.
It might work for you, though. If you are used to hard thimbles and you want something that's not quite as bulky as a standard thimble that fully-encases the finger (though I did find this thimble pretty bulky – it is heavy and thick), this thimble may work well for you.
Just to clarify: I had my finger fitted correctly at a jeweler, according to the instructions for the thimble. I also tried it for three days running, faithfully, to give it a good trial. Several Roxanne fans have suggested I try it longer. I've also been asked if I was sure I got the right size, and so forth. I'm sorry I didn't like it. I wanted to like it. I gave it a fair trial. It just doesn't work for me, but that doesn't mean it can't work well for other people!
Synthetic Soft Thimbles
There are many synthetic soft thimbles on the market, too – like silicone thimbles. I've used some of these successfully when in a jam, when embroidering.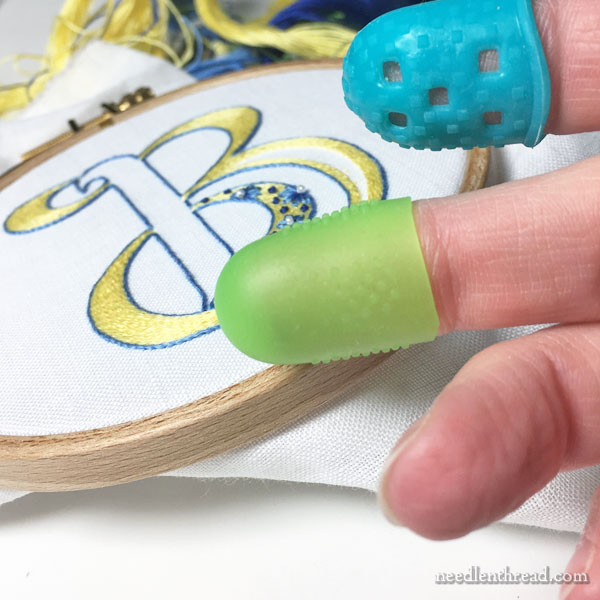 I wrote about these particular thimble substitutes here and how well they worked for me while embroidering in a situation where my fingers were super tender for some reason.
These work better for embroidery (for me) than a leather thimble, because the leather thimble doesn't allow me to feel what I'm doing the same way that these do. This doesn't make a difference when hand sewing, but with embroidery, I tend to need the more tactile connection with my needle and thread.
So these worked for me when I was in a jam. I wouldn't use them long term as my permanent thimble, if I were a thimble user when embroidering, because the thin silicone they are made out of does develop needle holes relatively quickly (compared to a metal thimble or a leather thimble).
There are other silicone full-coverage, harder, thicker thimbles on the market, but they behave on me a lot like a full coverage metal thimble, and I have never gotten used to them. But if they sound like something you could get used to, just google silicone thimbles – you'll find a whole array available. Some even have metal inserts.
Partial Thimble Solutions
I've also used sticky dot thimbles that you stick right on your finger, in the area your needle tends to come in contact with repeatedly. I don't like them so much, but some folks swear by them. So they are an option to try, if you're looking for a solution.
And I've also done the super glue method of putting a dot of super glue on my skin when a little hole starts to develop. The problem with this is that it takes forever for super glue to wear off, and in the meantime, it drives me nuts. It also tends to be somewhat rough – it can snag on silks. Still, it's a viable option in a jam. Just make sure you let the glue dry completely before you start using your fingers!
Where to Find
You can find the Bohin and Clover leather thimbles available at the top of my Amazon Recommendations page here.
You can find Roxanne thimbles through Colonial Needle, here.
I don't have a specific source for silicone thimbles, because I haven't ordered one online. I bought the one I tried several years ago at a quilting store and they don't have a website.
What about You?
What's your take on thimbles? Do you use one? What do you recommend to folks who are looking for a thimble solution and haven't found the perfect solution yet? Feel free to have your say below!