Last year, when Inspirations Studios produced the new index for issues 1 – 100 of Inspirations Magazine, there was no doubt in my mind that I needed one.
I have all the issued of Inspirations, thanks to my sister, who passed me all the older issues from the earlier years of the magazine.
Each issue is a delight, full of beautiful embroidery projects for every level of stitcher. There is a certain classic timelessness to most of the projects in the magazines, so they never really seem to age. I never grow tired of flipping through them!
But … there are times when I want to find a certain project that I know I've seen in one issue or another, and it takes a long time to flip through those individual magazines.
And that's why a magazine index comes in so very handy. But the new 1 – 100 index is handier than most, thanks to the meticulous details in its arrangement. This is perhaps the most thorough search tool ever produced for a magazine!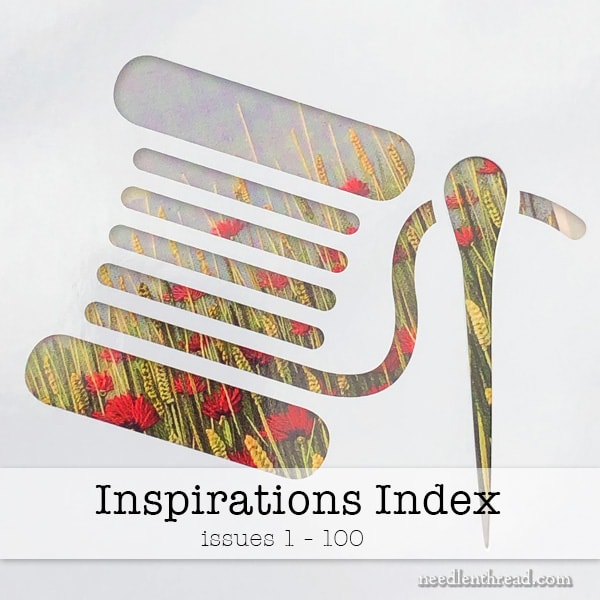 Whether or not you have all the first 100 issues of the magazine or not, I think the index is a great resource.
As I show it to you in detail here, you'll see why.
As you can see from the table of contents, the index for issues 1 – 100 of Inspirations is a compilation of several types of indexing approaches.
At the beginning of the Index, you'll find details on how to use each section of the Index.
The bulk of the Index is the project image library.
Grouped around an image of each magazine issue's cover, here you'll find a large, clear picture of each embroidery project in each issue.
Imagine if you are hankering to stitch a project, and you have access to the magazines. You haven't decided on a specific project, though. You can use this pictorial index to easily browse through every issue and see what projects are on offer.
Or imagine that you remember seeing a Certain Project in an issue of Inspirations and falling in love with it. But you set it aside, because you just didn't have time to undertake it. You finally have time – but you can't remember which issue the project was in! Trust me, it's a familiar scenario!
With the pictorial project index, you can find that project relatively quickly and see right away what issue it is in.
You'll find all kinds of information on each project image, too.
You'll find not only the issue number of the magazine and the page the project can be found on, but you'll find the name of the project, the name of the designer, and the type of needlework involved.
The project name index is another handy way to find a specific project in the magazine.
Here, you'll find each project from all 100 issues arranged alphabetically by name, with the issue number following the name of the project.
For some people, names stick. You might remember a particular name of a project and not remember anything else about it. Or, you might have jotted down the name of a project you wanted to do, and no other information about it. Whatever the case, you can find the project by name, just by browsing the alphabetical list.
I like to browse this list because I like to see how people title their projects! I'm not very good at naming embroidery projects, so project names always fascinate me!
Then, of course, there's a designer index. If you are attracted to a particular designer's style, you can browse through this list to find projects from your favorite designers.
There's also a project type index, which really equates to a project subject index.
Are you looking for a particular subject to stitch – say, camels or dog bones or any number of types of flowers? You can use the project type index to find embroidery projects that feature particular subjects.
Then there's the project technique index.
Do you want a crewel embroidery project? Maybe you want to try a tambour project, or hedebo whitework, or cross stitch, blackwork, goldwork… and the list goes on!
You can look up the specific technique in this index, and find the issues of the magazine in which the technique is featured.
If you want to see what particular project employs the technique, you can then hop to the main project image index, go to the issue of the magazine, and browse the images and descriptions of all the projects in that issue. If you find one that tickles your fancy in the technique you want to pursue, you'll know which magazine issue to track down!
And More…!
There are also other indexes within the Index – there's a step-by-step index, where you'll find listed all the step-by-step instructions that can be found in issues 1 – 100. For example, if you're looking for step-by-step instructions for a particular stitch or for setting up a roller frame, you'll be able to see at a glance which issues feature those step-by-step instructions.
There's also a magazine cover index. Here, you'll find thumbnail images of all 100 magazine covers. I can't tell you how many times I have been able to picture the cover of the magazine I want, but no idea which issue number it is! If you know the issue number and you arrange your magazines by issue, it's easy to find a specific magazine by consulting the cover index.
Finally, there's an Errata index, where you'll find any errata for any projects published in issues 1 – 100 clarified.
Thoroughly Thorough
This is perhaps the most thorough Index for any published periodical. Every possible way you could search for any project is covered. And you can cross reference each index with the main project image index for further information.
It was really well thought out, and it's a brilliant tool for anyone who has any of the first 100 issues of Inspirations Magazine!
Even if you don't have all the issues – perhaps you're slowly collecting them, or you've only picked up a few over the years, or perhaps you just want to be judicious in the ones you purchase – this is an excellent resource for finding embroidery projects that you really want to do.
Where to Find It
You can purchase the Inspirations Magazine Index for issues 1 – 100 directly from Inspirations Studios in Australia here.
If you're in the States, it's available through Wooly Thread, here.
In other countries, ask for the Index at any local needlework shop that carries Inspirations Magazine.
In Other News
For those who have been waiting for them, there's a limited batch of the Floral Corner Towel Sets – with the designs pre-transferred on them, so you can jump right in stitching – available right now in my shop, if you want to pick up a set!