I'm a huge advocate of simple stitching.
This isn't to say I don't like to get involved in complex projects – I do! But I also like (I love) the notion that hand embroidery doesn't haven't to be complicated to be pretty!
Case in point, this wee floral sprig…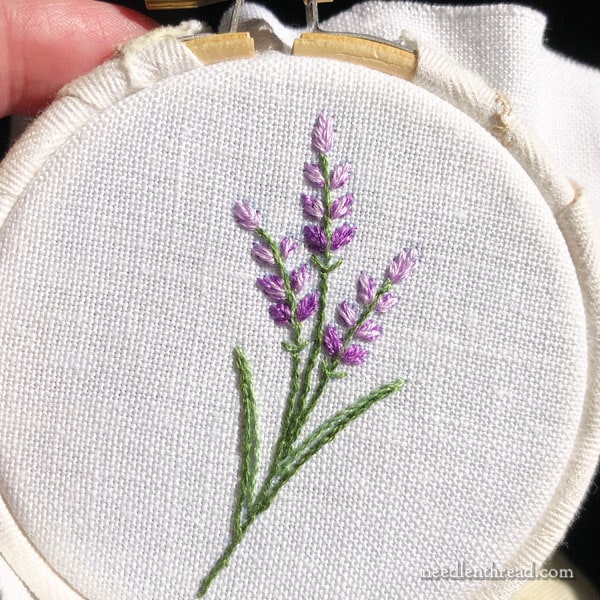 Quick to draw, quick to stitch, this little bit of embroidery is rather sweet, and it teaches a good lesson in the value of simplicity.
Stitched in a three inch hoop, the floral sprig is just about 2″ from its farthest points in the design. making it a perfect little accent for … anything that needs a perfect little accent!
It could adorn the corner of a hankie. It could decorate the front of a hand-made greeting card. It could highlight a corner on a crazy quilt square. It could be the cover feature on a little needlebook. It could be set into a tiny remembrance frame. It could be part of a sampler. It could be incorporated into a larger garden scene. So many options – and I'm sure you could come up with many of your own!
Two shades of green floss, two shades of purple. A scrap of fabric. A needle. And about 30 – 40 minutes. That's all it takes to stitch up a little element like this!
Stem stitch and fishbone stitch mixed with sketchy straight stitches – nothing too formal in the buds, and nothing difficult about the stitches!
The Joy of Simplicity
Embroidery doesn't have to be complicated. It doesn't have to take forever. It doesn't have to cost a lot of money.
And yet even the simplest embroidery can give a whole lot of satisfaction! There's a real joy in simplicity – and there's a well-earned sense of satisfaction in the completion of things, even if they are small and simple. Never underestimate the delight you can get from a well-stitched little thing!
The Series is Growing
This is the second in a series of growing little embroidery motifs that I'll be sharing with you here on Needle 'n Thread. You might remember this needlepainted flower? I've been doodling small elements for a while – and now it's time to stitch them!
Much of my "in between time" this summer will be spent stitching up the whole collection. Down the road, I'll put them together for you.
In the meantime, I'm going to share this pattern and the color scheme over on my Patreon page a little later this week, where I like to leak out little bits of designs in advance for my patrons. So if you're a Needle 'n Thread patron, keep an eye out!
Patreon is an online platform where folks can help support their favorite artists and craftspeople with just a small contribution each month. I add perks to my Patreon page when I can, to say thanks for your generosity and your support. If you find value in the content on Needle 'n Thread, you can become a patron for as little as a dollar a month. If this interests you, feel free to check out my page!