Last week, we looked at the beginning of this little stitch sampler that I'm putting together as a summer class project.
Earlier this week, I showed you the line-up of stitches so far on the sampler.
Today, I'll show you the finish. I'll fill you in on the rest of the stitches I used, talk a bit about finishing the little sampler into a needlebook, and then I'll show you the next thing I'm working on and the jolly mess that goes with it.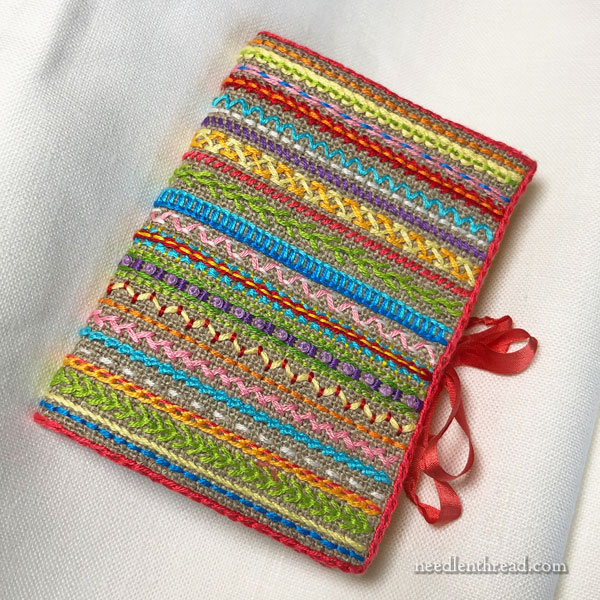 So here it is. This little sampler started out 6″ x 4″ and ended up folded into a 3″ x 4″ needlebook.
The finish for this is very easy and very manageable, making it a great approach for anyone who has never tried finishing needlework into something.
I'm afraid this is as close as I got to a step-by-step finish photo, though. I'm not sure why I didn't take photos as I went – perhaps I was just too eager to get it finished!
In any case, the method is exactly the same as the little needlebooks in Lavender Honey & Other Little Things. The only difference is that this needlebook is larger.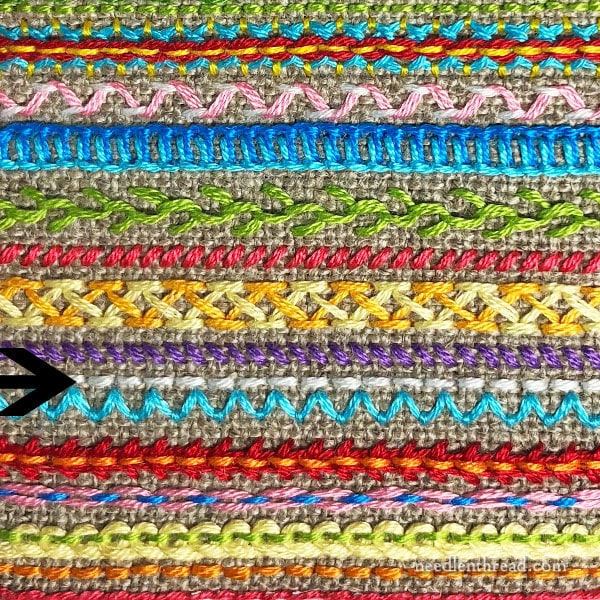 The other day, I named all the stitches used in this piece, up to the line where the arrow is pointing in the photo above.
Starting with that line, here's the rest of the line-up:
19. Running stitch, in white.
20. Fly stitch, worked horizontally, in light blue.
21. Wheatear stitch in red, backstitched down the center in orange.
22. Running stitch in dark blue, laced in both directions with light pink.
23. Pekinese stitch with the foundation backstitch in light green and the loops in light yellow.
24. Backstitch in orange.
The barely-showing dark pink line at the base is the chain stitch outline around the sampler.
Switching Fabric & the Next Thing
After finishing the needlebook, I moved on to testing a different fabric for a simpler sampler (say that ten times fast!).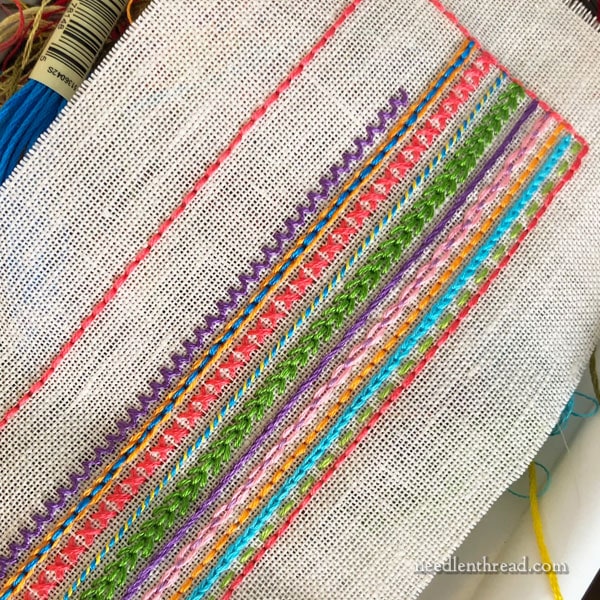 The idea behind this simpler sampler is to finish it as a bookmark. We will see.
There are fewer stitches in this sampler: running stitch, backstitch, chain stitch, stem stitch, fly stitch, and cross stitch. I've whipped a few of the stitches to add a little variety, but there's a bit of repetition going on, and that's ok, because that's how people learn a particular stitch really well!
I'm using a 32 count linen on this one and it's significantly lighter in color. I prefer the darker natural, so I'm going to look for a 30 – 32 count in a darker oatmeal / natural color. White shows up so much better on the darker naturals, and I think it always adds such a nice contrast when mixed in with lots of colors on a darker background.
When I work on projects like this, I get kind of caught up on them and my workspace subsequently goes to pot.
It was neat at one point, I promise!
So that's what's up on this side of the computer screen at Needle 'n Thread. This weekend, I'll be working up a couple more experiments and getting my ducks in a row on a few other projects that are looming.
If you have any questions or want to join in the conversation about little stitch samplers and similar stuff, feel free to leave a comment below.
I hope you have a splendid weekend, and that you enjoy any time you can finagle for your needle and thread!
Hey, if you don't have anything going, why not start a little sampler? You just need a small scrap of linen and random threads. It's great fun!