While I was out on my recent travel excursions – I went to visit three of my sisters who live in the Northeast – I was able to pop into New York City for a short bout of fabric shopping.
The Garment District in NYC features some great fabric shops, where, if you have the stamina and the guts, you can spend days exploring fabric inventory.
I didn't have days, let alone stamina and guts. I had a day, and more specifically, a morning. And while I could have spent that entire morning in one fabric shop, I didn't want to spend my short time in shops with overwhelming inventories. It's just too much, and I'm not that kind of shopper.
I was thrilled to receive a very kind recommendation from a reader for a place in NYC to shop for linen, and after giving one of the larger shops on my list a quick glance-over (and determining that it wasn't for me), I decided to seek out this particular recommendation. I'm so glad I did!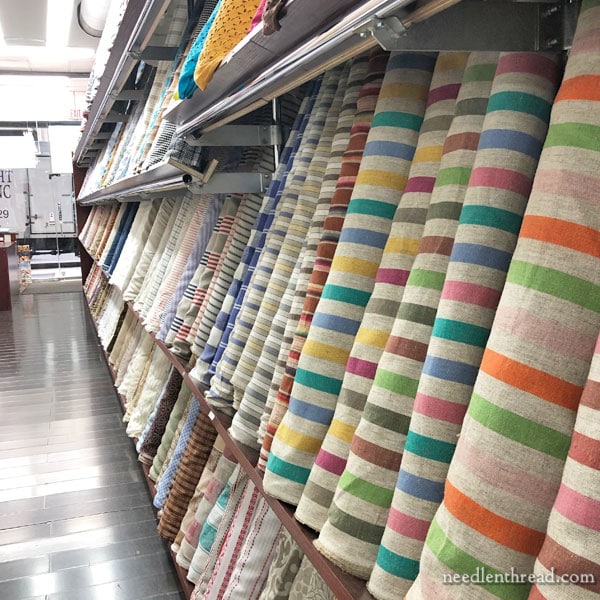 Tucked into a bright, clean, quiet, narrow shop on 37th Street in the Garment District in New York City, I found my own particular slice of Linen Heaven.
Gray Lines Linen, Inc. is a small shop featuring a lot of linen! As soon as I walked through the door, a particular sort of happiness fell upon me.
Perhaps it was the relief at finding a manageable-sized store. Perhaps it was the bright lighting and the clean store. Perhaps it was the friendly greeting. Perhaps it was the walls lined with bolts of delectable linen. I suspect it was a combination of all of the above. But whatever the case, it was pure relief to walk on in!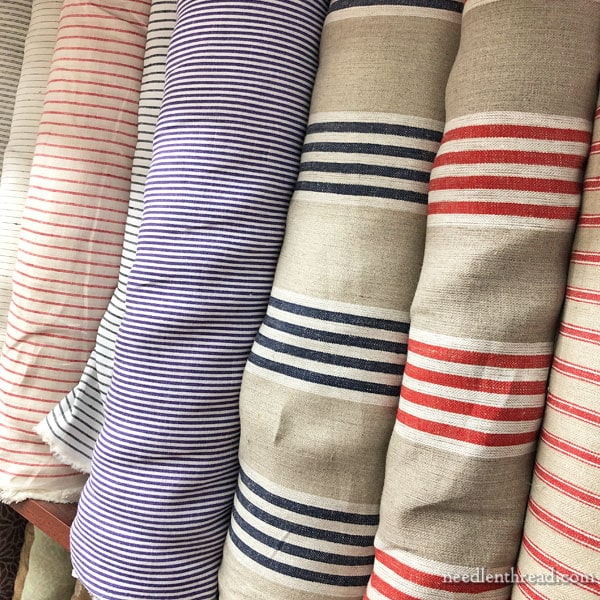 Gray Lines features all kinds of linen, but I have to admit, their selection of striped linen grabbed my attention before anything else.
I love striped linen. Whether it's used for toweling, for household furnishings and decor, curtains, Roman blinds, tote bags – I'm drawn to striped linen! And golly, do they have a fabulous selection.
The linen that I toyed with at Gray Lines is European-made linen. I don't know the exact countries of origin of the types that I handled, but they're nice. I immediately loved the feel of the linen. Not scratchy, not over-coated with sizing. There was nothing about the feel of the linen that set off alarm bells. It was all Good Stuff.
I love the stripes.
Oh, I love the stripes!
The problem is that, considering the linen from an embroiderer's point of view, the striped fabric might not seem to be too useful. But I have ideas! Oh yes, I have ideas!
You know how it is, though. In retrospect, looking at my purchases now, I regret that I didn't purchase some of this, some of that.
But guess what? They have a website! And shipping is less expensive than an average lunch in NYC.
If stripes aren't your thing, never fear! They abound in solids as well. This particular plain-weave linen is available in two weights – a lightweight 4.5 oz and a medium weight 5.5 oz – at 112″ wide. And at less than $25/yard, it is affordable.
I haven't washed my selection yet or stitched on it, but it has a nice feel, and I'm eager to try it. It comes in white, oatmeal, off-white, and natural, so I picked up a little natural and a little white.
This linen is sold for bed sheets and similar projects, so I suspect it will wash well. I'll let you know how it goes! (And no, I'm not making bed sheets…)
This is what I walked away with. Stripes ruled the field, I'm afraid.
The light blue in the photo above is their handkerchief linen. It has a nice hand – it feels good. And they have a lovely selection of colors in it. This is another one I'm eager to work with, to see how I like it for stitching. But that blue – oh, it is So Lovely! I have no idea what I'm going to do with it, but I'm definitely going to test it for surface embroidery applications. It runs about $12/yard retail.
Strangely enough, given the amount of fabric and textile-related stores in NYC, this is the only fabric store I spent time in or bought any fabric from.
There are other interesting fabric stores that I've been to before in NYC – like LaLame, Inc, which sells a wide selection of ecclesiastical fabrics and trim – but since I've already been there and I can order from them online, I didn't use my time that way.
Shopping on the NYC scale of things can be a bit overwhelming, especially when you don't have a lot of time and leisure to devote to the pursuit.
If you live in the area or are visiting (one of my sisters lives about 2 hours from NYC, so I consider that "in the area"), your best bet is to take public transport into the city, and while you're there, either to walk (especially if you're shopping within one district) or to make use of public transportation, a taxi, or Uber (depending on your means). Do some research ahead of time so that you don't waste a lot of time in places you aren't really interested in. List your "absolutes" – a few places you know you want to explore – and then make a "maybe" list of possibilities. If you make it to your "absolutes," you did well!
I only had three places that were "absolutes" on my list, and a few other places that were "maybes." I made it to the absolutes, scratching one of them off completely as soon as I walked in and saw the scale of the place. It was too much for my interests. I spent the rest of my shopping time at Gray Lines Linen and one other place, and that was adequate.
I'll share my other exploration (for beads) later on!
And I'll share any findings about the fabrics I purchased as soon as I can start playing with them. For now, though, it's back to the grindstone – I left a lot of work undone, and now it's time to catch up!