After thinking about it for a while, I realized I could write this review in one line:
"If you have any interest at all in goldwork, Goldwork Masterclass by Alison Cole is the definitive book on goldwork that you need to own."
In fact, I think it's such an important book for anyone who wants to learn goldwork and pursue excellence in goldwork, that I've decided to stock it. This will give US readers an opportunity to acquire the book without delay. Alison publishes her own books, so they are not available through other book sources. You can order them from her or from folks who order them from her. So, more on that at the end of today's review!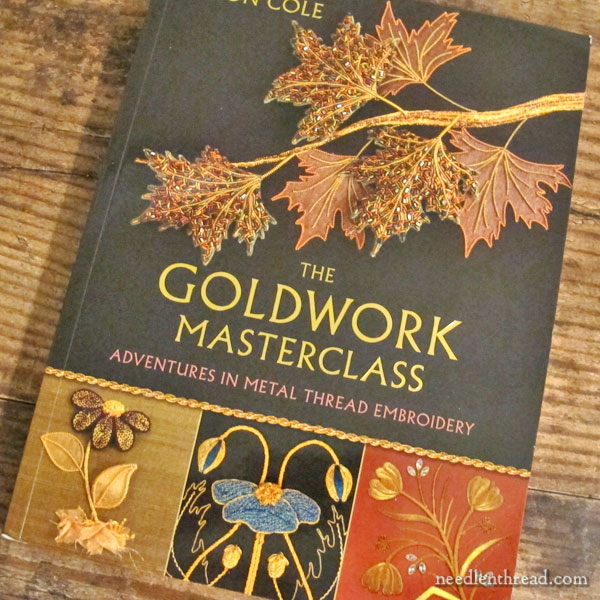 I've read through Goldwork Masterclass three times, and I've gone back and read over different sections more than that.
It's the book that's been delaying me from moving through the stack on my side table! Lately, whenever I have book time, I end up picking this book up again. I have goldwork on my mind…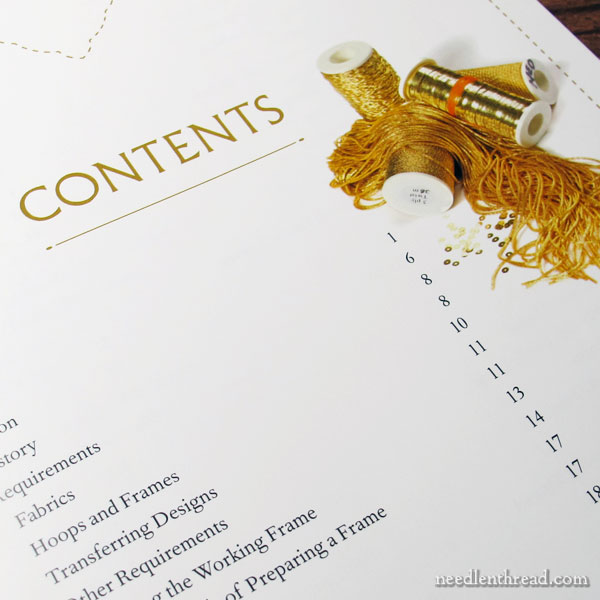 Understand that it is a vast book, as far as content goes. It clocks in at just under 200 pages, and those pages are packed with everything you could possibly want to know about goldwork embroidery and how to do it.
The Table of Contents is four pages long!
In addition to the thoroughness of the book, the layout is both interesting and logical. The presentation of the contents is easy to follow, making it easy to absorb.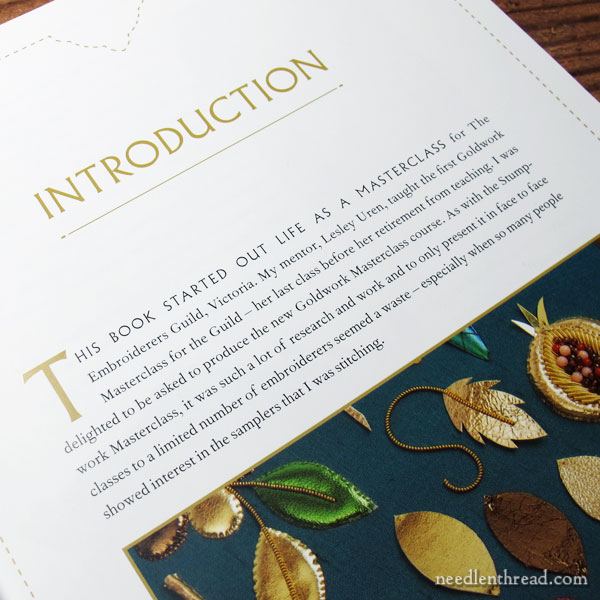 The book begins with an introduction, explaining the background of the book and how and why it came about.
Alison Cole is one of the world's foremost – if not the foremost – goldwork experts, but she is very accessible and easy to read. She doesn't complicate things and her writing style is professional but delightful.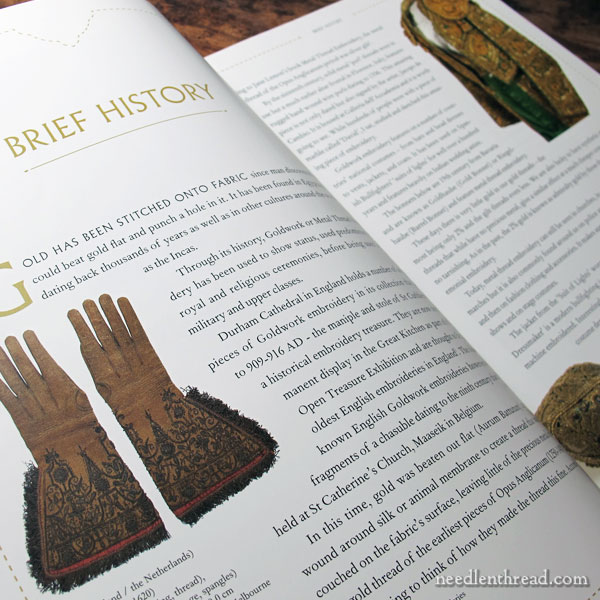 Then, we move into a brief history of goldwork – nothing too heavy, but it covers all the pertinent points in the development of embroidery with gold threads.
We get a little more historical content a little later in the book, too.
Then, the basic requirements – fabric, tools, threads, materials. This is a relatively short section, since the individual types of goldwork threads are covered in their own categories further on in the book.
It's here that you learn about frames, hoops, transferring designs, and setting up goldwork projects, too.
Now we launch straight into the techniques of goldwork embroidery, starting from the foundation up.
So this first section on techniques focuses on padding, because most goldwork embroidery is worked over some kind of padding.
Each techniques section in the book is presented more or less the same way.
We get a photo of a sampler that covers the techniques in that section (you can see the padding sampler in the photo above)…
…and then we are taken through every aspect of that technique, learning how to do it, why, and troubleshooting the difficulties one might come across.
The instruction in the book is offered through photographs, diagrams, and text. It is a book that you need to read, primarily. While you can rely on diagrams and photos in some areas, mostly, to really understand the techniques, you're going to want to read what Alison is telling her students in these sections.
Again, she's easy to read and very accessible.
At the end of each section, you'll find another image of the sampler, with the Key on the facing page, saying what technique, what threads, etc., were used on each element in the sampler.
In this way, you have an excellent resource at each step of the way for looking at the finished technique and answering the question "how was that done?"
While this may not seem so important when discussing padding (though excellent foundational work is essential for an excellent outcome), you can see how this approach works when looking at individual goldwork techniques:
For example, here's the sampler shown at the beginning of the section on couching goldwork threads…
…followed by thorough instructional content…
… and finished with the sampler and key.
You can examine the couching techniques, maybe find a particular finished look that interests you, and then reference the key to see what techniques and what materials are used to achieve that look.
You can then go back through the instructional content to learn how to produce that particular result.
The samplers, though, are really base of the "masterclass" concept. If you imitate what Alison has done and you work a sampler for all the techniques she covers, by the end of the book, you will master goldwork – or at least, you will have the beginnings of mastery under you command.
So now that know how the book is set up, we'll look at the techniques she covers.
After couching, we get Or Nué, which is a specific type of couching using colored threads to "paint" a picture over gold.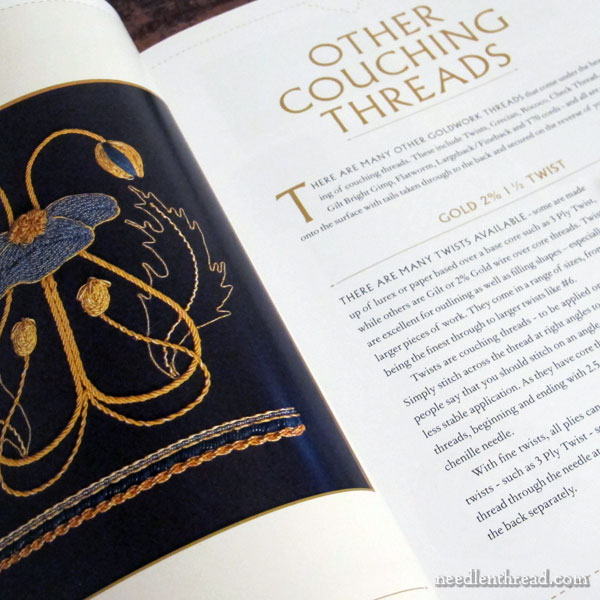 This is followed by Other Couched Threads, like twists, check threads, and so forth.
From here, we move on to pearl purl and plate, those hard, solid metal threads that are couched on in particular ways.
Then, we look at purls, which are spring like metal threads that are usually cut and sewn on like a kind of flexible bead.
This is followed by a section on other traditional materials used in goldwork, such as kid leather, beads, spangles and sequins, pressed metal shapes, and so forth.
There's a small break here from specific materials and the techniques used to stitch with them, while we jump in to look at some historical embroidery where goldwork played a dominant role.
First, there's a section on Opus Anglicanum, or English work, which involves silk embroidery (mostly in split stitch) and certain methods of goldwork. There's a practice piece in this section, and plenty of instruction.
This is followed by a section on Elizabethan & Stuart Goldwork embroidery, and the techniques common in those eras.
Here, you'll find plenty of step-by-step photo instruction for surface embroidery stitches commonly worked with gold threads during those eras.
The sampler for this section is really pretty!
Then there's a whole section devoted to fillings created with goldwork threads and combined techniques.
There's a vast sampler associated with this section – it's fabulous!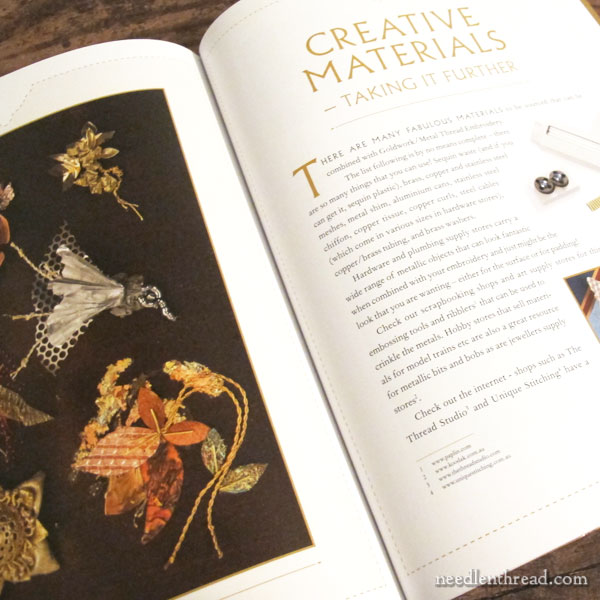 Next, you'll find a section on other creative materials that can be employed in contemporary goldwork. There are many ideas here that will help you expand you vision when it comes to embroidery!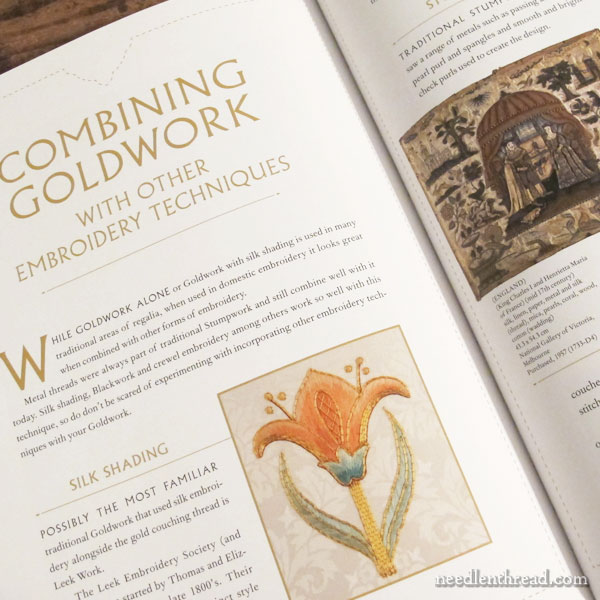 Next is a section that's more inspirational than instructive (though you'll learn much from the examples), where we see the combination of goldwork and other embroidery techniques. There is a gallery here of Alison's work and the work of others.
As we near the end of the book, there's a section on ceremonial goldwork, with history, thread types and techniques…
…and finally, a section on other goldwork-related goodies, which includes information about laces, galloons, trim, and the like.
Definitive
This is the definitive book on goldwork in all its aspects. It's the ideal reference book and instructional book for anyone interested in learning goldwork or interested in progressing in skill and ability.
As far as pros and cons go, it's all pros! You could perhaps cite the price as a con, as it is not an inexpensive book. The book is self-published, though, which is a huge investment on Alison's part. It is extremely professionally done. It is a beautiful book. And, simply put, books like this don't come cheap when you're doing it yourself.
Where to Find It
Because Goldwork Masterclass is self-published, it is only available through Alison Cole directly or through needlework shops who stock it.
I'm currently stocking a limited number of copies, and you can find them here. If there is a demand, I will most likely stock more. The price for the book is $59, which includes priority shipping in the domestic US.