Good morning, and Happy Wednesday! It's a good day for a book review, methinks.
The book I'm going to review today has been in my reading stack for a while. It's been on the market since last autumn, and perhaps many of you – especially if you are counted cross stitchers – already have it. It's a book chock-full of finishes.
The book is Willing Hands: The Counted Thread Embroidery of Betsy Morgan. And even though Willing Hands concentrates on counted thread techniques, I don't see it so much as a counted thread technique book. Instead, I see it as a book that overflows with fabulous ideas for finishing embroidery into useful and beautiful needlework accessories.
Let's take a look at the book and then chat about how it is a universally useful book for embroiderers of every discipline.
Willing Hands is an extensive book published in 2019 by Inspiration Studios.
It features complete project instructions for 8 etuis (needlework tool keepers) and 36 small coordinating accessories, such as needlebooks, mini button boxes, pin keeps, scissor covers, fobs, and so forth.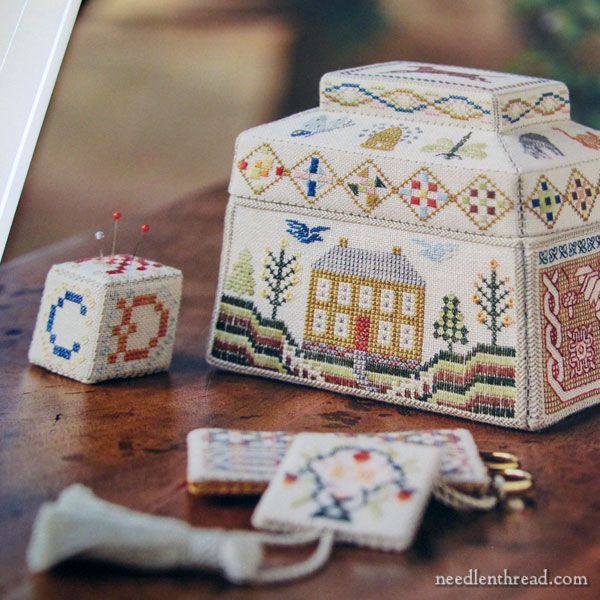 Each piece is adorned with classic and charming sampler-type motifs and designs worked in a variety of counted thread techniques.
The etuis in the book range from fairly complex builds (like an Elizabethan-inspired casket shape) to unique (like the helix etui featured in the book) to simpler book-fold type cases.
The projects are presented with their corresponding accessories.
For the beginner who wants to try finishing items for the first time, and for the intermediate and advanced who want to perfect their finishing skills, every level of finishing can be found in the book, from very simple small finished items to the larger and complex boxes and cases.
The whole book is an exercise in clever construction and finishing!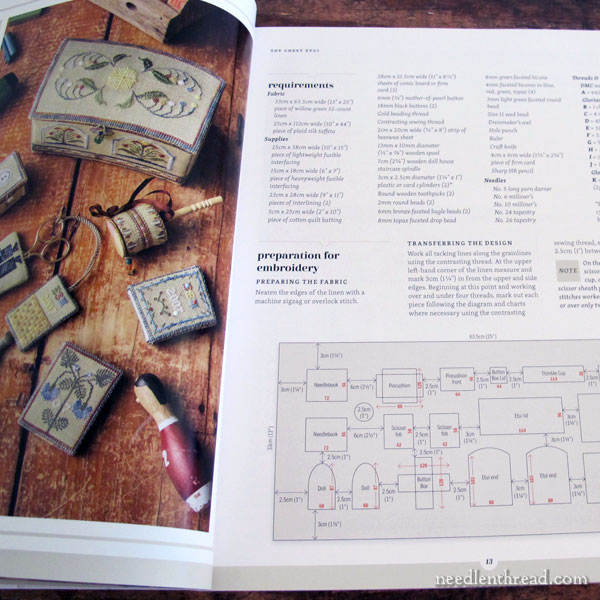 Each etui and its accessories are presented with a layout diagram that lets you see how much fabric you'll need and how to arrange the embroidered items on the fabric, if you plan to create the whole kit and caboodle.
The projects are accompanied by complete material lists, charts, stitch guides, and… of course… finishing instructions.
There's so much packed into this book!
But the order and arrangement is logical, so all the instructions are easy to follow and all the charts and necessary information are easy to assimilate.
This doesn't mean, though, that the actual creating is easy. There are many small projects that fall in the easy category and that are accessible to the beginner, but if you are just starting out in finishing, then you might not attack the most complicated projects in the book first. Work gradually and learn, before advancing to the Big Stuff! Some of the projects are not for the faint of heart.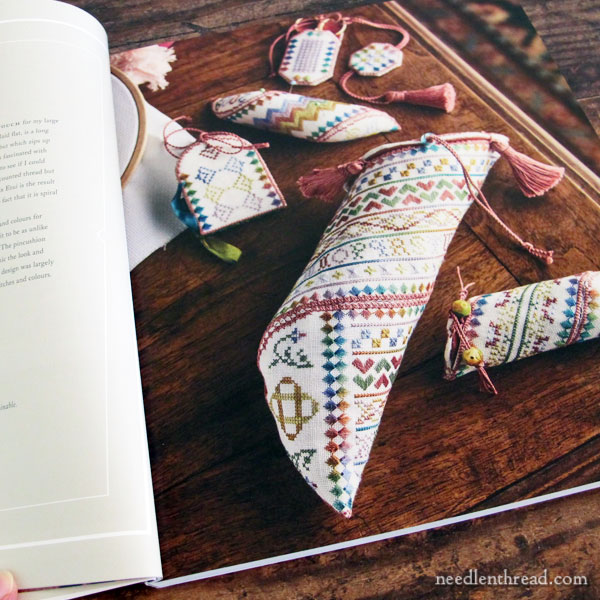 That said, what magnificent satisfaction can be had upon completing any of these beautiful projects!
I'm quite captivated by this particular etui shown above. I've explored and experimented with similar shaped pencil cases, but they usually involve a zipper. I really love the way this one is bound together by hand stitching. I could see doing something like this with a surface embroidery design, and using decorative stitches to bind the etui and make it spiral around itself – like using any number of braid stitches or knotted stitches! Might be something to explore…
Isn't this little casket sweet?
You'll find all the designs and instructions for creating it in the book.
But this brings me to the whole finishing point.
You know you can use a book like this solely for finishing ideas, right? You don't have to stitch the designs as they are printed in the book. They are perfectly charming and I think they're beautiful! But I know that there are many stitchers out there who prefer not to stitch on a grid, but who still love to finish their embroidered items in similar ways. You can do that! Just design your own embroidery to fit within the parameters of the measurements for any of the designs. Why not?!
(Another favorite, above!)
Anyway, this is what makes the book so universal. If your interest lies in counted work, everything is laid out here for you, from charts to finishing. If your interests lie in surface embroidery of a free-style nature, the book provides you with the layouts and measurements for the finished item. Consider those as templates within which you can design whatever you want! Even if your interests are in goldwork, in silk, in whitework – you name it – you can use the finishing techniques and create beautiful things.
And yet another favorite! I'm a sucker for any finish that has a bookish look to it. I love the banding, too.
After presenting all the etuis and accessories, the next section of the book is a stitch guide.
All the stitches that you encounter in the projects are laid out here in step-by-step photos, so that you can easily learn them and execute them on your own project.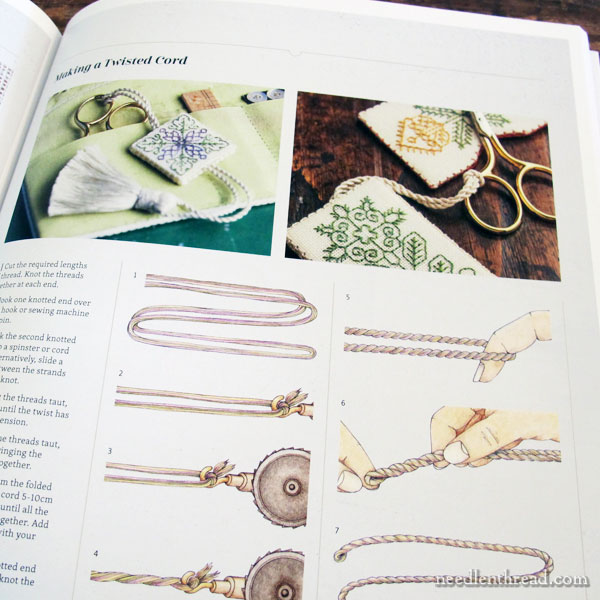 You'll also find diagrams to help you create finishing details like cords and loops.
Finally, you'll find a whole section devoted solely to the construction techniques for the eight etuis and their accessories.
The written instructions for finishing are accompanied by an abundance of clear black & white diagrams.
The step-by-step process will lead you through the creation of each item in the book.
When tackling instructions like this, I always read through them thoroughly before beginning, so that I have an idea of where I'm going and can visualize the process. Then, I read them again before I start. I've read the instructions in the book for several of the etuis, and they are definitely clear. The diagrams are quite helpful. But some of the more advanced or complex projects might require a little experience before launching right in. Start with some of the smaller accessories and build your skills, and then move on to the more challenging items.
At the very end of the book, there are several charted alphabets for personalizing the items.
<3>In a Nutshell
This is a fabulous book for experimenting with finishing items into useful and beautiful needlework accessories.
No matter what your stitching preference, you'll want this book for an abundance of finishing ideas. It's a wonderful project and idea book!
Where to Find It
The book is published by Inspirations Studios. I'm carrying it in my shop, so you can find it listed here under embroidery books, while it's still available. Thanks!