I'm a huge advocate of SDO – Stitch Dictionary Ownership.
You don't have to own a gazillion stitch dictionaries. But I do think that every person who goes beyond the initial dabble into embroidery to pursue it as a developing interest should invest in at least one good stitch dictionary.
I won't go so far as to say in at least two stitch dictionaries, since we have such easy access to the internet and a million online tutorials. But it's always good to have one, as well as one or more other sources (including online) for cross referencing.
Right now, I have stitch dictionaries piled high and deep on my work table. You'll find out why later!
Strangely, these aren't all of my stitch dictionaries. But these all have Something about them that encouraged me to include them in the pile.
I'm bereaving the absence of two favorites. I either loaned them to someone or I put them somewhere that I wouldn't forget.
Oh, poo. That never works out!
Why a Stitch Dictionary?
So, my argument – which I'm sure I've made before – for owning a stitch dictionary is this:
A real book that you can reference when you need help learning a stitch – or when you need an idea for a stitch for a particular design element you're working on – is invaluable. Stitch dictionaries are an efficient way to look up a stitch with minimal distraction, and to learn it quickly (usually) from experts who know what they're doing.
It is true that there are some shoddy stitch dictionaries out there. But the majority of them are from reliable, knowledgeable, talented embroiderers and excellent embroidery teachers.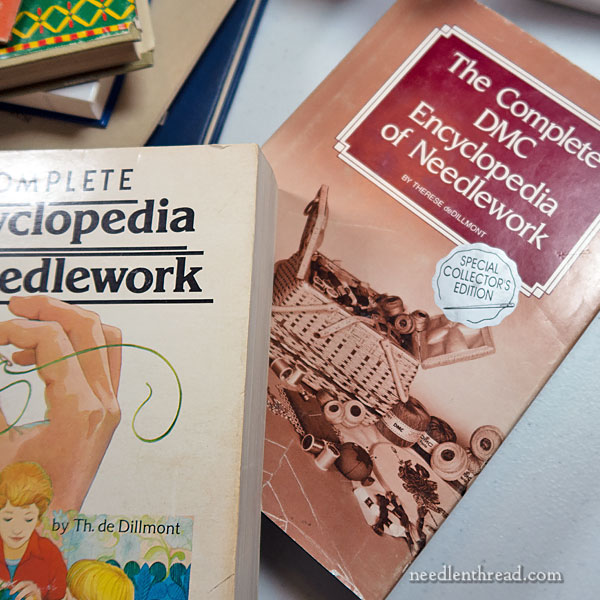 In my collection, I like to have old and new stitch dictionaries, because this helps me cross-reference names and types of stitches, different methods of working them, and different ways they are explained or categorized.
I also like to have new versions of old books, because this helps me see how stitches have developed from one interpretation to another, or how their names have come into more common usage or have dropped out of common usage.
I have many tried-and-true stitch dictionaries…
… and many that are obscure and no longer in common usage.
I have conventional and non-conventional stitch dictionaries…
…as well as some that are very specific to eras or techniques.
I have many that are old favorites and good friends, that could never go out of date, and many that are outdated but still valuable.
What to Look for in a Stitch Dictionary
It's hard to say what stitch dictionary will appeal to you. We all have our own preferred learning style. For some, a quick diagram is all it takes. For others, a step-by-step photo explanation works better. For still others, text is a reliable instructor. Some prefer video (hard to come by in books…!) while others prefer photos while still others prefer diagrams and still others have a hard time unless someone is demonstrating for them in person.
So selecting a good stitch dictionary that will suit you best is really something that only you can do.
That said, here some things I look for in contemporary stitch dictionaries that are still being published:
1. A wide variety of stitches…
2. … explained with clear diagrams or photos…
3. … and with well-written and well-edited text, …
4. … all arranged in a logical manner …
5. … and preferably accompanied by images of the finished stitch in context.
Recommended Current Stitch Dictionaries
Here's a list of recommendations for current stitch dictionaries that are worth looking into, with links to my book reviews so that you can see them in more detail:
Mary Thomas's Dictionary of Embroidery Stitches – a classic!
Embroidery Stitch Bible – This book has long been a favorite, and I'm happy to say there's a new edition out, finally.
Yvette Stanton's Left-Handed Embroiderer's Companion and Right-Handed Embroiderer's Companion
The A-Z of Embroidery Stitches and A-Z of Embroidery Stitches 2 (Any of the A-Z books are excellent instructional books, but these are the two that focus on a variety of embroidery stitches rather than on specific techniques)
Lucinda Ganderton's Embroidery Stitches book – which has come out under a variety of names over the years, depending on where you are and when you bought it. The article explains! I've had the older edition called Stitch Sampler for a long time.
You'll also find some of my favorite stitch dictionaries listed here on my Amazon page, under "Browse my Amazon Favorites," just in case you're looking for a stitch dictionary that can be delivered quickly and affordably.
This article contains an affiliate link to my Amazon page. Any purchased you make through that link results in a small commission for Needle 'n Thread, without any extra cost to you. Thanks!