Occasionally, I like to share a dose of reality about life in the studio here at Needle 'n Thread.
I met an online friend for the first time the other day. She declared that she was glad to see I was "normal" because my workspace was a bit of a mess!
I asked what she imagined studio life to be at Needle 'n Thread. Her response cracked me up.
She imagined some kind of Pinterest-perfect studio, color coordinated, immaculately clean, everything organized in particular nooks and crannies and drawers and shelves and nothing out of place. Every thread, every tool on my work table laid out in order, like a surgeon's tray. Soft music and silence, birds chirping, the sun shining in the windows and a tea kettle always ready (ok, fine, yes, it is). Matching china for tea at a particular time every day. (!!! I must visit this parallel universe some day !!!)
She went on and on, painting this strange fantasy world that is entirely not Needle 'n Thread. I just kept laughing as she described the sheer unreality of what she imagined my work life to be.
And I wondered how she came to have these impressions. Surely that's not what comes across here in my blog posts. But just in case it does…
The conversation encouraged me to give you a current behind-the-scenes view of how life is faring in studio at the moment.
I'm doing a lot of finishing right now, making piles of ornaments. At the end of a work session, this is what my work table ends up looking like.
And while it won't stay this way, this is realistically what happens when I'm involved in this type of work.
Things accumulate. What started out orderly ends up disorderly. Entropy rules the table during this type of work session!
And you know what? I don't always clean it up at the end of the day.
Sometimes, I walk away from it and leave it there until the next day, when I dive back into the same work in the very same mess.
I realize that I could work more efficiently and that I'd probably work with a clearer head if I started each work session with a pristinely organized table. But at the end of the day, I don't always have time to address that particular hot spot that's gone amuck. And at the beginning of the next day, I just need to get things done – so I jump right back into the same work.
By the way, what are all those bags on the table in the front of the photo above? I can't even tell you…
Eventually, this will drive me nuts, this table. I'll give it a quick going-over, just to get the extra I-don't-know-what off the table and to give me some room to keep working.
But sometimes, I don't address that kind of situation because I'm stuck into the work, working against a deadline, or putting out a proverbial fire so that things can come together as they should down the road.
That is the reality of life in the studio at the moment!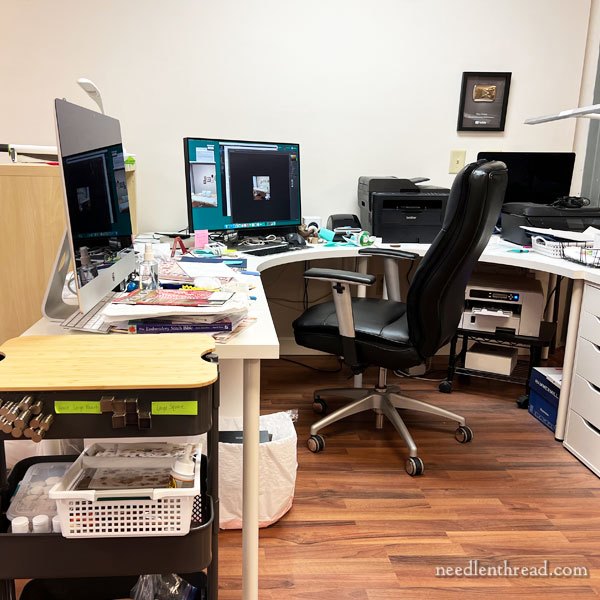 The other part of studio life is computer work.
Good grief, my desk is a mess right now. If I could count the number of post-it notes that are stuck all over my desk to remind me of this thing and that.
Oh look! There's a reminder that I took care of two weeks ago, and the post-it is still there. Whew! One little spot cleared away…
Stacks of books that need reviewing; purchase orders that need filing; project notes that need translating into instructions. And ric-rac. And ribbon. And embroidery floss. Highlighters. Pens. And shipping labels. Two project prototypes. And an otter tape dispenser that makes me chuckle every time I see it.
My desk will get a work-over today, in fact. I'm getting ready to dig into about a week's worth of solid computer work, and I can't do that kind of work at a messy desk.
But it does happen, this kind of desk-mess. My studio world is not, you see, perpetually Pinterest-perfect.
Oh wait.
While I'm doing my thing, Anna is doing hers.
She's cutting fabric for kits.
Check out those orderly, neat cutting tables.
Those tidy, counted stacks.
That fabric, perfectly laid out for the beginning of the next day's work.
(Insert eye-roll.)
Well. It's nice to have at least one corner of the studio in order!
The Take-Away
It's good to share some behind the scenes mess now and then. It keeps things real.
Sometimes, in the blog-o-sphere and online world, we tend to develop unrealistic notions of the lives of people we only know online. The fact is, humans are human. None of us are perfect. And very few people live the picturesque, Pinterest-Instagram-Perfect Life that shows up in pristine, immaculately staged photos online.
Personally, I'm not a huge fan of unrealistic "perfection" that is often reflected in the online world. While it may be inspirational in some respects, I think it compels people to worry after the wrong things in life. The externals just aren't The Things that Matter.
This may sound like an excuse for Slobdome. It's not. Reasonable organization, neatness, planning, and so forth are all necessary for a well-ordered life, both interior and exterior. How our exterior life is ordered often helps keep our interior life (spiritual, emotional, mental) ordered, too.
But we shouldn't beat ourselves up, because we don't live a life that we imagine other people live when we see their staged photos and videos online. That's just a recipe for unhappiness.
And on that note, I'm going to get back to reality. Time to plow through some of these post-it notes and clean off that work table.
Coming Up
We'll have some new kits for you next week, and a Stitch Snippet stitch-along starting not too long after that.
I'll give you an update on those at the beginning of the week so that you can know what to expect!
Have a great weekend – and I'll see you Monday!