The backstitch is one of those basic stitches used in many types of hand embroidery, but, although it's a basic stitch, it's extremely versatile and can be used in any kind of surface embroidery project, from beginner's embroidery all the way through expert.
Like the running stitch, the backstitch creates a line made up of straight stitches, but unlike the running stitch, there is no space between each stitch.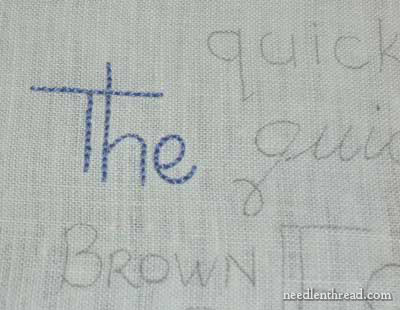 In the photo above, you can see the backstitch being used to embroider a word in my hand embroidered lettering tutorials.
In that tutorial, I also cover how to "travel" the threads on the back of the fabric, to keep the work neat. If you're looking for information on how to use the backstitch to embroider words or letters, you might want to check out that embroidered lettering lesson.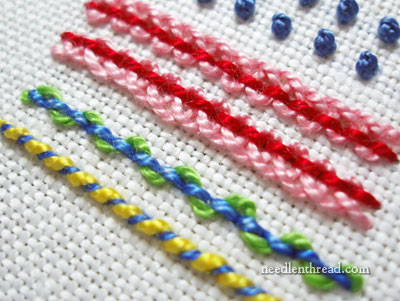 The backstitch is also used to form the base of many composite stitches. In the photo above, it is used as the base of Pekinese stitch, laced backstitch, and whipped backstitch.
Backstitch stitch can be worked on straight lines, curved lines, tightly curved lines. When it is whipped with another thread of the same color, it creates a solid line that looks a little ropey, stands up a bit from the fabric, and that smooths itself around curves quite well.
Here's an example of outlining done with whipped backstitch: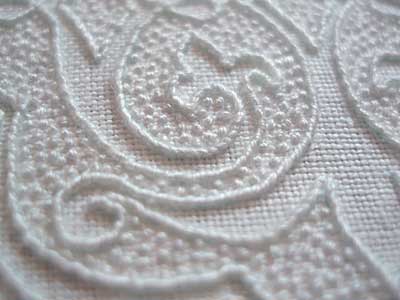 You can read more about it in this article on adding texture to embroidery with simple stitches.
There are many other stitch combinations that employ backstitch, so never underestimate the value of this simple stitch!
Backstitch Video Tutorial
Backstitch can be worked on pretty much any type of fabric. In the video below, I'm working with perle cotton #5 on linen. You don't have use an even weave linen – you can use plain weave fabric of any type.
Here's the video:
Do you want more inspiration & information on hand embroidery?
There are all kinds of reasons to sign up for the Needle 'n Thread daily newsletter! Check them out and sign up today!
If you're looking for more video instruction in hand embroidery, you'll find lots of embroidery how-to videos here on Needle 'n Thread.
If you like what you see on Needle 'n Thread, if you want to be a part of keeping the website thriving (and free of annoying network advertising), why not become a patron on Patreon? Check out my Patreon page here, where I'll occasionally add special needlework bonuses for patrons.
If you shop on Amazon, you can support Needle 'n Thread without any extra expense to you by visiting my Amazon Recommendations page here, where you'll find books and sundries for the needleworker available on Amazon.