I'm so excited!! I received a copy of Trish Burr's new book, Crewel and Surface Embroidery: Inspirational Floral Designs, and I've had a chance to look it over carefully and absorb some good tips and insights about thread painting (long and short stitch) techniques. So here's my review of the book…
Crewel and Surface Embroidery by Trish Burr is one of three books she's written on the subject of long and short stitch techniques. This third book is exquisite in a number of ways: first, the presentation – it's a beautiful book, with clear photos and diagrams and a nice print layout.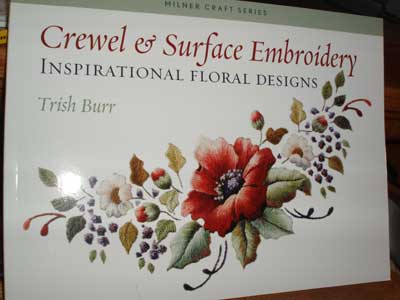 Second, the projects are exquisite: stunning flower arrangements in various color schemes that would suit any embroiderer's preferences for color.
Third, the detailed explanations and directions, as well as the tips and tricks before beginning and along the way, are perfect for any level of embroiderer. Even if you've never worked any long and short stitch techniques or done any soft shading, you will be able to with this book. If you've been intimidated by thread painting techniques, your trepidation will melt away if you read Trish's tips and follow her advice while working through the project.
Fourth, whether you like floral designs or not (some embroiderers might not be "into" floral motifs), the information in this book will translate to any kind of thread painting project – whether figure embroidery (people and their clothes) or scenery, or even animals. Really, the book is about shading and how to add dramatic and subtle contrasts with different colors and shades in order to produce a realistic and appealing picture.
Some of the best points of the book:
1. The section on tips for working the designs. This comes at the beginning of the book, and is an itemized list of pointers for executing the designs. The points, however, apply to all kinds of needlework projects. You'll find advice about transfering your designs, the order of embroidery, thread choice, etc.
2. The section called techniques, where Trish covers everything from the grain of the fabric to completion of a project (that dreaded finish work!) – blocking, mounting, and so forth. Again, all this information is applicable to any embroidery project.
3. The section on practice motifs, step-by-step. This is a gem of a resource for anyone interested in thread painting. Trish takes the reader step-by-step through common motifs from the simple petal, to the petal with a turned edge, to the simple leaf, to the leaf with highlights. She gives details on working each motif, along with pictures showing the development of the motif.
4. The projects themselves: These are arranged from smaller and simpler to larger and more complex (beginner to advanced). Each project is accompanied by a thread key, a color photo of the completed project, an outline drawing (to use as your pattern), a line drawing with directional lines marked in (to use as a guide), and a watercolored sketch-up to help see clearly where the shades change. In the first several projects, very detailed instructions are given for every step of the way. Later in the book, the instructions are still detailed enough, but not as detailed. As you become more proficient with the basic techniques of shading and so forth, the minute details are not as necessary.
Comparing this book to her other two on similar subjects (Long and Short Stitch Embroidery: A Collection of Flowers and Redoute's Finest Flowers in Embroidery), I like this one best as far as information goes.
I think I prefer the style of flowers in Redoute and Long and Short Stitch (they are more "natural" in their presentation, rather than arranged in sprays) over the style of flowers in this book. Yet, despite that preference, this book the best of the three (in my opinion) as far as teaching the technique is concerned. Everyone's tastes differ, though – you may prefer these projects to those presented in the other books. Certainly, the projects in this book are more suitable for a "whole presentation" effect. They would look complete, for example, on a pillow cover or framed. The flowers in the two previous books are somewhat isolated.
If you want to see some of Trish's work – including projects in this book – check out Part I and Part II of my recent interview information from Trish.
Where to Find It
You can find Crewel and Surface Embroidery: Inspirational Floral Designs through the following book affiliates:
In the US, Crewel and Surface Embroidery is available through Amazon.
Worldwide, with free shipping, you can find Crewel and Surface Embroidery through Book Depository.