Continuing with this series of photo tutorials on beginning and ending your threads in hand embroidery, here's a very simple way of ending your embroidery threads without using a knot.
I stitched a line of broad stem stitch to demonstrate this, using a waste knot to anchor my thread before starting. This method of ending threads, though, will work with practically any kind of stitch.
Once you're ready to end your thread, take your needle to the back of the fabric (with the last stitch) and turn your work over.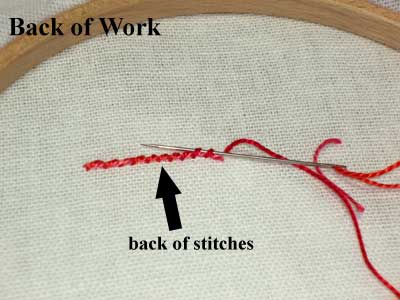 Run your needle under the back of two or three stitches.
I like to "anchor" my ending thread by taking the needle back under the last stitch – it's like making a backstitch over back of the last stitch you went under. This "locks" your working thread and makes it a little more secure. So, backstitch over the last thread you went under in step #1, and then continuing threading your needle under the line of stitches, until you've about covered your needle. Then pull the needle through.
Snip your working thread.
You can see here with the "anchor" stitch is. With finer threads, it won't be as obvious, but here, I'm working with a #5 perle cotton, so it's a wee bit bulky. Still, I use them even with cotton perle. It doesn't make enough of a bump to be felt or seen from the front.
So that's one way to end your threads, and perhaps the easiest way!
If you're new to embroidery, you may want to check out the other tips and tricks on beginning and ending your threads found here on Needle 'n Thread.
Enjoy your stitching!