Aha! I bet you thought I'd given up on expanding my video library of hand embroidery stitches! I finally managed to re-video (if that's a word) turkey work!
Turkey work, also called ghiordes knot, is an embroidery technique that creates a plush pile. It's great for dimensional embroidery, stumpwork, and the like. I've seen many a bumblebee embroidered using Turkey work, as well as thistle tops and other grass / flower motifs.
The term "Turkey work" has nothing to do with the bird, by the way. It's from Turkey, the country – it's a rug stitch commonly used there, and the technique has been adapted into surface embroidery. This is a fun technique – not so much in the stitching, which is rather bland (more or less, just a backstitching technique, where every other stitch is left in a loop), but the trimming and fluffing is Great Fun!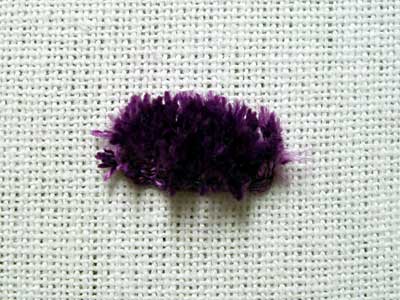 This is a clump of Turkey work from the top. It's four rows of loops. In the video, I only stitched two rows, to show you the technique.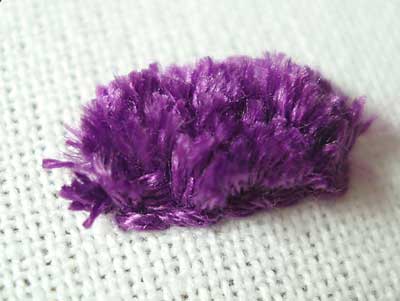 This is the pile from the side. Pretty, fluffy stuff, isn't it? I used a whole piece – all six strands – of DMC stranded cotton. You can use any kind of thread for Turkey work, but I like stranded cotton, and as many strands as feasible, because it separates into a nice, thick carpet when fluffed.
A couple points:
1. The closer you work the rows and the smaller your "locking" stitches – and the closer together your loops are – the thicker your pile will be.
2. An eyebrow comb is a handy thing to use for fluffing, but if you don't have one, just run your needle through it until you get the fluffy look you want.
3. In the video, I worked both rows from left to right, but you can work the rows in either direction as you return on each row. Just reverse the way the stitch goes. Once you get the hang of the movement of the stitch, you'll be able to figure that out, no problem!
By the way, I'm back to considering whether or not I should script these videos before I actually open my mouth and start yammering…
Here's the video:
For more hand embroidery stitch videos, check out my How-To Videos for Hand Embroidery!
Looking for inspiration & information on hand embroidery?
There are all kinds of reasons to sign up for the Needle 'n Thread daily newsletter! Check them out and sign up today!
If you like what you see on Needle 'n Thread, if you want to be a part of keeping the website thriving (and free of annoying network advertising), why not become a patron on Patreon? Check out my Patreon page here, where I'll occasionally add special needlework bonuses for patrons.
If you shop on Amazon, you can support Needle 'n Thread without any extra expense to you by visiting my Amazon Recommendations page here, where you'll find books and sundries for the needleworker available on Amazon.