Want to learn how to work the long & short stitch, for needle painting and shading techniques in hand embroidery? Here's a sampler you work your way through, step-by-step, to build the skills you need to embroidery smooth, beautiful, well-blended shaded embroidery!
List of Long & Short Stitch Lessons and Links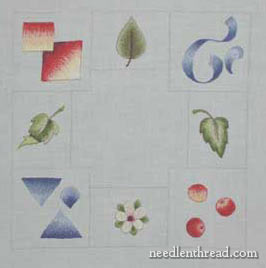 Flickr Group for Sharing Photos and Receiving Feedback
Lesson One: Setting Up the Project – includes design, materials list, instructions on transferring the design, etc.
Lesson Two: Element One – Inside the Box – basic long and short stitch technique – Includes Video Tutorials!
Lesson Two, Part 2: Element One – The Large Box (stitched on the diagonal)
Lesson Three: Element Two – Triangles – Shading at an Angle
Lesson Four: Circles – from flat to three dimensional on round elements like berries
Lesson Five: Ribbon – Shading around curves and to a point
Lesson Seven: Another Leaf – slightly more complex
Lesson Eight: Small Simple Flower
Lesson Nine: Leaf with a Turnover