Embroidery Stitch Dictionaries are handy books to have on your shelf, if you're a die-hard embroidery fanatic.
Even if you only dabble in hand embroidery as an occasional hobby, you'll never be sorry you have a stitch dictionary or two at hand – they are wonderful reference tools to have on hand, especially when you want to expand your stitching horizons a bit.
One of my favorite series of how-to books for embroidery is the A-Z series, which used to be published by Country Bumpkin, but is now (as of 2014) published by Search Press.
Today, I want to show you one of their stitch dictionaries – A-Z of Embroidery Stitches 2. It's a terrific stitch dictionary for stitchers wishing to increase their stitching repertoire.
As the title suggests, this is the second A-Z book on embroidery stitches. The first one, A-Z of Embroidery Stitches, is excellent, too, but I especially like this second one because it delves into stitch combinations, variations, and so forth that are not as commonly seen as those stitches found in the first book.
Update, 2014: The cover above is the new cover, from the Search Press Classics edition. The old cover looked like this: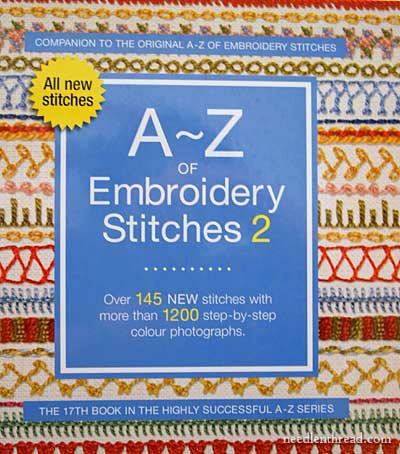 The contents of both books is the same.
A-Z of Embroidery Stitches 2 features over 145 embroidery stitches, variations, and combinations, each shown in detail with step-by-step photos of the actual stitch in progress.
The book begins with a long index of the stitches included within!
Before the stitching instructions begin, in the front of the book you'll find some excellent information for the embroiderer. For example, there are several pages devoted to needles used in embroidery, including what types are used for what, and a page of actual sized photos of the various types of needles. How many times have you wondered if you're using the "right" needle for your work? Or which needle to choose before you start? This is a great resource that helps answer those questions!
There's a good section on using an embroidery hoop, binding a hoop, and keeping your work clean – excellent information for beginners and beyond.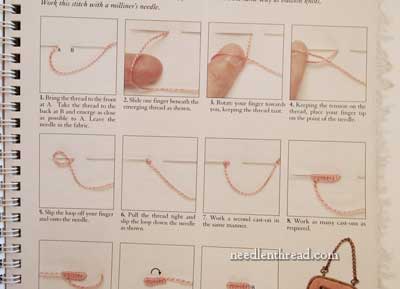 But the real "meat" of the book, of course, is in the instructions. The step-by-step photos of the various stitches are what make the book perfect for learning.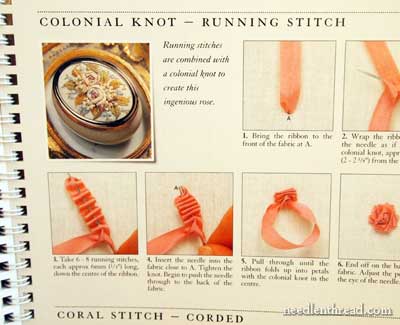 Besides regular surface embroidery stitches, you'll find some ribbon embroidery techniques included throughout the book…
… and in this particular book, you'll find lots of interesting composite stitches, filling stitches, and stitch variations.
A-Z of Embroidery Stitches 2 has been on the market for a while – I'm not reviewing a "new" book here! – but since lately I've found myself returning to it over and over again for stitch ideas, I thought it would be a good one to review. Combined with the first A-Z of Embroidery Stitches, these two books make up a very thorough resource for embroidery stitch instruction.
If you're looking for a good stitch dictionary that will allow you to add some variety to your stitches, you can't go wrong with this book.
Where to Find
You can find A-Z of Embroidery Stitches and A-Z of Embroidery Stitches 2 through the following book affiliates:
In the US: A-Z of Embroidery Stitches is available here through Amazon, and A-Z of Embroidery Stitches 2 is here at Amazon.
Worldwide:: A-Z of Embroidery Stitches is available here at Book Depository, and A-Z of Embroidery Stitches 2 is here through Book Depositorywith free worldwide shipping.
This article includes affiliate links to book sources, which means that Needle 'n Thread receives a small commission for purchases made through those links. Thanks!