Today being Ash Wednesday, which is the beginning of Lent, I thought a new church embroidery pattern might be appropriate. The central part of this image is the IHS, but you can actually substitute any symbol in there. On the original design (which I've altered a bit), the center image was a chalice. A simple cross would look nice, as would any number of religious symbols.
I can see this pattern being used for a multitude of church adornments – on a pall, a burse, the back of a chasuble or cope, or even on a banner …. lots of possibilities, depending on how large you make the pattern. It'd be especially nice stitched in color, in silks, with a touch of gold outlining, and maybe the IHS in gold. It's a little more complex than most ecclesiastical patterns I've put up so far, but I hope you like it and can find a use for it!
Here's a PDF, for ease of printing:
IHS with Grades & Wheat Embroidery Pattern (PDF)
The design prints out between just less than 8″ square.
There are a few more church embroidery patterns available here on Needle 'n Thread, including some simple crosses, if you're looking for something religious to embroider.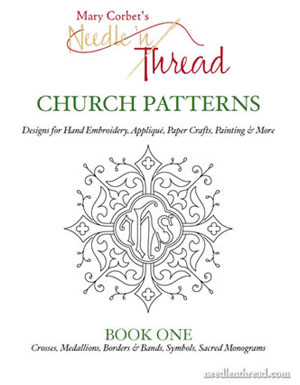 Interested in more church patterns? Check out Church Patterns: Book One – a collection of over 120 patterns suitable for church embroidery, and also for other arts & crafts endeavors (appliqué, paper crafts, painting – you name it!).