After yesterday's post on working the stem stitch with two strands on silk using a laying tool, many people asked "What's a laying tool and how do you use it?" Here's a bit about laying tools and how they're used.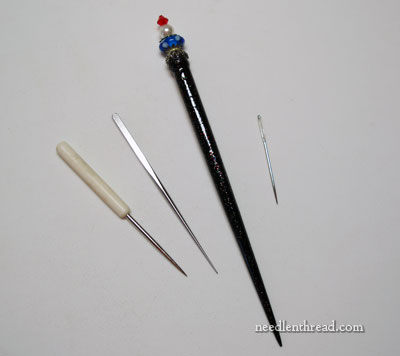 A laying tool is pretty much just a stick of some sort. In Japanese embroidery, the laying tool is called a tekobari, but in western embroidery, it's pretty much just called a laying tool. The laying tool is used in embroidery for stroking threads and keeping them flat, or for tensioning threads as you take a stitch, to assure that the threads stay smoothly parallel to each other (instead of twisting up on each other). I've already got a video on how to use a laying tool – if you haven't seen it and you're curious about how to use a laying tool, you might take a look at it. It demonstrates how to use a laying tool when working satin stitch with several strands of floss at a time.
Laying tools come in all types. Some are ornate and decorative, some are simple steel shafts, some are highly polished wood, some are plastic, some bone. The material of the laying tool is not of crucial importance; what's important about a laying tool is that the shaft is perfectly smooth so that the threads don't snag on it. And when you don't have a laying tool, a large needle can work just as well!
Like any hand embroidery accessory, it can be fun to collect interesting and beautiful laying tools, but chances are, if you use them, you'll soon settle for your favorite one – it'll be the one that's easiest to handle, that has the smoothest shaft, that has a nice weight, and that is comfortable to hold.
Some laying tools have very sharp tips, like this particular one, which is called the BLT (Best Laying Tool), by Shay Pendray. This is my favorite laying tool – it is stainless steel, has a nice weight to it, is perfectly smooth, has a squared handle that makes it easy to hold, it is unobtrusive, and frankly, it's just All Business – it does the job and it does it well. It has a Very Sharp Tip (as in, don't stab yourself with it, because it will hurt!), and the tip serves as a great stiletto, for piercing holes in fabric, or for opening up holes and pushing the threads apart. So this laying tool easily serves a triple purpose – a laying tool, a stiletto (for piercing fabric) and an awl (for opening holes). It's a nice tool.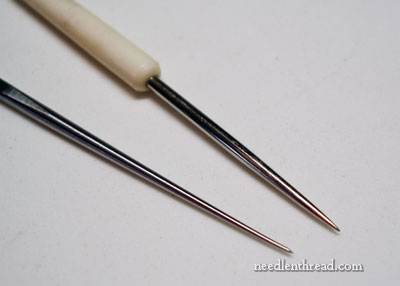 Next to the BLT (the lower tool in the photo above) is an awl. It has a stainless steel shaft and a bone handle. The shaft is perfectly smooth and can be used as a laying tool as well. The primary purpose of an awl is to open holes in fabric. This awl goes from tapered tip to wide shaft more quickly than the BLT and can open larger holes in the fabric, but it's not as big an awl as some. In hand embroidery, normally you open holes in fabric for whitework (eyelets, especially) and for any other techniques where you might want a hole in the fabric – whenever you might want to push the threads apart without necessarily piercing, breaking, or cutting the threads. I use this awl as a laying tool now and then, but I use it more often as an awl.
This is the tip of the decorative laying tool that's shown in the very top photo. This tool is made from wood, which has been painted and decorated with glitter, and then highly lacquered and polished. The top of the tool has some fun decorative beads on it. The shaft of this laying tool is smooth, but it isn't as smooth as the shaft of the awl and of the BLT. I don't like using this tool for silk, especially for flat silk, because it isn't as smooth as I would like. You can see the tip is rounded and blunt – it would not open up holes in fabric. Personally, I find decorative beading a bit iffy. It's much easier to catch things on the decorative stuff at the top of special laying tools like this one.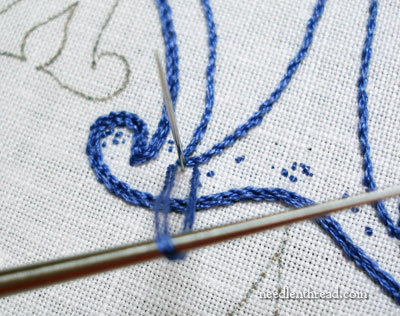 In the photo above, I'm using the laying tool while working stem stitch. You can see that the tool pulls the working thread away from where the stitch is being worked, and it holds both threads in perfect tension, and keeps them parallel. So you can that you normally need two hands to use a laying tool – one hand for managing your needle and working thread, and the other for managing your laying tool. I use a floor stand to hold my embroidery frame so that both of my hands are free for stitching. If I were working with one strand of floss, I would actually stitch with both hands (one above the work and one under), but since I'm using two strands, I prefer to use a laying tool to keep the strands in sync with each other.
As I pull the stem stitch through, I keep the thread hugging the laying tool, until the tool is on the fabric and the stitch is pretty much finished, and then….
… I just slide the laying tool out of the stitch as I tighten it.
At first, using a laying tool can be a little awkward, but once you get used to it, it becomes second nature to use it. Once you develop a nice stitching rhythm while you're using the tool, progress is quick. Of course, you don't have to use a laying tool all the time – it's used only when it's needed, like any tool.
There are many situations in surface embroidery where a laying tool can come in handy. There's the already-mentioned satin stitch worked with more than one strand of floss, when you want a completely smooth satin stitch surface. There's this stem stitch situation above, when I'm working with two threads and I want to keep them perfectly tensioned so that one doesn't pull through before the other. There's also those Boingy Thread Situations, when you're working with cranky threads. Tensioning these types of threads with a laying tool will help tame their wild & twisty boingy nature as you take a stitch.
Most specialty needlework shops carry laying tools, so if you have a favorite local needlework shop, you'll most likely find several available there. If you don't have a local shop, you can find them online through most specialty needlework shops.
So, what about you? Do you use a laying tool? Do you see a noticeable difference with your stitching? If you haven't used on, are you curious to try one? Or do you think it looks like too much trouble? And how many of you are collectors of laying tools? Do you have more than one? What's your favorite? I'd love to hear about your experiences with laying tools, too! Leave a comment below and feel free to pipe up about laying tools!
If you'd like access to all the tips and techniques discussed in the Medallion Project (which I'm working on in this article above), including complete coverage of the Tudor-Style Rose, conveniently collected in one document, interlinked, referenced, and indexed, why not add the Marian Medallion Project e-book to your library? It's packed full of all kinds of embroidery tips for undertaking a project like this, all in a convenient electronic format for easy searching.