I'm always excited to share products that I think can improve the embroiderer's life, especially when the improvement has to do with seeing our needlework better. I'd like to introduce you to a tool – a tool that can change the way you look at your embroidery. And I mean that literally!
Craftoptics are an incredible tool for people who do detail work – any kind of detail work – but they are especially wonderful for those of us who have vision problems and need to use magnification when doing embroidery.
Imagine small binoculars (or two jeweler's loupes) that magnify your work considerably. Add a directional light beam that brightens up your work surface, and imagine both of these effects – good magnification and bright light – without a bulky magnifier positioned between you and your needlework. That's what you get from Craftoptics.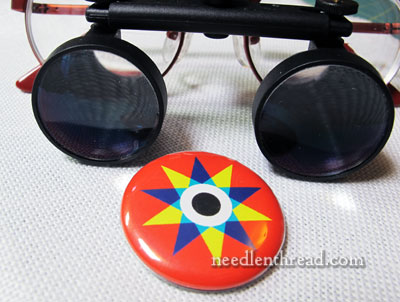 I know they look kind of weird – a little futuristic and bizarre, perhaps! Essentially, what you're looking at are eyeglasses (prescription eyeglasses, for those of us who wear corrective lenses) with miniature binoculars affixed to them.
Here they are from the side. The eyeglasses you see in the photo were made by the folks at Craftoptics, specifically to my prescription. The magnifiers are mounted on the bridge of the glasses. They can be adjusted for angle, and they can be flipped up out of the way when not in use.
And then there's the Dream Beam. It's a super-powerful, but super-lightweight, LED light that mounts on the Craftoptics.
The light clips right onto the front, and it is also adjustable, so you can direct it right at your work.
The Dream Beam attaches to a small battery pack that you can place in a pocket, hook onto your belt or waistband, or lay it on the table next to you.
Here, in a dark room, you can see the light from the Dream Beam. It's super-duper bright!
Now, all this probably looks pretty bulky, so you'd think it would be heavy on your face, right?
But it's not! It's surprisingly light for what it is. There's an adjustable strap you can wear around your neck (or head) if you want to tighten the glasses up and provide support for them, but I find I don't need the strap. The glasses stay put on me, even if my head is bent towards my work. But, speaking of bending towards your work, these things correct the tendency to do that – you don't have to bend towards it, because the magnifiers bring your work close to you.
The cord for the light passes across the top of the glasses, and clips to the side, to keep it in place and balanced. From there, it can be clipped to your lapel, a pocket, or just directly to your shirt, to keep the cord out of the way.
On the face, this is what they look like. When you look through them, you see a kind of oval window with your work magnified clearly.
When working on the Mission Rose project this week, I found I could see the fine silk weave of the fabric perfectly. I could place each of my stitches precisely where I wanted them, because I could see the surface of the work with absolute clarity. It was lit up brightly and magnified to the point that I felt as if I had a whole new pair of working eyes, with some sort of strange bionic vision thing going on. It was great!
With the dark room in the photo above, you can see how bright the Dream Beam is, too. Imagine holding your work at this distance (about a comfortable 16″ distance from the work), with no bulky magnifier between you and your fabric, and still seeing your work really close up!
This is the whole package – the glasses and magnifiers fit in one hard case, and the light and battery in the other. They are small, light, and perfectly portable.
Although I've had poor vision all my life, I can see most of my work with just my corrective lenses, without magnification, except for miniature embroidery or fine detail embroidery, at which point, magnification has become a must for me. When testing out the Craftoptics, I worked with 72 count silk gauze and with regular surface embroidery using fine silk thread.
Using the Craftoptics and working on the 72 count silk gauze, the only comparison I can make (since I can't show you a photo of looking inside the lenses) is this: it was like working on 22 or 25 count linen with heavier floss! I could see the holes clearly and there was no hesitating or hunting – and better yet (for me, anyway!) no bending over a magnifier, or being limited to little head movement, because of a magnifier. I could sit up straight and work just as if I were working on a regular surface embroidery project with regular fabric and regular thread.
Again – can't say it enough – it was great! I felt free while I was stitching!
Of course, there was that moment when my niece walked into the room and I looked around at her through the lenses. That was a strange experience, but probably stranger for her than for me.
Pros & Cons
Pros:
1. Craftoptics provide excellent, clear magnification and bright light.
2. They work with my prescription, so when the magnifiers are flipped up, I can still see fine – I don't have to switch back and forth between glasses.
3. They provide easily portable magnification and light, so I can stitch wherever I need or want to, without having to worry about seeing conditions.
4. They leave my head free – I don't have to be glued to one position in front of a magnifier – and they eliminate the interference of a large magnifier & light component between me and my embroidery.
5. They allow me to sit with better posture, and in any comfortable position I choose. After just a few days of using them, I noticed significantly less neck and shoulder strain.
Cons
1. They are expensive, but not if you consider what they are.
2. They take some getting used to. Don't expect to pop them on and stitch away without a little period of adjustment. But the adjustment period doesn't last too long. It took me about two stitching sessions to be perfectly comfortable with them.
So, for those of you who are looking for a magnification solution for detail work – whether you have prescription lenses or not – you might want to look into Craftoptics. They're worth every penny, especially if you are prohibited from doing what you love because you can't see what you're doing!
You can find out more about Craftoptics on their website, where they have plenty of photos and videos showing them in action.
There's no affiliation here. My product review policy is pretty simple: I only review products that I like, that I use myself, and that I think my readers will like. Jeff at Craftoptics sent me a pair to try, with no obligation to review them. I tried them, I love them, and I happily use them when I need them! I hope that Craftoptics will help improve the quality of other stitchers' lives, too.