For the past couple years, I've been on an unending quest to discover, read about, and explore everything I can on the subject of monograms.
Along the way, I've collected a bunch of links to online sources, built up a little collection of monogram-related images on Pinterest, and bought a bunch of out-of-print, in print, rare, and easy-to-find books on the subject.
In other words, I glutted on the whole monogram thing!
Paul over on BibliOdyssey – a blog on books and illustration which I follow pretty faithfully – wrote about one of my favorite old books this week. It's called Monograms & Ciphers, by Albert Angus Turbayne, who was an American designer of books in the late 1800's – early 1900's.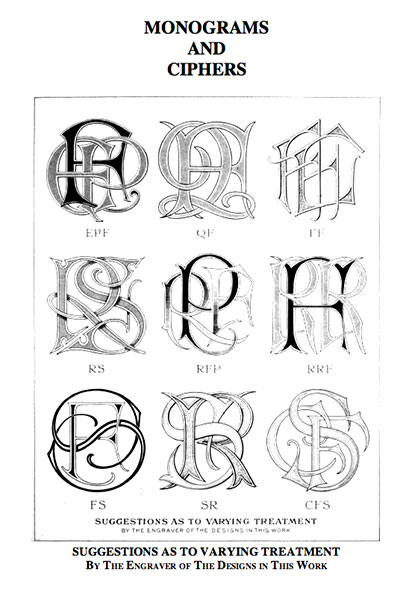 The book was reprinted several times – even by Dover in the 1960's or so – and it's available pretty widely online through used book sellers, for anywhere from $1 upwards for the Dover edition.
But the nice thing is, Monograms & Ciphers is also available on Project Gutenberg for free.
There are many things to like about this book, if you like monograms. It's loaded with combinations of letters drawn in various styles, so it's a great pattern resource.
There's also good information in the book – though it is primarily a "picture" book. For example, Turbayne takes pains to explain the difference between a monogram and cipher, a distinction that isn't often clearly made anymore.
Today, we use the term "monogram" pretty loosely to describe any decorative letters (one initial, two initials combined, etc.) artistically rendered.
Technically, a "monogram" is combination of letters that have become one (hence, "mono"gram) through the way they are combined.
An individual letter – a decorative initial – is not technically a monogram. It's an initial.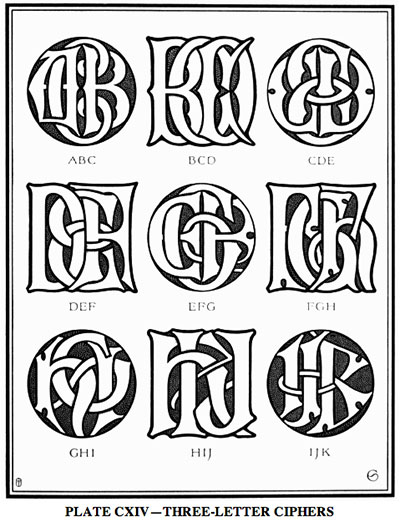 And a monogram differs from a cipher, according to Turbayne.
A monogram is one unit of combined letters that can't be taken apart – if you take them apart, you lose the letters.
A cipher is a combination of letters in which the individual letters retain their individuality.
In any case, the terms are rarely used accurately anymore, which I think is a shame. But then, I'm just as guilty of not using them accurately as anyone else is!
If you're a lover of monograms, ciphers, and decorative initials, stop by Project Gutenberg and add Monograms & Ciphers to your resources!
While you're there, you might also check out some other books on the topic of decorative lettering:
The Book of Ornamental Alphabets, Ancient and Medieval. You can click on the alphabets in this one, for larger, clearer images.
Letters and Lettering by Franks Chouteau Brown
One Thousand and One Initial Letters designed and illuminated by Owen Jones
Hope you enjoy meandering through them!
Favorite Monograms – PDF Collection
If you're looking for monograms to embroider, you'll find a collection of 16 beautiful alphabets all in one place in Favorite Monograms, a downloadable PDF collection of 16 monogram alphabets perfect for hand embroidery and other crafts.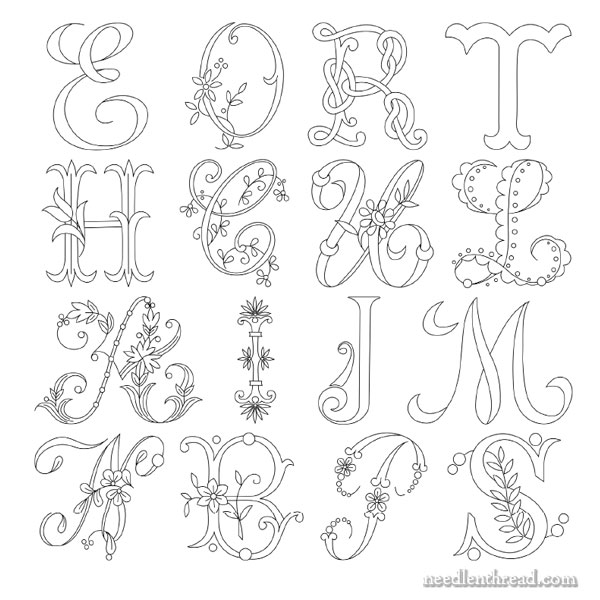 In the photo above, you can see samples of each alphabet available in Favorite Monograms.
Each letter in each alphabet in Favorite Monograms has been carefully traced into a clean line drawing that can be easily enlarged or reduced on a home printer or a photocopier.
The 16-alphabet collection is delivered as via a download link to your inbox shortly after purchase, so that you can begin creating right away! Priced at less than $1.00 per complete alphabet, monogram lovers can't go wrong with this collection!
Favorite Monograms is available in my shop, here.