It's all well and fine to compare cotton embroidery threads straight off the skein, but what's even more important is to see how differently they stitch up, right? After all, it's all about the stitching!
This week, we've compared two less familiar threads – cotton floche and coton a broder. Then, we looked at some familiar threads (perle cotton and floss) up close, comparing them to floche and coton a broder.
Today, we're going to compare several lines of stitching, using the more familiar threads – perle and floss – and then we'll compare floche and coton a broder, stitched, to each other and to the familiar perle cotton and floss. Eventually, I'll tie this all in with the thread choices I'll make for the Secret Garden Hummingbirds project.
My hope is that, even if you aren't interested in working the Secret Garden project yourself, you'll still find the information useful for your own embroidery endeavors!
Here they are, four weights of perle cotton, in stem stitch. The thread sizes are the same as yesterday's samples: a is perle cotton #3, b is #5, c is #8, and d is #12.
I used stem stitch for two reasons: 1. it's an overlapping stitch – that is, each stitch overlaps with the previous stitch. This gives a little more thickness to the line, it shows off the texture of the thread, and it really shows you what the thread does when it twists together with another stitch; 2. When you turn the work over, you have a backstitch (more or less) on the back, so it gives you two stitches in one!
Here's the back of the stitching, with the perle cotton #3 to the left, followed left to right by #5, #8, and #12.
You can see that the size 3 makes fairly large stitches. With thicker threads like size 3, it's impossible to stitch small, delicate, stitches, so this type of thread is never suitable for detail work on smaller projects. If you were embroidering a huge wall panel that you wanted a lot of bold texture on, you could get away with using perle cotton #3. But for the average sized surface embroidery project with detail to it (like the Secret Garden project), chances are, you wouldn't opt for perle cotton #3, unless you plan to couch it rather than stitch with it. Even then, the heaviness of the thread would overwhelm the design.
Notice the smaller backstitch with the size 5. As the thread decreases in thickness, to maintain decent looking stitches, your stitches get smaller, too. And so, by the time we get to the size 12, the backstitches are small indeed.
Stating the obvious here, but that's why a heavy thread is so much quicker to work with. It requires fewer stitches to cover the same amount of fabric.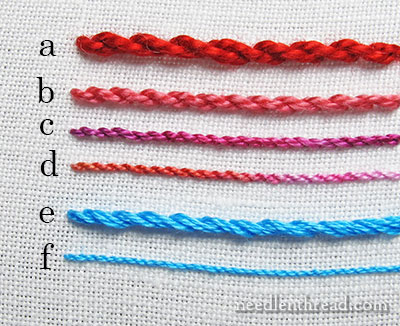 Now let's throw in stranded cotton.
Line "e" is all six strands stitched in stem stitch. I did not separate (or "strip") the strands and put them back together, but instead, stitched with the floss as it came right off the skein.
When you stitch with stranded cotton, it is normal to strip the floss down to individual strands, and then put the number of strands you want to work with back together again. As I mention in this tutorial on stripping floss, always strip one strand at a time, and then, if you're stitching with two strands, put the two back together again.
This helps keep the thread smooth and makes your stitches look much neater.
There's a trend these days among craft embroiderers to use all six strands of floss straight off the skein. You can see that it creates a very thick line, but it isn't the most attractive line. If you want an attractive, ropey stem stitch that's nice and thick, you'll get better results if you strip the thread first, or if you use a #3 or #5 perle cotton.
In most surface embroidery, it's rare to see all six strands of floss used at one time.
Line "f" is one strand of floss from the six, in stem stitch. It makes a tiny, delicate line.
You can see very clearly here that size-wise, the most delicate line is created by the single strand of cotton floss, in the blue. The #12 perle cotton looks heavy by comparison.
Flip the work over, and you've got a pretty clear story. You can tell by looking at the back that it takes a lot of stitches with one strand of cotton floss to cover the same distance while keeping the rope-like integrity of the stem stitch intact. You could take longer stitches with the single strand of cotton floss, but the longer your stitches, the less like a stem stitch your stem stitches will look.
It's also worth noting at this point that, when working with a fine thread, the longer the stem stitches (or any line stitch, including backstitch, chain stitch, outline stitch – you name it), the more difficult it is to embroider a neat, smooth curve.
Finally, for the fun of it, I added a line of stem stitch stitched with two strands of cotton floss, because it's pretty common to work surface embroidery with two strands of floss at a time.
With two strands in the needle at once, you can see we get a line that's double the thickness of the single strand – and close in size to the #12 perle cotton.
The next time we talk thread, we'll compare stitched lines of coton a broder and floche to each other, and then to the threads above.
Any input on thread? Any questions occurring to you on this subject, that you'd like to see cleared up? When you do surface embroidery with stranded cotton, what number of strands do you use most frequently? Are you a two-stranded stitcher, three, or always one? Have your say below!