Coloring books are a great source for embroidery design inspiration. We've discussed this before a couple times – the Secret Garden Hummingbirds are an example of how a coloring book page can turn into an embroidery design.
This is The Thing: we don't necessarily all have the talent to draw well. We might love embroidery, we might yearn to embroider something other than designs in kits and the like, but we might not necessarily have the knack for drawing the things we might want to stitch.
But an embroiderer can certainly take advantage of this Era of the Grown-Up Coloring Book. These advanced and intricate coloring books are wildly popular right now, and you can find many good ones by many different artists widely available today.
If you purchase a coloring book, you can turn the designs in the book into embroidery projects, as long as they're for your own personal use. There's nothing wrong with this, and there's no violation of copyright or anything like that.
I've had questions about that with the Secret Garden embroidery: Do I have to write to the author or publisher to get permission to embroider a design in that book? The answer is no. If you buy the book, and if you're using the design for personal use only, you can embroidery it, you can color it, you can etch it onto glass or carve it onto wood. You just can't reproduce the design and sell it, or sell items made with the design on it.
Here are two coloring books that you might enjoy using for embroidery designs, ideas, and inspiration. One is Johanna Basford's second book (I reviewed her first book Secret Garden: An Inky Treasure Hunt here), Enchanted Forest; and the second is Millie Marotta's Animal Kingdom. I'll tell you what you'll find in both of them, and discuss the designs a little bit from an embroiderer's perspective.
Both coloring books are excellent resources for the embroiderer. They are somewhat similar in style, and depending on your design preferences and the like, you might like one over the other – but they're both equally adaptable for the embroiderer.
Let's look at Enchanted Forest first:
Like Secret Garden, Johanna Basford's second book is an Inky Quest and Coloring Book. There are some differences, comparing the two books.
Firstly, Enchanted Forest is printed on different paper, so it colors up a little better than Secret Garden. The paper has a smoother hand (or "tooth") and it is heavier. Ink doesn't show through, and sharp pencils don't disturb the surface of the paper.
Secondly, there's no text on the coloring book pages.
If you're familiar with Secret Garden, you'll recognize the design style here – lots of double lines on leaves and foliage – but you'll also see more critters and the like as the focus of the book.
You'll also find large individual beasties like this bunny (a squirrel…and others) adorned with all kinds of Enchanted Forest foliage.
These would make terrific stand-alone embroidery projects. Reduced in size, I could see them as embroidered journal covers, accents on a tote bag, even embroidered pillows and the like.
It's an Enchanted Forest, after all, so we have castles and forests – and the forests are abundant with all kinds of flora and fauna. You'll find carpets of enchanted mushrooms and flowers and all the little critters among them.
And an enchanting hot air balloon…
…and all kinds of other imaginative delights.
It's a fun book!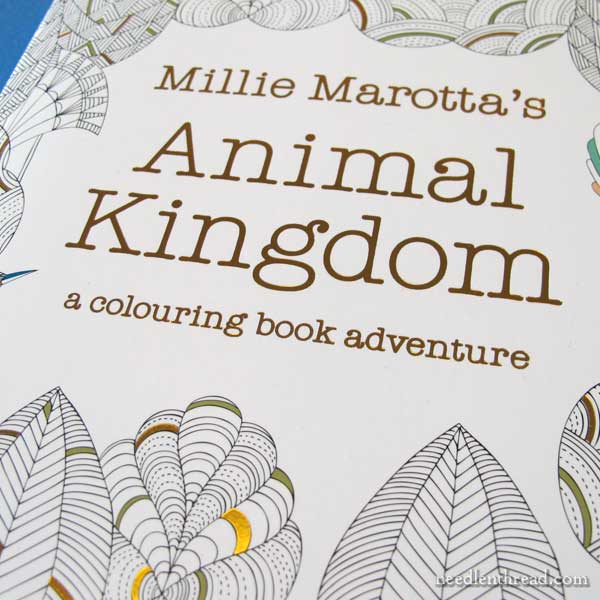 Now let's take a look at Millie Marotta's Animal Kingdom.
Published last year, Animal Kingdom hasn't gotten as much buzz as Johanna Basford's coloring books have gotten recently, but trust me – it's equally enchanting!
In fact, from an embroiderer's perspective, you might find this book more of a must-have, if you like the idea of using coloring book designs as a basis for embroidery projects.
Millie Marotta's designs strike me as a little more textile-oriented, a little more adaptable to interpreting in needle and thread.
Her critters are fantastic – from the elephant above to the giraffes, fox, squirrels, moths, stag, colt – there are lots of animals within the book, and they're all begging for interpretation with embroidery! I can't look at one of them without thinking, "Oh! This would look great with this stitch or that stitch…"
The series of moths in the book feature a lot of linear and feathery type fillings, which can be so well interpreted in stitches. Think blanket stitch, fishbone stitch, cretan stitch, feather stitch, loop stitch, fly stitch, fern stitch…
Animal Kingdom also features plenty of flowers and foliage and little critters and bugs.
The squirrels are vivacious – think of all the festive things you could do to them, with colorful threads, beads, and embellishments!
And butterflies! Don't forget the butterflies!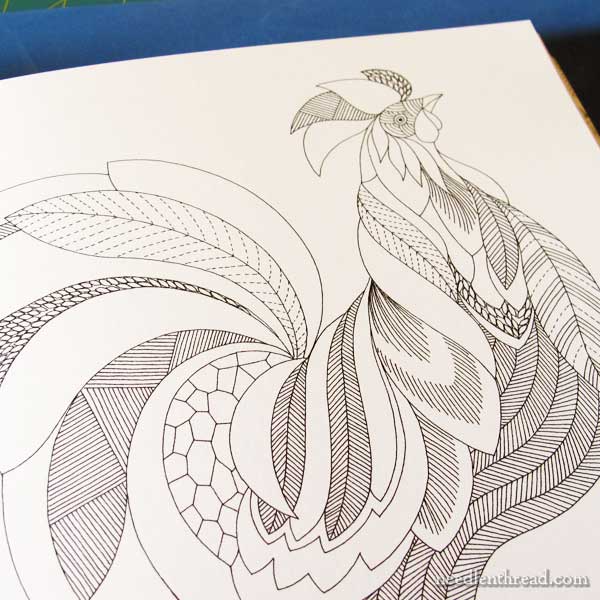 And oh my goodness, she has these two terrific roosters in there, perfect for interpretation in crewel embroidery. Or other embroidery. I admit, I fell in love with them at first glance!
If you can get your hands on either or both of these books, you'll find plenty of embroidery inspiration in them! And you know what? They're pretty fun to color, too!
Where to Find
You can find both books through the following affiliate book sources, if they're in stock! (They're pretty popular!)
Enchanted Forest
In the US can find Enchanted Forest available through Amazon.
World-wide, Enchanted Forest is available through Book Depository on pre-order.
If you have a local bookstore or even a Barnes & Noble or the like, you can probably find it on the shelves these days. Johanna's books and the whole coloring book craze has been in the news quite a bit lately, so I'm betting you'll find displays at local bookstores.
Animal Kingdom
Right now, the only place I have found Animal Kingdom in stock online is through Amazon UK.
However, Animal Kingdom is also listed on Amazon US, and you can sign up for notification on its availability. This at least lets the publishers know there's an interest in it – and you'll have first dibs on new stock.
Worldwide, Animal Kingdom is also listed at Book Depository and you can sign up there for notification when it's back in stock there, too.