When you first learn to embroider, chances are, you'll start with a basic embroidery stitch worked along a line.
And as you progress in your embroidery pursuits, you'll discover that, whether you're embroidering something complex or something very simple, chances are, at least one basic line stitch is going to show up in the design.
Here's a collection of six basic line stitches used in hand embroidery, with helpful tutorials so you can stitch them with confidence. Some of these stitches, you'll use frequently; others, you might dabble with occasionally. All of them are worth knowing!
Running Stitch
The running stitch is the most basic embroidery stitch.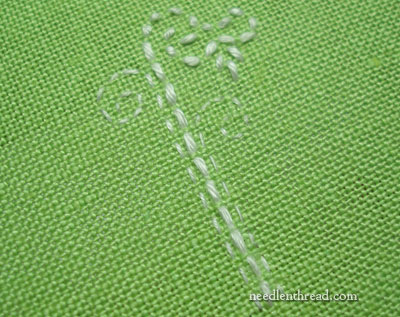 Even though it is a very simple stitch, it can be used in complex ways. When working it in a straight line, you can vary the look of the running stitch by adjusting the length of the stitches. But you can do so much more with running stitch, too!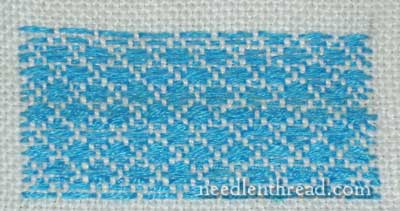 You can use it to make filling patterns like the one above, in a technique called "pattern darning."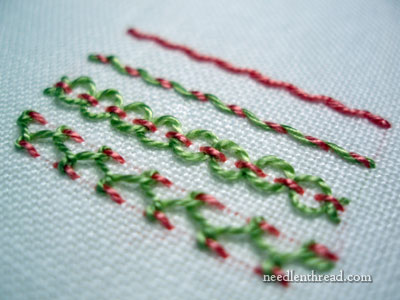 You can also use it as the foundation for other more complex line stitches, like those shown in the photo above.
This video tutorial for running stitch explores the basic stitch and variations.
Backstitch
Backstitch is another easy line stitch that can be used to good effect on delicate or heavy lines. While often used in counted cross stitch and other counted embroidery techniques, backstitch can also be used creatively in free-style surface embroidery.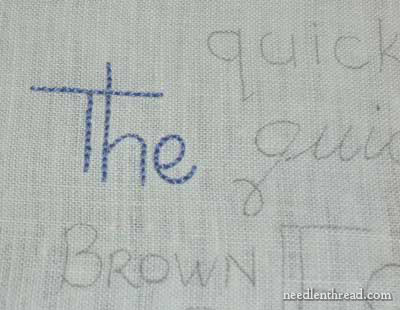 The key to a nice looking backstitch is even stitches. With practice, you'll find it easier and easier to stitch a line of backstitches that are even.
Like running stitch, backstitch is often used as a foundation for other embroidery stitches, too.
This video tutorial for backstitch will help you learn the stitch worked in two different ways.
Whipped Backstitch
Whipped backstitch worked on a foundation of backstitch, by whipping the thread from one direction around each backstitch in the line.
Whipped backstitch creates a solid, slightly raised, rope-like line, perfect for outlining boldly or delicately.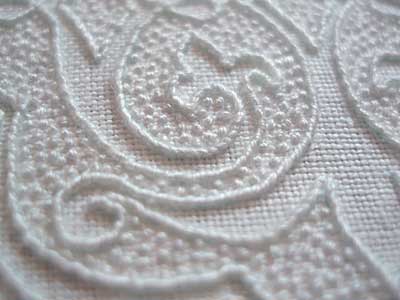 In the photo above, all the lines are created with whipped backstitch. It's a handy stitch to know, because it gives you great results with a super easy stitch!
This tutorial for whipped backstitch will show you everything you need to know to create a consistent, beautiful whipped backstitch!
Outline Stitch
Outline stitch creates a smooth line of stitches that are somewhat twisted together, so that the individual stitches are not really noticeable.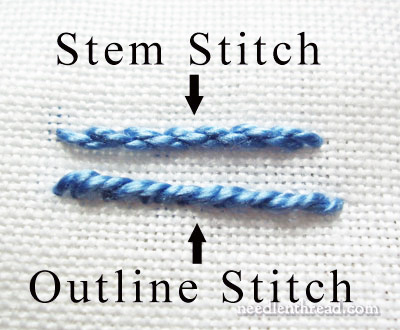 Often confused with stem stitch, it is not the same stitch at all. In the photo above, you can see how outline stitch differs from stem stitch in the finished look.
This tutorial for outline stitch will teach you everything you need to know to work an outline stitch successfully.
Stem Stitch
Stem stitch is such a versatile stitch! It can be used as a beautiful line stitch, creating a rope-like line that is always attractive.
Stem stitch can also be effectively used as a filling stitch. You'll find plenty of tutorials, hints, and tips for using stem stitch in a variety of ways right here.
You can find a thorough video tutorial for stem stitch here. It will show you how to work the stitch from all directions and how to keep the thread in the correct place in relation to the needle, to always achieve a perfect stem stitch.
Couching
Couching is a two-thread embroidery stitch, with one thread laid on the top of the fabric while the second thread stitches over it to hold it in place.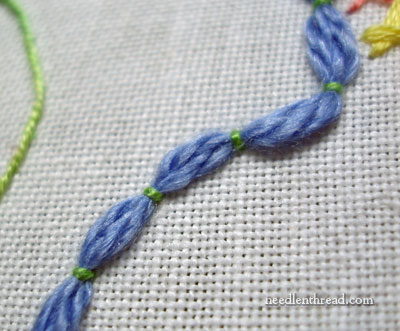 Couching can be decorative or very simple. It's an easy technique that can be employed in very complex ways. It's used often in goldwork embroidery and is the basis for Or Nué, which is shaded goldwork.
You can explore different ways couching can be used in this tutorial on couching in hand embroidery.
Try Them!
Try all the line stitches above to see which ones are your favorites!
Remember, even through they are super easy stitches, they can all be used in more complex ways to really dress up your hand embroidery!
You can find lots of tutorials for hand embroidery stitches here on Needle 'n Thread. Feel free to explore my page of How-To Videos for Hand Embroidery, as well as Stitch Fun!, where you'll find heaps of photo tutorials for exciting and fun stitches and stitch combinations!