How to do the stem stitch is not really the question we're going to address here today – although it's part of the question.
Beyond the "how-to" of the stem stitch, let's explore a question that comes up often here on Needle 'n Thread and that seems to be trending right now:
How can I make my stem stitch look better?
Since the stem stitch is so universally used in hand embroidery, and since it's a beautiful, easy, versatile stitch worth learning well, let's chat it up a bit with this list of 12 articles that will help you stitch a better stem stitch.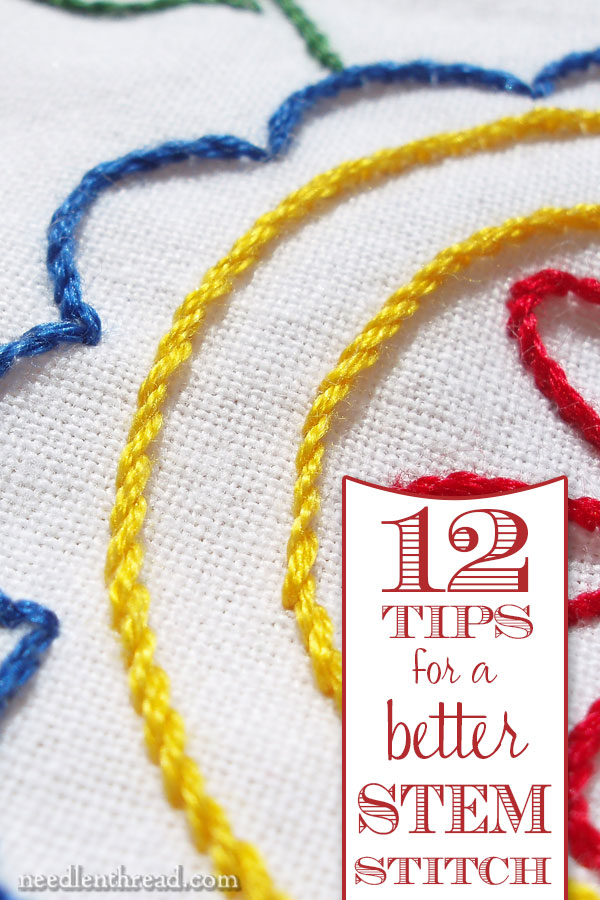 How to Stem Stitch
First, you need to know how to work the stem stitch correctly. The easiest way to learn? Check out the stem stitch video here on Needle 'n Thread.
In the video, I work the stitch in four directions. This is important, because when you change direction with the stem stitch, the orientation of the needle and the working thread changes. If you don't adjust the relationship between the needle and thread, you'll end up without a stem stitch.
Thread Twist, Outline Stitch, and Stem Stitch
Did you know that the type of thread you use can affect the look of your stem stitch? Did you know that stem stitch and outline stitch are very similarly worked, but they produce a completely different look to the stitch? Have you ever worked the stem stitch and wondered why it didn't look like stem stitch?
First, watch the outline stitch video here on Needle 'n Thread (it's newly updated), and compare it to the stem stitch video. You'll see that the two stitches, though similar, are not the same, and they result in a completely different look.
Then, read this article on s-twisted and z-twisted threads, followed by this article on Z-twisted vs. S-twisted embroidery threads, where you can see stitched samples of both types of thread.
Finally, take a look at this article, which discusses the difference between stem stitch and outline stitch, and the difficulties (especially for a left-handed stitcher) in keeping the two straight.
Those articles all together will help you notice the difference between stem and outline stitch and clarify the differences for you.
Stem Stitch on Upward & Downward Curls, Spirals & Circles
Working a curl or a spiral in stem stitch can be tricky, if you're unsure of where the needle should go in relation to the thread.
This article on working curls & spirals with stem stitch will help explain how to keep a nice stem stitch line going through a tight curl, spiral, or circle.
How to Join a Circle worked in Stem Stitch
When you stem stitch a complete circle, it can be tricky to create an invisible join where the beginning and end of the circle meet.
This article on working circles in stem stitch will show you just how to do that.
Perfect Corners with Stem Stitch
Do you have trouble making a perfectly squared corner with stem stitch? Or embroidering scallops that come to a perfect point?
This article will demonstrate how to handle a corner with stem stitch.
Stem Stitch Lettering & How To Follow Design Lines
This article on embroidering letters with stem stitch will help you learn how to follow the design lines on any design, whether simple or complicated.
Filling with Stem Stitch
Stem stitch makes a great filling! Here are some articles that will help you work a stem stitch filling that looks great. Both articles are from the Secret Garden project, where the vines are embroidered with stem stitch filling.
Stem Stitch Filling Tips
More Stem Stitch Filling Tips
Shading with Stem Stitch
Not only can you fill a space with stem stitch, but you can shade with stem stitch, too! Shading with stem stitch is a lot easier to learn than shading with long & short stitch, and it can be just as effective.
This article on color control in embroidery was written while I was teaching a high school needle arts class years ago. If you scroll towards the end of the article, you'll find information on subtly shading leaves with stem stitch filling.
This article on shading stem stitch vines on the Secret Garden project goes into a little more detail on blending colors and shades in the needle to produce a gradually shaded area.
Over to You!
Any stem stitch tips to share with other stitchers, especially newbies? Chime in below!