The buttonhole stitch (which is actually the blanket stitch, technically, but both terms are used interchangeably today) is used in many types of hand embroidery – general surface embroidery, crazy quilting, whitework and cutwork, Mountmellick embroidery, needle lace, filet work – you name it, buttonhole stitch fits in somehow.
It's a super versatile stitch, and once you have the basic stitch down, it's just a matter of applying it in a variety of ways.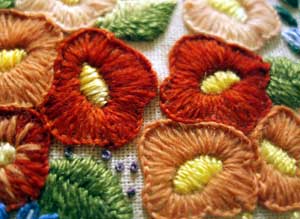 The length and pattern of the stitch can change, according to what you want to do with it. You can use the buttonhole stitch effectively to create filled flowers and leaves, by spacing the stitches very close together.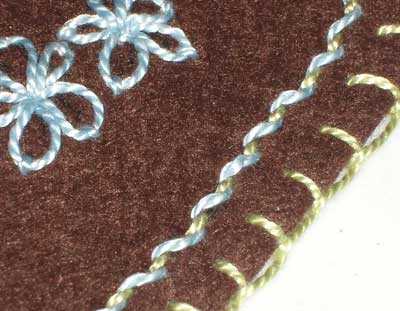 The stitch can also be used to edge raw blanket fabric or felt, as in the photo above.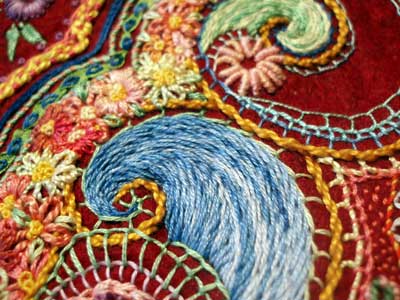 In the photo above, all those open, "spiky" lines are created with buttonhole stitch.
And in this photo above, you can see that buttonhole stitch can be used effectively for lettering. Here, it's combined with stem stitch to create some embroidered text.
Here's the video:
If you're looking for more embroidery stitch instruction, you'll can find many more hand embroidery stitch videos right here on Needle 'n Thread!
Looking for inspiration & information on hand embroidery?
There are all kinds of reasons to sign up for the Needle 'n Thread daily newsletter! Check them out and sign up today!
If you like what you see on Needle 'n Thread, if you want to be a part of keeping the website thriving (and free of annoying network advertising), why not become a patron on Patreon? Check out my Patreon page here, where I'll occasionally add special needlework bonuses for patrons.
If you shop on Amazon, you can support Needle 'n Thread without any extra expense to you by visiting my Amazon Recommendations page here, where you'll find books and sundries for the needleworker available on Amazon.