Finally! I've finished my second square for our guild baby quilt: an embroidered "Sunbonnet Sue" type pattern (an old-fashioned Sunbonnet girl), in a garden. I had great fun with this square, but got a little carried away!
The pattern for this Sunbonnet girl was online somewhere, at some point, but I can't locate it again. In the original pattern, she's holding chicken eggs in her apron, but I thought the flowers would be a nice "girly" touch for this girl's quilt. Of course, if she's holding flowers, she has to be in a flower garden! And every flower garden has a bee, right?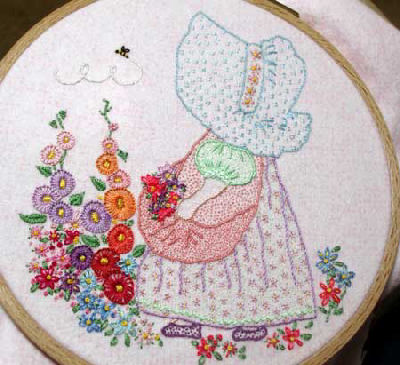 This is the square still in the hoop right after I finished it up. I'll put up some close-ups later, and some images of the completed quilt when it's assembled!
The fun thing about this square is that it's all really simple stitches! More on this later… too many thunderstorms rolling through lately to get much done here!