Here are some up-close photos of my niece's hand-embroidered First Communion dress that I told you about earlier, when I showed you this finished embroidered book cover.
Embroidery on children's clothing, especially for special occasions, is no new thing, really, so although you will see a beautiful dress here, it isn't a "novel" idea! There are still plenty of people out there who make their own children's clothes and embellish them, too… but I have to wonder if it's kind of a dying art?
The Victorians were avid embellishers of children's clothing – fine embroidered baby items were worked with loving hands (or by hired hands) to dress up the baby for grand occasions, and even for every day. With the advent of cotton mills and of mercerized cotton, fine items could be made for a lot less money, making fancy work more accessible to those other than the very rich.
Momentous occasions were celebrated with fine clothing – whether christening gowns, First Communion dresses, graduations, or marriages. Dresses and gowns were passed down from child to child, carefully packed away after the event, to resurface again for cleaning and pressing when the time came for the next in line to wear the piece.
Have we lost these traditions a bit, with the "ready-made" Instant Society we live in? Overall, I think we have. But not everywhere, with everyone. Certainly, companies like Wendy Schoen, Martha Pullen, and Country Bumpkin (with their smocking and christening gown angle) attest to a remaining thread of interest in hand-made, special occasion clothing.
If you'll allow me to brag a bit about my sister, I'll say I'm glad to see that these traditions continue in her family, just as they did in our family. We all (seven of us!) wore the same christening gown and the same First Communion dress, and my older sister has managed the same with her own girls.
She made this at the beginnings of her ventures into heirloom sewing, and it has withstood the test of time – worn this year for the sixth time, over 16 years of use, and looking just as perfect as when it was new!
So that's the history, and here are the photos:
The dress is made of Swiss batiste, with inset lace on the bodice, the skirt, and the sleeves.
The embroidery design is made up of white roses in bullion stitch and a pale green vine and leaves, highlighted with tiny pearls.
The embroidery motif can be found on the back of the shoulders, too…
…and is even repeated on the covered buttons down the back of the dress.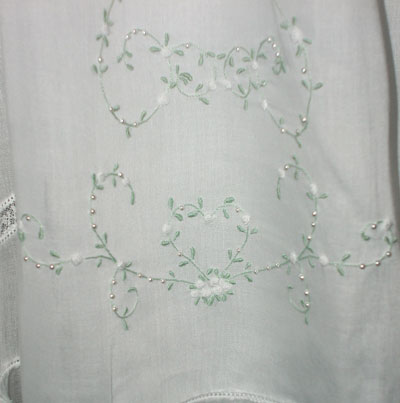 This is the lower part of the front of the skirt, situated between scallops formed by inlaid lace.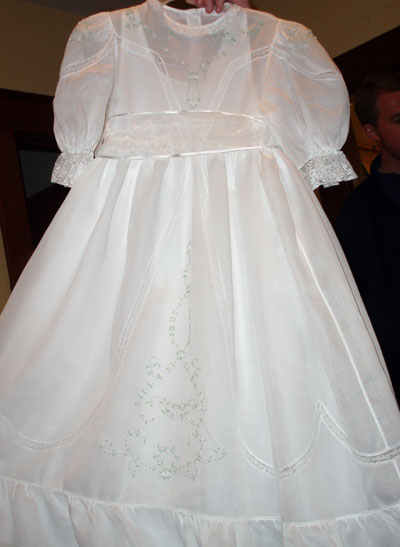 Somehow, it loses a bit, looking at it like this on a hanger! The sash is not original – this is a substituted organdy and satin ribbon. Originally, it was a plain white satin ribbon, I think.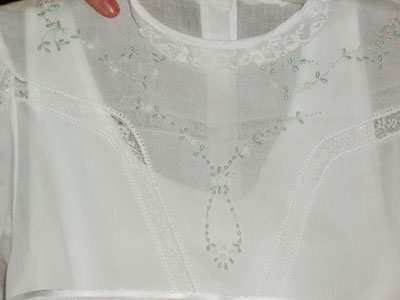 This is the front of the bodice. The batiste, you can see, is pretty sheer.
A close-up on the above – the vines are worked in stem stitch and the leaves in satin stitch. All the stitching is done with floche.
And that's the center of the front of the bodice.
Ain't it perty?
My sister's my hero! Golly.
Do you have any clothing traditions in your family? Do you think hand-making special occasion clothing is a dying tradition? I'd love to hear your thoughts!