Here's the next free monogram for hand embroidery… the letter K. At this rate, it should only take about ten forevers to finish one monogram alphabet! I may have to find a different approach! Be that as it may, in the meantime, I hope you are enjoying these particular embroidery designs!
In the previous articles featuring these free embroidery monograms, I've gone on at some length about techniques, so if you haven't read those, you might want to check out the posts on the letters A, C, G, and M. You can also visit my Index of Monograms for Hand Embroidery, which you'll find listed on my embroidery patterns page.
Without further ado, here's the K: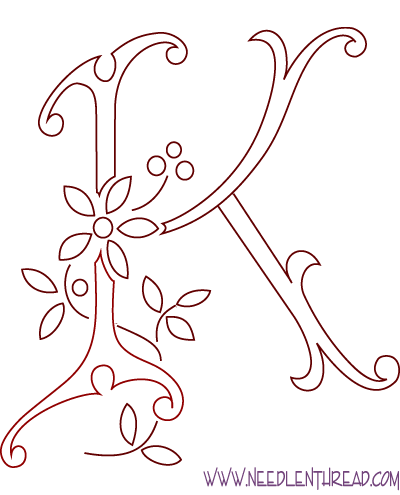 I tried cleaning this one up a little differently, scanning it first as a bmp, then cleaning it up and saving it as a gif. The others I worked on as jpgs, which allowed me a little more leeway in smoothing up the lines and filling in the gaps. I may have to go back to jpgs for the clean up…
But, whatever the case, enjoy the monograms!!
Favorite Monograms – PDF Collection
You'll find this complete alphabet – along with 15 other decorative alphabets – all in one place in Favorite Monograms, a downloadable PDF collection of 16 monogram alphabets perfect for hand embroidery and other crafts.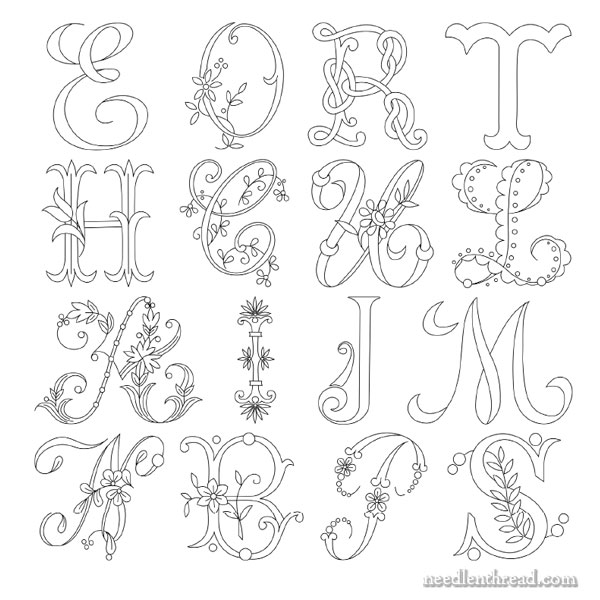 In the photo above, you can see samples of each alphabet available in Favorite Monograms.
Each letter in each alphabet in Favorite Monograms has been carefully traced into a clean line drawing that can be easily enlarged or reduced on a home printer or a photocopier.
The 16-alphabet collection is delivered as via a download link to your inbox shortly after purchase, so that you can begin creating right away! Priced at less than $1.00 per complete alphabet, monogram lovers can't go wrong with this collection!
Favorite Monograms is available in my shop, here.