As I prepared for my first kids' embroidery class for this summer, I realized that organization really IS everything. Whenever you teach a class – or prepare a new embroidery project – or cook a recipe – or anything that requires multiple parts to come together smoothly and conveniently, preparing in advance is essential. Any good school teacher knows this. Even if you're running a casual summer embroidery class, the rule holds true. I found that out this morning!
My preparation for my summer embroidery classes began weeks ago, as you know. I've talked a lot about it (I hope I'm not boring you to death!), and I've done a lot of thinking, stitching, writing notes, ordering materials and all the stuff that goes with getting ready to get ready. And that's just it – that was just the background work. Then the real work comes!
As the first class date approached, it was time to actually put everything together for a smooth beginning. So this is what I was looking at this past weekend:
I spent a couple days cutting fabric, separating threads, and putting together each "kit" project for the first class of the first week (I have three kids' classes I'm doing this summer – this is only one of them!) for the first group (ages 7 – 9 years old).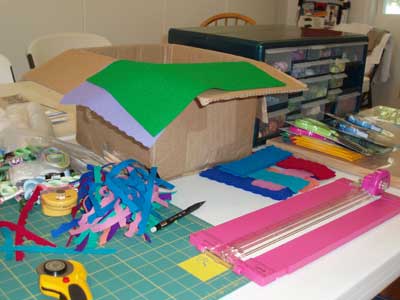 Yeah. The front view wasn't so bad – it's the side view across the room that becomes a bit discouraging!
But no worries!! All the background work is absolutely worth it. After the felt, threads, needles, and everything were sorted, pieces cut, designs drawn, everything was cleaned up and put away, the floor swept, and each child's place set up.
When the children came in this morning, they were met with this:
Nine chairs for nine children – each place with a sampler cloth and a bookmark kit.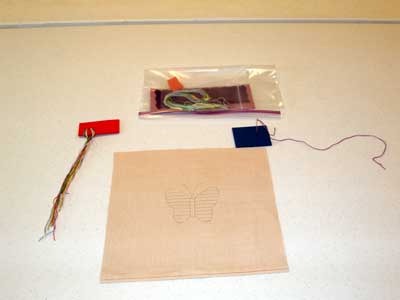 Here you have the "place setting."
To the top right, the blue square is a piece of 3 mm. craft foam, cut in a small rectangle. This has one threaded needle stuck in it, ready to go.
The red square to the top left of each place setting is also 3 mm thick craft foam. I used a single hole punch, and punched out about a 6-hole hole. In that hole, I looped their sampler threads. You may be familiar with thread rings, thread keeps, and so forth. Well, this is thread foam. I made it up, but it does work! I wanted some way to keep their threads more organized than just stuffing them in a plastic bag, so, modeling the foam on the idea of thread cards and thread keeps, I tried it, and I liked it! More on this concept, up close down below.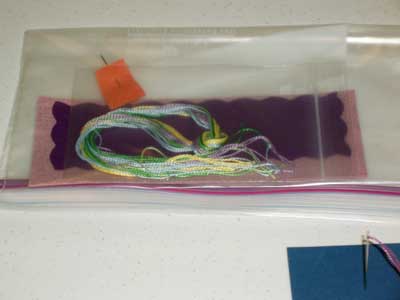 Above the place setting is the bookmark kit, ready to go. It contains the felt front, with the design drawn on, the felt backing already cut with the scalloped edge, a needle, and coordinating threads.
The sampler is a piece of medium weight (clothes quality) linen (I picked up 5 yards on sale for practically nothing!), with a butterfly outlined on it, and the butterfly has lines across the wings. I'll give you specifics on these little practice pieces when I have some finished ones to photograph! As they are here, they're rather plain.
And finally, just to go back to my thread foam a bit… this is a great way to keep thread ready for class use. After punching the holes in the foam, I folded the collection of threads in half and stuck the half fold in the hole, forming a loop. Then I put the ends of the thread "rope" through the loop and hitched it to the foam.
You might think that every time you want a thread off such an apparatus, you have to undo the loop, but not so!
You simply select the thread you want from the front of the looped threads, and pull it straight out. You don't have to undo your loop – you just pull it out, and there it is!
I know it's a simple concept, but I'll tell you why it thrills me. I've lost more money on threads over the years, because kids tend to stuff them in bags or just put them in their sewing box, where they automatically mix up, generally into a knotted mess. This way, I have quantity control over the threads, and the kids are more careful with them, too.
Using the craft foam to make these thread keeps was a last minute idea. Craft foam can be puchased at any craft store for about 79 cents a sheet. The sheet can be cut into multiple small rectangles – and it's much sturdier than regular poster board or card stock for holding threads this way. I had a bunch of the foam on hand, because I'm using it as paper-piercing mats (for embroidered cards) with the older class. While I was setting up the place settings, I mused over how to solve my thread dilemma – and the idea of the foam popped into my head. I had so much fun setting these little things up, and I really think the kids like them, too!
So there's a cheap way to organize threads for a project. I haven't tested the colorfast qualities of craft foam, nor do I know the long term effect it might have on threads, but for this short term use, it seems like a great idea.
So that's the set up for classes. The first day, the kids learn three stitches: running stitch, whipped running stitch, and backstitch. They practice all three on their butterflies, and then they apply what they learn to their bookmarks.
The two hour session today went really well, and I think that goes back to organization. The kids made good progress. Alas, I took no photos! Next week, next week…. Now, if I could only get the next classes that ready, I'll be really happy!
If you've got any nifty organizational ideas or anything that you think would be useful to know in classroom situations, please share! I'm all ears!
See you tomorrow!