When I set up for filming some embroidery stitch videos this week, I had the opportunity to try out a set of Evertite Stretcher Bar frames. So here are some photos and a bit of a review…
First of all, it helps to know what stretcher bars are and how they are used. Essentially, they're just four sides of a wooden embroidery frame that have interlocking corner joints, kind of like straight dove-tail joints (if you'll excuse the oxymoron!). They're sold in pairs, so that you can mix and match the sides to suit the size of your project. For example, if you have a project that's 12 x 14 inches, you would buy one pair of 12″ stretcher bars and one pair of 14″ stretcher bars.
Stretcher bars, in general, are great! They give you the taut surface necessary for certain techniques – or for embroidery in general – without the fuss of setting up anything more complicated. It takes about 20 minutes to set up a project on a stretcher bar frame.
Stretcher bars come from a variety of manufacturers, apparently, reflecting different quality of workmanship. The stretcher bars you find, for example, at chain craft stores like Michael's – while they work ok in a pinch – are not my favorites at all. For one thing, the edges of the frame are sharply square, as opposed to rounded. The wood itself is not finished in any way, and can often be splintery. The corner joints are not always reliable – I've bought some at Michael's that had mis-cut joint notches, so that the corners slipped out and wouldn't stay together. And, lastly, the wood is rather hard, with streaks of "really hard" that run through it, making it difficult to sink the tacks. The quality of the workmanship is reflected in the price of these frames – the longest length pairs are no more than $3 / pair.
Then there are the nicer stretcher bar frames that you'll find at your local needlework shop. They're slightly more expensive (but still not that expensive), they're made of a softer wood (which takes the tacks better), and they have rounded corners. They're sanded smooth. These are nice frames. I've seen them run anywhere from $3 / pair for the smaller sizes up to $6 / pair for the longer length sides. And sometimes, you can find them on sale.
And then… then there are Evertite Stretcher Bars – technically called Slimline Tension Adjusting Stretcher Bars.
My first impression is that they are "meaty" frames – slightly thicker than even the nice stretcher bars. They are smoooooothly sanded, with rounded edges.
The Evertite frames have a few unique features:
First, they're marked with center points on each bar (this is where you begin tacking your fabric).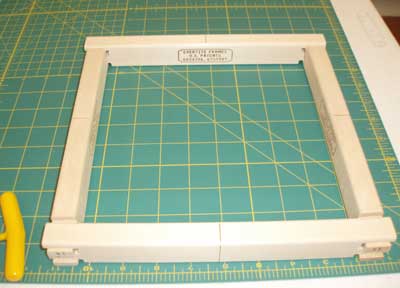 The bars fit together snuggly. They take a bit of pushing and working, in fact, to get them together – which can be better done with a small mallet. But I managed without one, so it's not too difficult.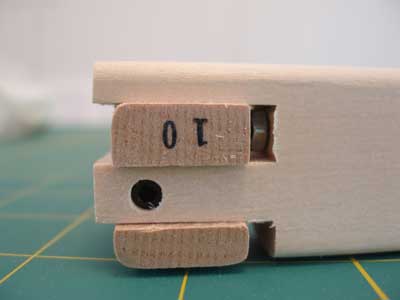 On each end of each side of the frame, you'll see the little apparatus that makes Evertite frames so unique. There's this little bolt thing set into the frame, and this bolt can be loosened or tightened, according to the needs of the stitcher. When it's tightened, the head of the little bolt pushes against the inside of the other bar, forcing the frame apart and making the fabric mounted on it tighten up. When it's loosened, a space develops between the head of the bolt and the adjoining bar, so that the frame pieces can be pushed together slightly, loosening up the fabric.
This handy-dandy little tool makes loosening and tightening the bolts a cinch. I'm not sure what this kind of tool is called – I call it the Yellow-handled Tool Thing, which seems to suffice. You can buy the Yellow-handled Tool Thing separately when you purchase your Evertite frames.
Now, how do you set up one of these things, and what are the advantages of using them?
First, the set-up. Gather your tools and supplies.
For me, this consists of my piece of fabric and my tack stuff, which I store in a glass jar. I have one of those E-Z Tack-it kits, with the magnetic pusher and the little matching tack remover – and these, along with all my tacks, reside in an old Hershey's chocolate sauce jar.
A note about tacks: when your E-Z Tack-it tacks start to break up (and they will – the heads come off fairly easily), I recommend picking up regular brass tacks from your local hardware store. I think they work better, and why wait around to special order something as common as brass tacks? In the photo above, the E-Z Tack-it tacks are on the left, the everyday brass tacks from the hardware store are on the right. They're not that different – the EZ tacks have a perfectly flat head, while the hardware store tacks are slightly rounded. That's it.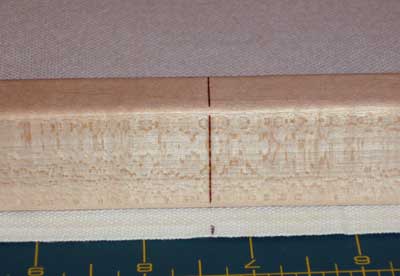 Mark the center point of your fabric, and line it up with the center mark on the frame.
With needlepoint canvases, you would probably tack your project onto the top of the frame bars. I tack my fabric on the sides, for three reasons: One, it gives me more finishing room around my project – a good inch more on all sides. Two, I don't like having my fabric edges on top of the frame, where my thread can catch on them. Three, I use the Needlework System 4 floor stand with the stretcher bar clamp, and having the tacks on top reduces the efficient functionality of the stand. It just doesn't grip as well when the tack heads are running interference.
Ok, so, you've lined up your fabric. Tack the center point of one side of the fabric onto the frame.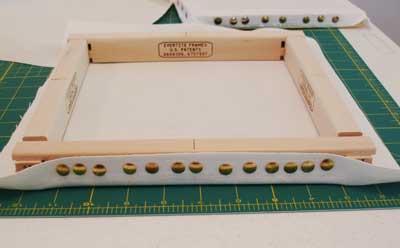 Moving out from the middle, tack across to one side, then go back to the middle, and tack across to the other.
Here's a very nice point about the Evertite frames – you don't need the magnetic tack pusher, unless you have problems with your hands or fingers (arthritis, etc.). I used my thumb and pushed the tacks into the frame with relative ease, and that saved time.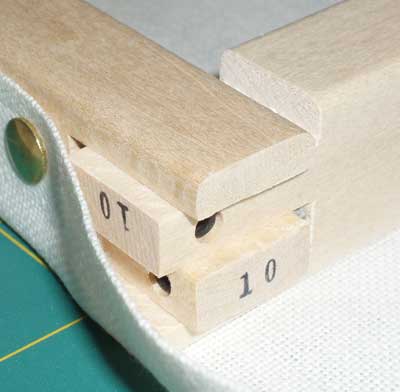 When tacking, keep in mind that you need to leave the corner joints accessible. Normally, I'd fold down t
hese edges and secure them, to keep them out of my way, but I have to be able to get to the bolts, so I'll leave the corners like this.
After tacking the first side, tack the side opposite it. Then tack the other two sides in the same manner as the first. It's when you're tacking the second and fourth sides that you apply a bit of tension to the fabric or canvas – but you don't have to pull it hard – just tight enough, without any warping to the fabric.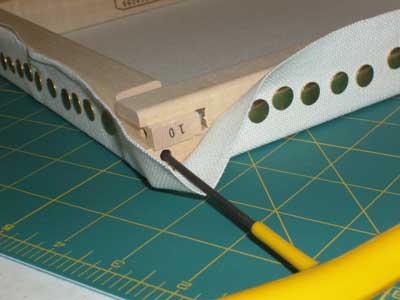 So the four sides are done, and the fabric is open for the Yellow-handled tool thing.
And this is where the fun part comes – tighten the bolts. Your fabric will get downright hard with the tension. Then, if you want to loosen the fabric up, you loosen the bolts and push the frames in.
It's easier to tighten your fabric than to loosen it, I thought.
Overall, what do I like about the Evertite frames?
1. They do what they say they do – provide a stretcher-bar frame that can be tightened and loosened without having to remove your work from it or reposition the tacks.
2. The quality of workmanship – every detail is thought of, from the smooth edges to the center markings on the sides, to the length of each bar being "branded" on the end, so you know at a glance what size bar you're grabbing.
3. They provide a (relatively) affordable, effective, and easy option for framing up a piece of embroidery, canvaswork, or goldwork. Especially if you're going to do goldwork, you want the kind of surface these frames supply – taut and level. (Slate frames provide the same kind of surface, but are a heck of a lot more labor-intensive!)
4. They are re-usable, and you can mix and match the sizes of pairs, relatively affordably.
5. Relative affordability – they aren't as expensive as a slate frame or as most roller bar frames, etc. They are more expensive, though, than other stretcher bar frames.
What are the cons to the Evertite frames?
1. Availability – they don't carry them at any local needlework shops around here… BUT they are available online, and you can find them here through Needle in a Haystack in California. They generally have a good supply of them available and can special order, too.
2. They are more expensive than regular stretcher bars (even the nicer stretcher bars). Example: regular stretcher bars that are 15″ long cost around $3 – $3.50/ pair. The 15″ Evertites cost around $16 – $17 / pair. NOW – that being said – you're paying for two things: one, the ability to tighten and loosen your fabric without removing it from the frame; two, hand craftsmanship. Is that price difference worth it? I think it depends on your individual circumstances. By the time you buy the whole frame, you're looking at about a $30 price difference.
My personal opinion on the price difference? I like the Evertite frames, and I think the tension feature is worth it, for the right kind of project. I wouldn't buy them for play stitching, but for the right kind of project, yes, it would be nice to have a few sets on hand! And finally, I'm a fan of hand craftsmanship. I like supporting local folks who work with their hands to produce a quality product. So when I have the opportunity to do so, I do so.
Evertites are produced by Evan Burroughs, the same fellow who made the slate frame I reviewed. (Update, 2019: Unfortunately, I don't have any current information on how to contact him.)
I've got some larger sets of the Evertite frames written into my hobby budget… and once I achieve them, I know exactly what projects I'm going to set up on them!
If you've used the Evertite frames, what's your experience with them? Do you like them? Are they worth the price difference? Would you recommend them to other stitchers?