If you embroider, chances are you're familiar with stranded cotton, which is probably the most popularly used cotton embroidery floss (or thread).
Next popular is likely to be perle (or pearl) cotton. These two cotton threads are widely available, so most stitchers are familiar with them.
But there are other cotton embroidery threads out there! Here are two that I like – floche and Danish flower thread.
I've talked a bit about floche before, and have already written up a comparison between floche, perle cotton, and stranded cotton.
This time, I'm throwing Danish flower thread into the mix.
First, let's take a look at the two types of threads in pictures…
Above, a pile of floche….
… and here's a (smaller) pile of Danish flower thread.
And here are the two together.
Right off, you can see a difference between the two threads. The Danish flower thread is in the foreground. Notice that that there's no real sheen on it like there is on the floche.
Floche is mercerized cotton, so it has a nice shine to it. Danish flower thread is matte cotton, so there's no shine to it.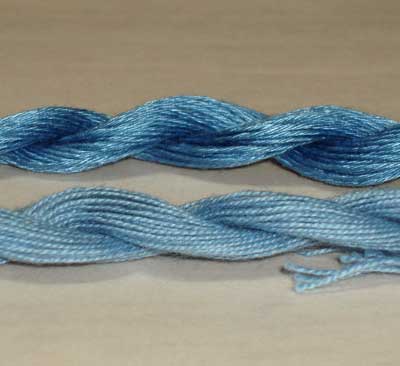 There are two similar blues as far as colors go – but they look distinctly different, for two reasons. One is the sheen from the mercerization on the floche. The other is the twist of the individual thread. If you look at the floche, in this picture you can see that the individual threads (each ply that makes up the strand) are not too tightly twisted.
On the Danish flower thread, the plies are twisted relatively tight, compared to the plies on the floche. The twist definitely has a lot to do with the reflection of light on a thread, so it isn't just the shine of the mercerization that makes floche and flower thread different.
But twist and finish (matte vs. mercerized) aren't the only differences in the two threads.
Here, I've lined the two threads up next to a #8 pearl cotton. Actually, a #12 would have been closer in size – but I only have white in #12, and it didn't show up as well.
If you look at the construction of the threads, you can see that the pearl and the flower thread look alike, but the floche looks a lot smoother. This is because the pearl and the flower thread are only two plies twisted relatively tightly, while the floche is five plies, and the twists that hold the plies together are much longer than the twists on the other two threads. I'm sure there's a technical name to the length of a twist… but… I don't know it!
I stitched two petals on a flower on a tea towel, each with a different thread.
Now, to test your attention span and observation skills so far, here's the quiz:
Which petal is floche, and which is flower thread?
If you said the top one is the flower thread, you're right. When you see them side-by-side, it's really easy to tell the difference between the two threads. Besides the obvious sheen on the floche, it is a "softer" looking thread.
Danish flower thread is a non-divisible thread (that means you don't separate it into smaller threads to work with), equal to about 2 to 3 strands of regular stranded cotton. As mentioned before, it's not mercerized, so it's got a matte finish, which makes it look, in a sense, "dull." To me, it almost feels like crewel wool, but with a tighter twist and not as much "fuzz." It feels sort of dry, if that makes any sense!
Flower thread has been around for a while – the original Danish thread was produced in the early 1900's, when the thread was dyed to mimic plant dyed threads used in Scandinavian needlework. DMC eventually picked up the idea, and produces a flower thread as well, but the "original dyed" flower thread is Danish flower thread.
You may wonder what Danish flower thread is used for – why would a matte finish thread be popular enough that DMC would decide to produce a line of it, for example? The matte threads are wonderful for creating the look of historical embroidery – if you want a really old look to your work (if you're creating an historical sampler, for example), Danish flower thread is great for that.
Also, the contrast you can achieve in stitching with a matte finish thread now and then adds interest to a project. Imagine if you're stitching on a crazy quilt seam, for example, and you're using a fabric with a high sheen to it. A matte finish thread would stand out well on it. Think Mountmellick embroidery – it's the same concept. The contrast between the matte threads and the cotton sateen is characteristic of Mountmellick embroidery, and really very beautiful.
So there's yet another cotton thread to consider giving a try!
It's beautiful stuff, isn't it?