After writing some time back about floche, a 5-ply non-divisible cotton embroidery thread, I received a lot of inquiries about it: What is it? What's it used for? How's it different from other embroidery thread? and so forth.
So, using a few photos, I thought I'd draw some comparisons between some commonly known cotton embroidery threads and floche.
For the sake of comparison, I selected two relatively common cotton embroidery threads – DMC stranded cotton and DMC Perle Cotton #5. The floche in the photos is also DMC.
First of all, the terminology: a "ply" is part of a "strand" – the plies twist together to make the strand. So when you look at your regular DMC stranded cotton that you buy locally (the green floss above), you will have 6 "strands" that you separate to use.
Each one of those strands is relatively small, and it is made up of two "plies" that are twisted together to form the thread that you embroider with. "Non-divisible" means that you normally don't separate the thread into strands to use it, so perle cotton, for example, comes straight off the skien as it is, you cut the length you want, and start stitching with it.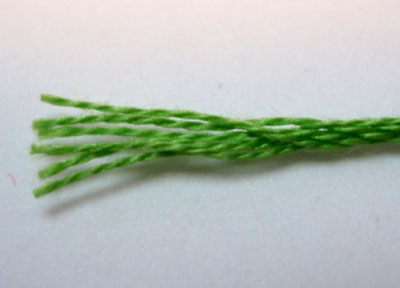 Looking at the familiar DMC stranded cotton first, you'll notice the 6 strands there, and, if you look closely, you can see the distinct twist of the two plies that make up the strand.
That's important – the two plies are very visible, and, small as they are when you're looking at one strand of cotton, they make a difference in what your thread looks like on your embroidery projects. There's texture there – more so than in the floche, discussed below.
Notice, too, that the twist on the plies is not as tight as it is on the perle cotton in the photo below
The texture from the plies twisting together make a difference in the way your project looks – not just because of the "texture" (as we think of it – rough or smooth, etc.) but also because of the way the light plays off the thread.
Here's #5 perle cotton. You can distinctly see the two plies twisting tightly together. They look more like a cord than the twisted plies in the stranded cotton above.
Like the stranded cotton, there's a texture in the overall thread – the bumps formed by the twist of the plies. You don't normally think of it, but it is one of the features that distinguishes this thread from, for example, floche. The light reflects off those bumps, and you see them pretty clearly.
Here's the floche close up. The plies are a little harder to see, aren't they? The twist is a little looser than the perle cotton, certainly, and the long twist and the number of plies (5) make the thread a lot smoother looking. You don't see as clearly the individual "bumps" from the plies.
Now, on a close-up photo like this, it looks like floche is a really fuzzy, hairy kind of thread. It's actually a very smooth thread.
Size-wise, floche is larger than a single strand of DMC, but not nearly as large as the #5 perle cotton.
Floche is a mercerized cotton (just like the stranded cotton and the perle, which means it's been chemically treated to give it a shine), but it doesn't look as shiny as the perle cotton, and in a finished project, it tends to give a kind of subtle "gleam" – more so than the stranded cotton.
Now, what can you use floche for? Well, what can't you use it for? If you can embroider something with two or three strands of stranded cotton, you can probably embroider it with floche! One strand of floche is equivalent to about 2 strands of DMC stranded cotton.
Floche, I think, gives better coverage and a smoother finish. It isn't always desireable to use, though. For example, I wouldn't use it in something like my needlepainted bird or iris – the detail would not be the same at all.
That's not to say it can't be used for long and short stitch – it can! – as you can see in this article on long and short stitch with floche.
But I would use it on monograms, and I'd use it on embroidered baby clothing or for smocking.
I would use it in whitework (though I prefer the coton a broder – which is kind of like 4-ply floche – for whitework), and I'd definitely use it in projects that call for satin stitching (floche works up wonderfully in satin stitch) in cotton.
And I'd use it for long-and-short stitch work in bolder designs, for the fun of it. I think it would be wonderful in crazy quilting – it works up very nicely in all kinds of stitches. So the possibilities, really, are only limited to your stitching imagination!
Where can you find floche? It's available through specialty needlework shops online. Check Lacis – they carry it!