After musing over whether or not I'd apply my Gilt Sylke Strawberry sample piece to the lid of a box, and after reading all the comments and advice on it, I figured what the heck. I took the plunge. Here it is!
One of my concerns about putting this piece on the unprotected cover of a box was the question of "dirt." I was thinking that a piece of good linen and these relatively expensive threads would not fare so well exposed to everyday use. I answered my hesitation on this point with the reality that dirt exists, and things may get dirty, but if you take extra care of your Good Stuff, then it really shouldn't be that big of a deal, right? Besides, at least for me, my hands are never cleaner than when I'm doing needlework. I always wash them well before approaching my needlework supplies. The box itself is kept inside a basket when not in use. How badly could it really get soiled?!
So I positioned the piece of linen on the box lid, put the "window" piece over it, and marked out the outline of the outside of the lid. I cut the fabric away, and pulled off the paper covering the glue strips on the lid. These strips don't really hold the fabric or the "window" piece well enough, so I applied a light coating of glue. I stretched the fabric gently on the glue, and then pressed the window piece over the fabric piece. After wiping off any excess glue, I stuck a stack of heavy books on top of the box and left it to dry.
Here's my new supply box: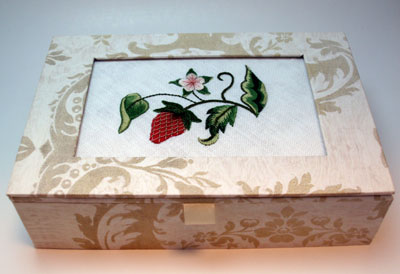 I like it, you know, I do!!
Right now, I've got threads in the box. In fact, I think I will use it as a thread box, exclusively, for threads of whatever current project I'm working on.
I've since emptied the box, picked out all the whitework threads I'm using on my current project, bagged up the spare skeins, and filled up the box very tidily. I keep all my good thread rings and keeps in the bottom of the box, too.
The only disadvantage to the box itself (which comes with a Bucilla silk ribbon embroidery kit for the lid) is the magnet. The box is magnetized so it shuts securely (I like that feature), but the magnet is so strong that I find I have to get my fingernails in there to pry the thing open! My scissors come out magnetized, which is great when it comes to picking up needles – but rather annoying when you don't want to pick up needles!
But I'm not complaining, really, because once the thing was assembled, I was Really Happy with it. And I still am! So – I suppose I'll go use it!