One of the kids from this summer's embroidery classes showed me her finished final project, and … golly! I was really impressed. I took some pictures, and I thought I'd show them to you…
This is a baby pillow case hand embroidered by a 13-year-old. I have to admit, I think she did a really nice job.
The last project for the 12-14 year old class was a "pick your own," and among the blanks I had (some of which were meant more for the adult class!) were some very nice linen baby pillowcases, which I got from All About Blanks. They have a little drawnthread (hem stitched) edge.
So, this student picked her own blank (the pillowcase, for a new baby sister), her own design (which she transferred by tracing it with a light box, using a pencil), and her own colors of thread. When she was finished, she wanted an "A" in the middle of the design and asked me to draw it in for her. That's the only thing I did on this whole piece – everything else was left up to the student!
Here's the pillowcase:
And here's a bit of detail:
The stitches she used are French knots, daisy stitch, satin stitch, bullion knots, and stem stitch.
I think she did a good job on everything, but I was particularly impressed with the bullions (and there are lots of them!) – bullion knots don't generally fall in the "easy" category.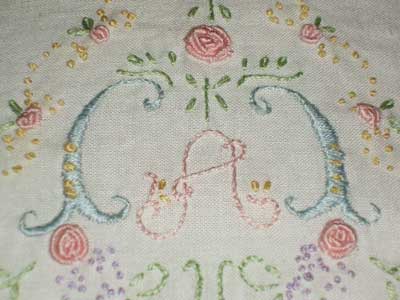 There's the center motif with the initial. Her satin stitching looks good, too – she worked some French knots on top of the satin stitch on the side flourishes (blue satin stitch, yellow French knots).
The whole design was embroidered with two strands of DMC stranded cotton.
Nice job, Anna!