Usually, my embroidery classes for kids end when the summer comes to a close, and I don't really think about children's embroidery projects again until the following spring. But that changed this year, with the phone call of a friend.

I have a friend who is a teacher's aid for a fourth grade class of 29 students. She thought it would be fun for the kids to do a little embroidery project for art class, so the other night we met and bounced around some ideas, using scraps of felt and bits of thread leftover from last summer's classes.
Since she's thinking the project would be good for the last three weeks before Christmas break, we migrated towards the idea of little individual tree ornaments made out of felt.
I didn't have a lot of felt on hand, since we used it up last summer, but I did have a length of dark brown wool felt that served for mucking about on. This is what we managed to stitch up while we were discussing possibilities:
The colors are not, overall, too appealing for fourth graders, but that can be adjusted. But the concept is there: basic embroidery on the front in a cute design (not necessarily this one!) backed by a second piece of felt, and buttonholed all around. Simple enough.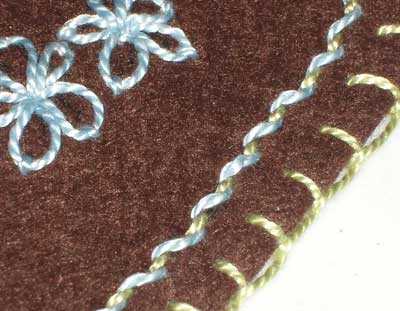 We only used three stitches, really: whipped running stitch, daisy stitch, and buttonhole or blanket stitch around the edges.
But this is the thing…
My friend has never (that's right, never) embroidered before! So … not only will this be a crash course in simple embroidery (she won't have a problem with that), but also a bit of a crash course in how to organize for such a project and how to teach it in a logical and ordered way to a class of 29.
These are some of the pointers I've given her:
1. Limit their options. As we were talking and enthusiasm was abounding, we came up with all kinds of possible shapes for ornaments: gingerbread folk, houses, trees, hearts, ornament shapes, simple bird shapes, simple flower shapes, etc., etc., etc. Oh, I agree they'd all be cute… but with 29 students on a first-time project, limiting the students' choices will help minimize confusion.
2. Limit the number of stitches for instruction, and keep the stitches simple. I suggested instructing on no more than four basic stitches.
3. Limit the number of colors for the projects – again, I'd limit them to four.
4. Pre-design the ornament, drawing out the design on it. This is where there can be some variation – draw different designs on the ornaments, so that they aren't all exactly the same. This will give the students a sense of individuality, but it won't leave the burden on them for deciding "what to do" on their ornament. If the designs are pre-printed on the fabric, they can start on the projects a whole lot faster!
5. Plan everything well in advance. Make sure all supplies (felt cut-outs, threads, plenty of needles, etc.) are all on hand, and divide up a little package or kit for each student. Use zip-lock bags, so they have something to keep the project in. Plan the instruction out in step-by-step increments, allocating enough time to each step.
6. Print out a picture diagram for each stitch, and give a photocopy of each to the students. Maybe even make blown-up copies of the diagrams to use while instructing on the stitch. If they can look at the diagram as you walk them through it, then they'll be able to understand the diagram better and can refer to it for help on their own (whether at home or in the classroom).
7. Plan for small group instruction. While the whole group is occupied with a task, break off into small groups to give more individualized instruction.
8. Make sure to plan in enough quiet stitching time, in which you can circulate and help individuals, and in which the students can get the "rhythm" of the stitch down.
9. Although there will be two instructors in the room, perhaps consider finding one other assistant to help out. 29 first-time little stitchers will have lots of unthreading needles!
So those were my recommendations. I'll be teaching her the basics of embroidery over the next couple weeks, and we'll narrow down ideas and make supply lists for this series of embroidery classes.
My question to you: Any other suggestions for this venture? Or any alterations on my suggestions above that you think would be helpful?
I'll keep you posted on how it goes!
Other news:
If you haven't signed up for my October stash give-away, don't forget! The deadline is Tuesday morning, 5:00 am my time. See the details on the original post.
In Country Bumpkin's e-mail newsletter that I received this morning, they also mentioned the advantage for overseas shoppers that I mentioned yesterday. A year's subscription to Inspirations is averaging just over $50…. much better than $70 and higher, so it really is a good deal!
Enjoy the weekend!