Thanks for the feedback on my embroidered towel frustrations. I like embroidering on towels, don't get me wrong! It's fun. It goes quickly (usually) and even though I know the towels will not be as gently used as heirloom linen, I still think they make great little gifts. Most of yesterday's post was written tongue-in-cheek: yes, a little frustrated over the amount of time and effort, but really, I'm just laughing at myself for getting into the situation in the first place! Today, a much simpler embroidery project….
Perhaps you don't really get into the whole "embroidery on paper" scene, or the card-making scene. You may even think that hand embroidery on paper isn't really the same thing as Hand Embroidery. You know what? I agree with you! Embroidering your Christmas cards isn't really what I would classify as the "art" of embroidery, so much as the "craft" of card making. This type of embroidery on paper involves crafting techniques… it doesn't really involve the skill and artistry we associate with a proficient embroiderer!
But, hey. It's still a needle. And it's still thread! And it's a simple way to do something creative involving both. And it's a great way to kick up your Christmas card to the level of "small gift."
With all these excuses in mind, I present yet another card: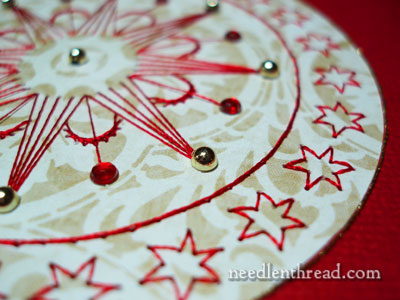 This card features an "ornament." The ornament is really just a circle cut out of a goldish-tan-and-white decorative paper. I tried to cut the circle so that the design on the paper was centered.
The ornament "hangs" from a little gold half-bead stuck onto the paper.
The embroidery design is worked in red, mostly, over the decorative paper. I'm using Sulky machine embroidery thread here. The outline around the ornament is worked in gold, as is the ornament string.
I added little red gemstones and gold beads to the tips of the star. Unfortunately, they don't quite sparkle in the photo as they do in person. I like sparkly things on Christmas stuff… so I bought these little tiny stick-on gems and beads found in the scrapbooking supplies at a craft store. They come in handy! I find myself sticking them on just about every card I can. If you use these types of embellishments (that stick up off the surface of the card), remember to "pad" your envelope before you seal it, by inserting another piece of cardstock over the face of the card.
Well, time is ticking! With Thanksgiving over, I have a feeling Christmas is going to hasten my way before I can say boo. Before the week is out, two things will happen in my needlework life:
1. I will do the finish work on my ornament.
2. I will post the December stash give-away, so that it's feasible that you'll get it before Christmas! (And maybe even be able to use it!)
Surely other stuff will happen, too… but you'll just have to wait to see what does!
Enjoy the day!