A few queries came in this week about the tools required to get started in goldwork or any other metal thread embroidery (one reader is particularly keen to work with copper threads…) To answer the question, I thought I'd show you my goldwork "tools" – they aren't all tools, and there aren't that many!
I only have one "specialty" tool for metal thread embroidery. I think the experts must have other tools that they use, but perhaps not. Most books I've seen don't have too many items beyond these. And again, they're not all tools, technically…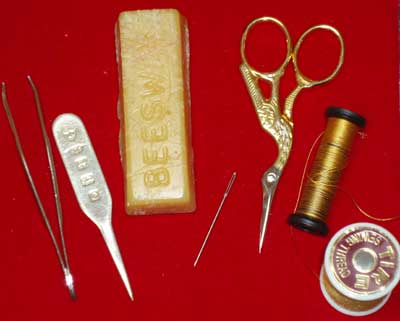 The background of this photo is a velvet board – a thin piece of mat board with velvet mounted on it, used for cutting metal threads and keeping them in place while they're being cut and while you're using them. I've heard that beading boards work ok, too – they apparently have some kind of nappish surface of sorts, I suppose. It's the velvet nap that keeps the metal threads in place, and keeping them in place is a good thing, especially when you pre-cut several pieces of purl for chipwork.
I have two things I use for cutting and holding the metal threads, actually – this red board and a piece of black velvet as well. The black velvet is not mounted on a board, and while I don't use it for cutting, I've found it's handy for resting the cut threads on, especially when I may have to pack up a project while it's still underway. With the loose black velvet, I can fold it up carefully over the pre-cut threads and put it in a box. When I unfold it, the threads are still there…
From left to right, the rest of the tools, most of which many stitchers probably have in their needlework basket:
1. A decent pair of tweezers
2. A sterling silver mellore – This tool is used specifically for goldwork. Its main purpose is to help with manipulating gold threads without damaging them. It can also be used as an awl, to widen the plunging holes for the metal threads. You can find mellores made from other material besides sterling, and, incidentally, the mellore is not absolutely essential to goldwork. I've manipulated threads with the back of my tweezers….
3. Beeswax, used to strengthen couching thread
4. A plunging needle or plunging lasso – This is just a large eyed needle that you can either thread your metal threads into, to pull the ends to the back of the fabric, or you can string a piece of cord through the large eye and use that as a lasso to pull the metal threads to the back of the fabric. This is a #22 chenille needle, which seems to work ok in most cases.
5. A pair of scissors specifically for goldwork. I have three pairs of scissors specifically for goldwork, actually – and the other two I like much better than this pair! The scissors should be small and very sharp, and nice pointed tip is helpful. It's good to have a pair that is specifically for goldwork and that can be distinguished from your regular embroidery scissors. One of these days, I may invest in a pair with a fine serrated edge, but so far, the scissors I have (which are all typical embroidery scissors by gingher) have served me well.
6. A selection of couching threads, which I already explained when discussing where to find silk couching threads.
So that's it! Nothing really out of the ordinary is essential for goldwork, except the metal threads themselves. I like the fact, by the way, that Tanja Berlin gives the option on her website of ordering sample sizes of all her gold threads. The sample sizes are 9″ each, and they vary in price according to the type of thread. But 9″ is a good size to play with, and will go a fairly long way with most of the metal threads, except maybe passing thread. Remember as well that gilt metal threads are less expensive than the 2% threads, so if you're planning to play and practice, choose gilt.
Enjoy!