What makes an embroidery hoop good? Below are my criteria for a good embroidery hoop, and later on, I'll show you how to make a good hoop even better.
The purpose of an embroidery hoop is to hold the fabric that's in it, and usually, to hold it drum tight. For most embroidery (though not all – it depends on the type of stitch), I like my fabric to be drum tight – that is, if I flick it with my fingers, it sounds a bit like a drum.
There are different ways to achieve drum-tight fabric for stitching: a slate frame, stretcher bar frames, or a hoop.
Now, for a hoop to achieve drum-tightness and maintain it for a reasonable amount of time, a good hoop is essential.
What makes an embroidery hoop good? This (below) is a good hoop:
This is a 7″ round wooden embroidery hoop that's 5/8″ deep. It has all-brass hardware, and the outer ring fits the inner ring very well, without any warping or gapping.
The hoop is made from birch wood and is strong and solid – unless you're super-duper ridiculously strong (like Captain Caveman strong), I don't think you could bend it out of shape with your hands.
It's got a natural finish and is smoothly polished, so there are no splintery bits that can snag your threads or penetrate your fingers.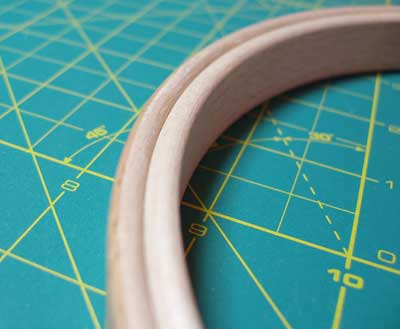 When the rings are together and the outer ring is tightened, there are no gaps between the outer ring and the inner. They're a perfect match. (Awwwww…)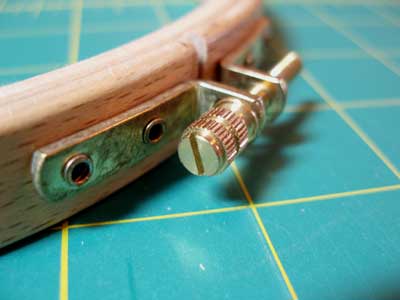 The hardware is all brass. The brass brackets are not flimsy – they're strong and durable, and they don't bend, no matter how much you tighten the screw.
The screw has outer ridges that serve as grips for tightening with the fingers, and it also has a slash in it for a screwdriver, so that you can really tighten the thing up.
This is a good hoop. The 5/8″ depth is perfect for medium weight fabrics, though I also use it on some finer weight fabrics as well. Muslin, shadow weight linen, dower quality linen – this hoop works with all of them.
For heavier weight fabric, like heavy linen twill, I'm more inclined to use a 7/8″ deep hoop, but this hoop actually works fine with twill, too. It's a good all-purpose hoop in an all-purpose size.
Size of the Embroidery Hoop & Your Hands
The 7″ diameter ring is an easy fit for my hands. Anything larger becomes cumbersome when embroidering the middle of the design. I generally like 6″ and 7″ hoops best.
When you buy a hoop, you want to look for one that fits well in your hands. You should be able to hold the edge of your hoop in your palm, secured by your thumb, and stretch your fingers easily to the center of the hoop.
Larger hoops (10″ and larger, especially) are generally best managed with some kind of stand to support them (or at least the lip of a table), so that, when necessary, you have both hands free to reach the center of the fabric in the hoop.
The hoop featured above is a Hardwicke Manor hoop, made in Germany and imported into the US by Access Commodities. You can find these hoops through many fine online needlework shops. They're available through Needle in a Haystack.
Embroidery Hoop Tips
Always take your fabric out of your hoop when you finish a stitching session. Doing so reduces the chance of permanent hoop marks or dirt rings. Plastic hoops with a lip are more prone to dirt rings than good wooden hoops are, though, because the lip tends to catch dust and dirt.
When you mount your embroidery fabric in the hoop, consider mounting a piece of scrap muslin or light cotton over your embroidery fabric, with both in the hoop at the same time. Cut an opening in the scrap fabric to reveal your embroidery design. The scrap fabric will further protect the edges of your ground fabric from dirt and hoop rings. It will also protect your fabric from oil from your hands while holding your hoop.
Consider binding the inner ring of your hoop for added grip and to protect your ground fabric. Here's a tutorial for binding an embroidery hoop easily, to achieve better long-lasting tension and to eliminate stress on your fabric.