If you want to join me in working through a small long and short stitch shading sampler, here's a little bit about the project and the list of supplies that I'm using….
The long and short stitch shading lessons series that I'll be posting here on Needle 'n Thread over the next several weeks will consist of a small sampler of eight elements, each focusing on a different shape.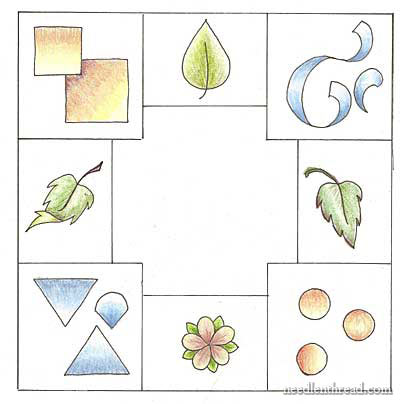 The whole piece is a total of 7″ square, which keeps the individual elements rather small. The colors above are only approximate – I doodled them in while considering color schemes and shading.
The middle section is left empty. If you decide to do the whole piece in a square as the pattern is drawn (like above), then you can use the middle to stitch your own little something, shaded. Or you can add some personal information, to document when you stitched it, etc.
You can skip the whole "square" layout, and just do each element separately, on a bit of scrap fabric. It's all up to you.
I'm working the square, as designed above.
When I'm ready to publish the lessons, you'll receive a downloadable pattern in a plain line drawing, plus a downloadable color guide like the one above, just to give you the idea of the shading, and also a downloadable stitch-direction guide.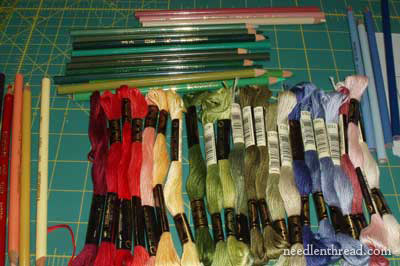 Here's the supply list:
1. Fabric – a 12″ square of cotton – high thread count muslin (calico) is suitable – in white or natural. I used a piece of good cotton from a new pillow case that I was going to stitch, but that I messed up on when transferring the design onto it. So you can use a "scrap" if you want to conserve a bit on fabric or expense.
2. Hoop or frame – you'll want a hoop (either a 4″ or 6″ hoop will work). Alternately, you can use stretcher bar frames – 10″ work fine, if you're working on a 12″ square.
3. Needles – #10 crewel
4. Sharp Scissors
5. Pencil – I use a mechanical pencil
6. Thread: I'm using DMC stranded cotton in the following colors. You are welcome to use the same colors or change them to suit you. I've arranged the DMC color numbers in numerical order for shopping convenience, if you're going to buy threads. If you have suitable threads in your stash, though, feel free just to use those!
DMC Colors:
158, 159, 160, 161, 223, 225, 347, 349, 351, 353, 469, 471, 472, 613, 745, 814, 3011, 3012, 3013, 3052, 3855 and ECRU
I'll be presenting the lessons in a sequential order, progressing from least difficult to more difficult. The first lesson will cover setting up the project. After that, each lesson will deal with an individual element (the group within a square).
There will be at least two videos accompanying the series of lessons. Unfortunately, my software did something weird when I tried to complete the first video, so I'll be looking into that. The first video was 57 minutes long originally, edited down to 27, for the basic long and short stitch. I'll try to edit it further! Aaack!
So that's the plan! If you're interested, you can join me in the venture! If you just want to watch from the sidelines, that's fine, too! And if you aren't interested, never fear – I'll still keep up with some other content for those of you not inclined to shade!
I'm looking forward to this series – I hope you find it fun, too.