Happy Halloween, everyone. I've never really embroidered for Halloween before, but I do have two pumpkins I'll (re)share with you – resurrecting an old project that I had a lot of fun stitching!
These are embroidered pillowcases, and the theme for them is "opposites" – so I embroidered one black and one white pillowcase with faces. On the white pillow case, they're all awake and having a blast, and on the black pillowcase, they're snoozing away comfortably.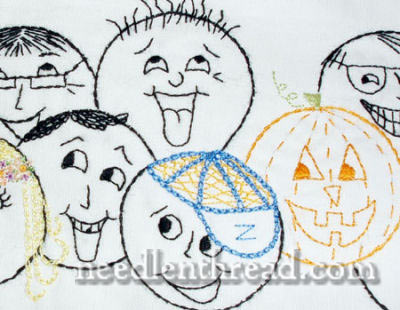 The pumpkin was easy enough to embroider while he was awake…
… but sleeping pumpkins pose a slight problem, when it comes to closing their eyes. When I worked this project, I think I embroidered those eyes two or three times, trying to get a "sleepy" look.
Yep, I can safely say this was one of my Just for Fun projects that was really fun!
I hope you have a fun day, that you get out and enjoy the autumn weather (if you're in the same hemisphere – spring, for the rest of you!), and that you have a terrific weekend!