Working on the Crewel Rooster project, I've had the opportunity to play around with seven different crewel wools currently on the market. Today, I want to show you those threads up close – just the threads. In looking at just the threads, though, out of context, I will admit there's not a lot to learn from them. You might get an idea of their structure, but other than that, you can't tell much from them unless you see them in context, in stitching. That's the way I see it, anyway!
So my plan – and I'm slowly working on it – is to show you some stitch samples with each of these threads, and to put the samples side-by-side so that you can see them and compare the outcome of the stitching with the various threads. In the meantime, though, let's look at the seven different threads I've been working with.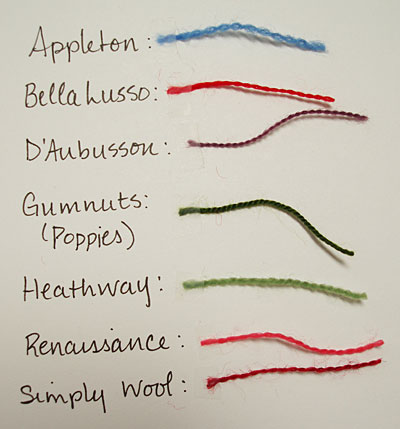 These are the threads I used, in alphabetical order: Appleton crewel (100% wool from England), Bella Lusso (100% merino wool from Italy), D'Aubusson (100% wool from France), Gumnuts Poppies (a 50/50 silk/wool blend, from Australia), Heathway (100% merino wool from Wales), Renaissance Dyeing crewel wool (100% merino wool, vegetable dyed, from France, but the wool is from England), and Simply Wool by Gentle Art (100% wool – company is located in the US, but I don't know where the wool is from).
With the exception of Gumnut Poppies (which is a wool / silk blend), all the threads are wool, and you'd think they'd all pretty much be the same, since they're all wool, but they aren't. And even though several of them look the same, they stitch differently.
Simple Wool (lower) and Renaissance wool (top): fine, two-ply wool, kind of hairy. These two look a lot alike – they feel completely different when you stitch with them!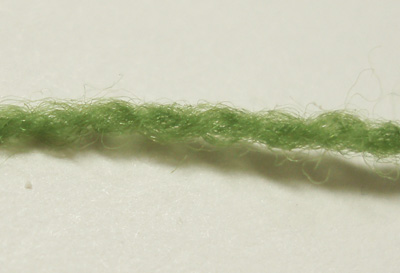 Heathway is a two-ply merino wool, but the plies twist around each other with a closer twist – not a tighter twist than the others, because the thread isn't tightly twisted. But the "spring" shape of the twist is definitely closer. This makes the thread a bit stretchier and springier. It also makes it very smooth when stretched out in stitching.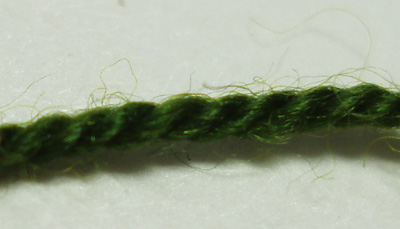 Gumnut Poppies: The presence of silk, I think, is obvious. The strands look smoother, more lustrous, and they hold together in their twist, thick and soft.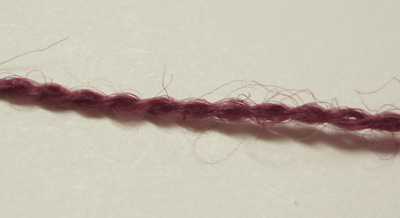 D'Aubusson's twist is a bit shorter – it looks like Simply Wool, which has a slightly shorter twist than the Renaissance wool. But the twist is much longer than Heathway's.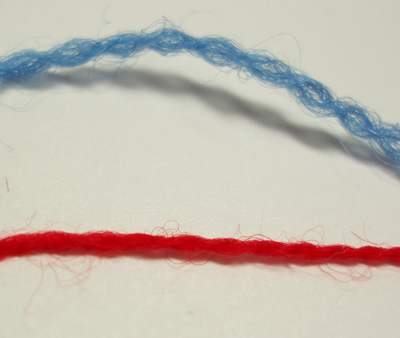 Bella Lusso (lower) was difficult to photograph (red threads are always difficult to photograph, for some reason!), but you can see that its twist holds together more than the other threads – it is softer, and the fibers are longer. It reminds me more of a cotton-floche-gone-hairy than of wool. And Appleton (top) is again a two-ply twist, but notice how the plies are really separated from each other? They are long twists, but very loose, and the fibers in Appleton wool are also kind of loose and all over the place.
So, although the threads (except Poppies) are all wool, and though they look alike at a glance, they have subtle differences, and these differences come across in the way they stitch. What makes them different? The way the wool is processed, the way it's combed and spun, even the dye process, I suppose. You can read quite a bit, actually, on wool threads in general on the Renaissance Dyeing website. It's a nice site with interesting information for those interested in wool threads, thread dyeing, vegetable dyes, and so forth.
I'll be finishing up some stitch samples to show you how these threads perform. So stay tuned for that! In the meantime, I'm planning on getting the rooster finished over the next few days! Wish me luck!