Yesterday, I reviewed the book Embroidered Flowers for Elizabeth by Susan O'Connor, and today, I'm giving away a copy – along with some other goodies. Read on for details…
Embroidered Flowers for Elizabeth is a gorgeous book, and one that you will want in your embroidery library if you are a fan of surface embroidery. Though the book focuses on making a gorgeous embroidered blanket, the designs within are not limited to that project alone! They're suitable for needlepainting, stumpwork, and goldwork, to name a few options.
Today, I'm giving away, courtesy of Country Bumpkin, a copy of the book! So this is your opportunity to win a copy for free!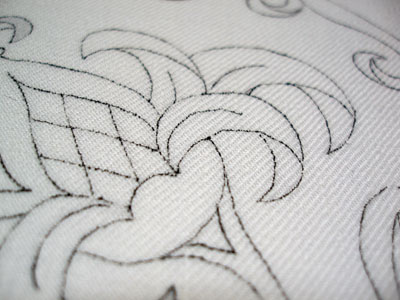 Along with the book, I'm giving away (courtesy of me) a half a yard of Legacy Linen Twill, which would make a perfect ground fabric for embroidering single motifs from the book for framing, pillow-making, and other applications. This is the same fabric I used as the ground fabric for the Crewel Rooster, and it's also the ground fabric for my current goldwork project. I love this fabric! It's great for many types of surface embroidery work.
In addition to the above, I'm also giving away, courtesy of Sakura of America, a set of Sakura Pigma® Micron Pens in sepia. These are the pens I use for transferring embroidery designs on projects that will not be laundered or rinsed after the needlework is done. (They are only guaranteed permanent on paper, though I've never had any problems with them on fabric – always test first, though!) The set features pens of various sizes, and a brush pen. I use size 01 or 005 (the latter is not included in the set) to trace designs onto fabric. A little disclaimer: you should make sure you're used to the way the pens work before tracing a design onto good fabric with them – practice on a scrap of fabric first.
And finally, courtesy of me, I'll add a Very Good embroidery hoop to the package – a Hardwicke Manor hoop, in medium thickness, suitable for use with the linen twill.
So, aside from threads and a needle, you'll be ready to set up a design from your new book! You can trace the design with the pens onto the linen twill, put the fabric in your new hoop, and, once you've gathered your threads, you're ready to stitch!
Directions for the Give-Away
To join in this drawing, please follow these directions:
1. Leave a comment below, on this article located on the website (comments on other articles or submitted via e-mail in reply to the newsletter will not be counted).
2. In your comment, answer the following question:
Are you interested in making the blanket featured in the book, or in stitching the individual designs?
3. Make sure you sign your comment with a name! You can post the comment using the 'anonymous' feature, but please make sure you leave your name in the post so that I can announce a winner by name.
4. Post your comment by 5:00 am CST, Tuesday, March 2nd. I'll announce the winner on Tuesday morning. The winner will need to contact me with a mailing address within 2 days; otherwise, I will draw another winner.
Good luck!