I've been sketching up my next embroidery project. My sketching skills aren't exactly fantastic, to say the least, but I'm hoping they are decent enough to translate into a hand embroidery pattern that can be used for a variety of embroidery techniques. You see, I have a plan…
At first, my plan involved sketching a Very Simple Embroidery Pattern. When I'm starting from scratch, and especially for the project I have in mind, simple is always better. I'm not sure what happened. I've ended up with a monster, something I know will not stitch up quickly, regardless of the technique.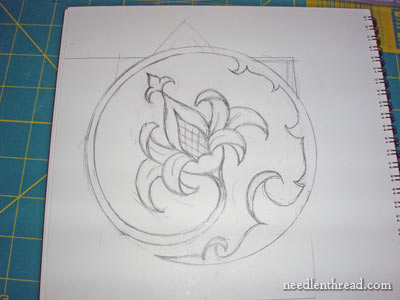 This is it, and it's too much, and it's not quite right, either.
I did want something that would fit within a 6″ square, but it didn't have to be round, and I'm not sure how it became round. I'm not sold on that Swishy Circle Something that's evolving on the lower right of the circle. In fact, I'm not sold on any of it.
My plan is to set up several (the numbers aren't clear yet) projects with the same design on them, and to stitch each project in a different technique, to show comparisons between various approaches to hand embroidery. Because there are so many approaches to hand embroidery! I think it would be helpful and even interesting to see how a design is reinterpreted depending on the approach the embroiderer takes with it. Needless to say, I wouldn't employ every embroidery technique under the sun. Instead, I wanted to concentrate on about four techniques.
And so, I need an original design. Something…. something…..oooooh…. Something just right. I've squizzed through innumerable design books, magazines, a bunch of vintage and antique flyers and catalogs, many of the tried-and-true oldies but goodies (Dillmont, etc.) … but the Muse just never bit.
What I really want is something more akin to the simplicity of the crewel smalls I worked recently from Tristan Brooks Designs – this one, which is a very simplified something (I'm not sure it's exactly a flower), and this one, which is a simplified pomegranate design.
I've tried to make myself pin down what I have in mind. A stylized flower? Yes, kind of – but nothing too "cutesy." Formal or casual embroidery? Something that could be interpreted either way, and would change, depending on the techniques and materials used. Detailed or Very Plain? Starting plain, but with the option of details.
The pathetic thing is that this has been flopping around in my head for well over a month – since before Christmas, actually. And yet, all it does is flop.
I started flipping through my sketch books. I don't sketch often, and that's part of my problem. Doodling? Sure. Sketching? Not much. And you can't get good at something if you don't practice. I tell myself that all the time!
Speaking of doodling, I've always wanted to take this type of thing and translate the idea into a free-style embroidery design. I think it'd be fun to stitch up something similar – in black and white, or in color.
And so my mind wanders on to other things, and my sketching falls short of my plans, and my next project remains distantly foggy in my head.
That's the same head, by the way, where a nagging voice keeps saying something about a rooster.