Now and then – and really, as much as possible – I like to get reader input on my website content. Today, I want to talk a little bit about stitch videos and ask you some questions!
The Video Library of Hand Embroidery Stitches is a popular aspect of Needle 'n Thread.
Right now, the library features 55 videos of stitches and techniques, from the simple running stitch to more complex stitches, like the drizzle stitch pictured above.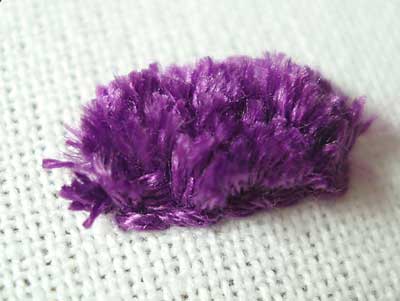 You'll find line stitches and filling stitches, and even stitches that create a puffy pile on your fabric, like Turkey Work (aka Ghiordes Knot) shown above.
I Like It, But Not Quite
I like the Video Library, but there are some things about it that I'm Not Quite Satisfied with. I hope to gradually change these aspects during the course of this year, and especially within the next 5 months, starting now.
For example, it is time to switch out some of the older videos on the site with better, cleaner, more professional versions. When I first started filming the stitches, it was a trial-and-error process with a point-and-shoot digital camera and that's about it. No decent lighting, no decent microphone, no decent camera! I think those problems are sorted out now, and I'd like to improve some of the present videos on the site.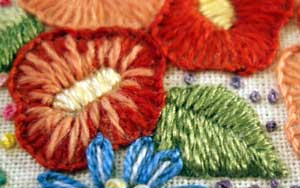 Another aspect of the Video Library that I'd like to improve is featuring photos of each stitch on the corresponding video page. I've done this with many of the stitches – you can see examples on the Knotted Diamond Stitch page or the Fishbone Stitch page – but I haven't done it with all the stitches, especially with the older ones. My plan is actually to go a bit further with the pictorial element, by showing how the stitch can be used in variation.
And What About the Index?
Right now, the Index for the Video Library is arranged in stitch types. I wonder if this is the best way to arrange the stitches. I considered arranging them alphabetically, but for newbies, the name of a stitch doesn't say much. On the other hand, if you are following instructions that tell you to work a particular stitch – "Fill with Bokhara Couching," the alphabetic arrangement might be useful. What's your take on that?
Which Stitch?
Finally, besides improving the videos already in the library and the way in which they are displayed and categorized, I plan to expand the library considerably. On that note, I really want your input! What stitch (or stitches) would you want to see in the Video Library, or what stitch do you think would be particularly useful for folks to see in video form?
Input is Important!
I try to tailor, as much as possible, the content of the website to my readers' interests. I know I don't always succeed – I suppose I can't please everyone – but your input will help me in this endeavor! I value your suggestions, so please don't hold back – any input you have on what you want to see in the video library, or any suggestions on improvements (beyond the improvements of the actual videos, which I know need serious work!) will be most appreciated!
So feel free to bombard me with ideas, thoughts, suggestions, constructive criticism, etc. I'm all ears, and eager to hear from you!
Up later this week on Needle 'n Thread: A book review, the blackwork fish, pending project recaps, and maybe even some "Studio Talk" (of the organizational variety). I'm working out in the studio today, trying to get organized and get my space back so I can get some serious work done! Embarrassing as it may (certainly) be, I may have to show you some before and after pictures of my present mess!