What inspires your creativity? In this series of guest posts, Kathy Andrews is going to explore several different designs inspired by Italian pottery. She's going to show us not only her designing process, but also the effects of different threads used on similar designs.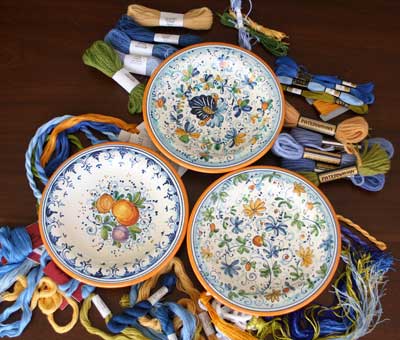 Here's Kathy's design process for this series of projects. I hope you enjoy reading it as much as I did!
Hi! I'm Kathy Andrews. Mary kindly asked me to be a guest blogger on Needle 'n Thread, and I was thrilled to have the opportunity! She has been my inspiration and my long-distance-via-the-Internet teacher for 9 months so I was pretty chuffed when she asked me to blog while she is taking a well deserved vacation.
A couple weeks ago, I posted about a moment of inspiration that led to planning a sampler project based on pottery from San Gimignano, Italy. There will be three different designs; one to be worked in different wool threads, one to be worked in different cotton threads and one to be worked in different silk threads. Using a limited number of common stitches, the finished sampler will provide me with a reference so I could see what each stitch will look like in a particular thread before I use it in a specific project.
Today I'm going to walk you through my design process.
My inspiration came from this plate. The center motif reminds me a little of a Fleur de lys, a common motif in embroidery. I especially like the fact that it's NOT symmetrical.
First I had to get the design off the plate and on to the paper. I've learned that if I use graph paper when I draw, it gives me multiple points of reference so I can see where I've gone wrong – which is often. See all those eraser marks? I use a regular pencil but I have a good quality white eraser so the design isn't obliterated by the smudges and I have to start again.
The hardest thing to capture was the freedom of the curly lines. I just had to try it over and over until I was happy. Doing it slowly didn't work: I had to look and then draw quickly. I find sketching rather than drawing a single perfect line works better. I can always clean it up later.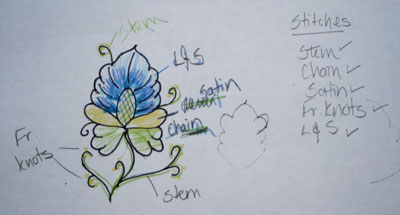 Color placement is second in my process. I was limited  to a palette of 3 blues, 1 green and 1-2 gold colors. The limit is because I am mainly using threads I already own. I have colored pencils that are similar colors to the thread I'm using; close enough to give me an idea. Green stems and leaves, a blue flower, yellow center and sepals were straightforward decision on this design.
Lastly I had to decide which stitch to use where. Next to the drawing I made a list of the stitches I wanted to use.  I needed to check them off, making sure I didn't miss a stitch. After I finished filling in the colors on this design, I decided that some lattice couching would look really nice in the center of the flower. This design will be worked in wool and that's a typical stitch seen in crewel work. It's not one of the "required stitches" but it will look good and that's important, too!
 I did each of the three individual designs using this same process: Inspiration, pencil drawing, colors, stitches. Finally, I made color copies of each design and cut them into 10 cm squares so I could play with the overall design of the piece.
Remember, this will be a sampler, so I was looking for something sampler-like. I tried two different layouts and decided on the design shown in the larger photo below.
The mix of designs is more interesting and it reminds me of Delft tiles. It also leaves a place for my initials and the date, in sampler style.
Here's the final design. In three more posts here on Needle 'n Thread, I'll be working up each of the individual designs once: one in wool, one in cotton and one in silk.
Now I'm off to stitch – and undoubtedly, make revisions!
Next, Kathy focuses on stitching the first motif of her "Spring in Italy" Sampler using wool threads. That's coming up on Needle 'n Thread in a couple days!